October 23, 2015
Alan Heath
Fire up the Flux Capacitor Marty … We're Going Back to the Future!
October 21, 2015, the date that the fictional Delorean landed in, traveling from 1985, passed on Wednesday this week, sparking conversation around how the reality of 2015 has matched up to it's cinematic interpretation.
And while we aren't all getting around on Hoverboards (although there ARE a few pretty cool prototypes out there) it is quite interesting to look back at some dates;
In 1985 Sydney Median House Price was $100,000
In 2015 Sydney Median House Price is $1,000,000
Take a ride in the Delorean to 2045 where Sydney Median House Price is now $10,000,000…Do you want to bet against it?
In the News this week: Sydney Median House price is now firmly above $1,000,000 but the rate of growth is slowing and importantly auction clearance rates between west and east have split – a sure sign that this growth cycle will now plateau (as they always do). The key issue is that eventually no matter how low rates are, affordability and the ability to service a loan reach a natural plateau based on people's incomes.
That plateau process in Sydney has now commenced.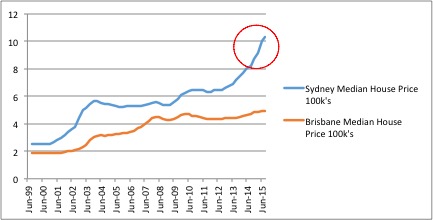 Brisbane however is "marching to the beat of a different drum" and, as Sydney plateaus, Brisbane is starting it's own natural upward journey for the same reason – it is more affordable. There are many buyers from Sydney – both investors and owner occupied, who are driving this part of Brisbane's cycle.
Take a look at the graph below. Brisbane has reached the same historical low point of relative price as it did in Jun 02. I would now expect Brisbane's median house price to begin rising closer to Sydney's over the next few years (just as it did from 2004 – 2008).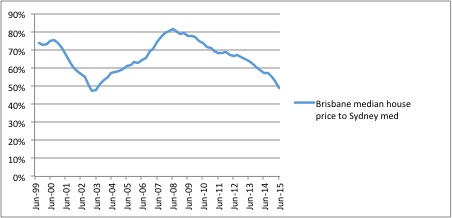 And on interest rates? …
APRA reports directly to Treasury and hence the Treasurer. On Tuesday this week the Treasurer (in responding to the Murray enquiry that started this round of capital raisings by the majors) said that he fully supported APRA's directives.
Within 48 hours CBA, ANZ and NAB have raised their rates to match last week's moves by Westpac.
There is no reason for smaller banks to increase their rates as they already have to hold more capital than the majors – and APRA are not yet targeting them (other than directives over investment lending).
The majors are increasing rates to protect the share price, the smaller ones may move in any case for the same reason.
So … after all of this activity on rates what is the next "likely" outcome.
"This will increase pressure on a reluctant Reserve Bank to cut the cash rate to compensate" (The Australian p1 Fri Oct 23rd) in order to keep the Australian dollar in it's target range to support the economy.
It will be a case of "the more things change the more they stay the same" in this case – The Reserve Bank meeting on Melbourne Cup day will be an interesting one indeed.
All of this happens completely out of your control .. so how should you respond?
As I said last week – this is a time to sit still and stay calm. You will likely find yourself back in the same position as you are now; once banks have all put their rates up and the Reserve Bank compensates by putting it's down.
If you are tempted to "do something", then please ring me so we can discuss what that might be.
As always, I'm here to help.. Call or email me anytime… 0411 601 459
Alan Heath - Mortgage Broker Brisbane CBD
Want More? Download my app - Ask Alan - from the App Store and Google Play (click below)
Talk to me, ask questions, read up to date information, video on topics of interest...
App Store: http://apple.co/1ObU9AI
Google Play: http://bit.ly/1MP04tP