June 02, 2017
Hayley Dunning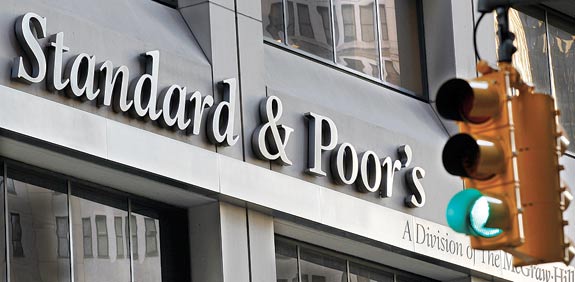 This week's blog post was written by guest blogger and star broker Michael Harman! Keep reading to see his take on Standard and Poor's decision to increase the risk categorization of 23 Australian lenders.
With property prices one of the most talked about topics in not only the financial sector but also Australian households, "big gun" international ratings agencies begin to voice their concerns.
This week Standard and Poor's ratings agency, one of the big three in the financial sector, announced the downgrading of 23 Australian Financial Institutions. In layman's terms, a company that rates the potential risk of certain banks/companies and institutions has decided that a long list of 23 Australian Companies are starting to become riskier. There are probably a lot of questions you're asking yourself such as, why are they doing this, what does this mean to me and will this impact my Home Loan? In short; because property prices are rising, not too much and probably not. However, lets get into a bit of a discussion:
Why are they doing this?
Property Market Risk. Standard and Poor's Global Ratings continually monitor the Australian property market in combination with the loans that every bank currently holds against property. The decision has come due to the risk involved with a potential property market down turn when compared to the number of properties that are highly borrowed against in Australia. The S&P agency believe that if property prices started to fall dramatically (as they did in the US during the GFC), most banks in Australia would incur significant losses. Therefore, the agency has downgraded many of the smaller banks which will have flow on affects resulting in changes to how they provide loans to customers.
What does this mean for me?
Higher Interest Rates. The rating a bank gets from these agencies greatly affects how expensive it is for them to get the funds to then provide loans to you and I. Therefore, if it costs a bank more to borrow their money they will pass this on to the borrower (us) in the form of usually a higher interest rate. Most of these lenders will begin to slowly increase their rates as their cost of funds increases. One key point to note though, is that the "big four" banks have not been downgraded; Australia & New Zealand Banking Group (ANZ), Commonwealth Bank of Australia (CBA), Westpac Banking Corp and National Australia Bank (NAB). Further to this, Macquarie Group or Macquarie Bank have also been unaffected.
Will this impact my home loan?
Potentially. If you are currently with one of the 23 financial institutions that have been downgraded, it is likely that you will see an increase in your Home Loan variable rate in the coming months. If you are looking for a new home loan, you too will likely see an increase in the rates on offer from these lenders. If you are on a fixed rate loan, this will have minimal impact on your repayments/interest rate until you roll off onto your variable loan after the fixed rate period.
Moving Forward
Where to from here? It is certainly worth discussing with one of our award-winning brokers your options for refinancing in case rates start to rise and discounts start to diminish. At the moment, some of the discounts on offer from banks are close to an all time low.