Talk to Guy Lawrence & the team in Summer Hill for help with home loans, car loans, business lending, financial advice & more across Sydney's Inner West suburbs.

For expert help with your finances, book a free, no-obligation appointment today.
Call Us
Office - 0413 041 457
Fax - 02 8814 8277
Open Hours
Monday - Friday 8.30am - 5.30pm
Saturday & Sundays by appointment
Mobile Broker
Servicing across Sydney and Sydney's Inner West suburbs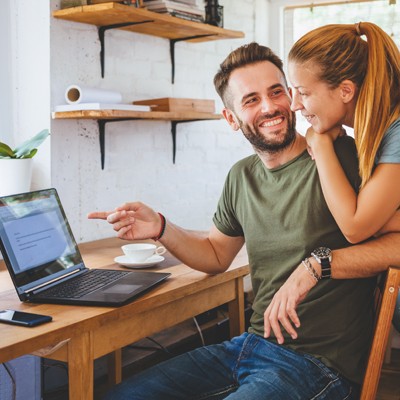 Latest home loan interest rates
Expert mortgage broker team, finance expertise in Summer Hill for Sydney's Inner West
The team at Mortgage Choice in Summer Hill are solely focused on the success of their clients' financial goals. Our passion is to ensure our clients enjoy the excitement of buying a new home or investment property, by making the home loan application process easy and stress-free.
Convenience with the benefit of choice
It's simple to get started - book an obligation-free chat to discuss your goals. Our team is always willing to meet at a time and place that suits you.
When you use the team of mortgage brokers at Mortgage Choice in Summer Hill, it's like having more than 20 banks and lenders all competing to offer you the best deal on your home loan.
By allowing Mortgage Choice in Summer Hill to shop around for your ideal home loan, you can save yourself time, stress and money. The end result being that you'll be offered the very best finance options available for your needs. Contact our team of mortgage brokers in Summer Hill now.
Arrange a free appointment with our mortgage brokers in Summer Hill - call 02 9799 3500 or simply click 'Contact us' at the top of the screen.
Our services
Mortgage Choice in Summer Hill offers professional financial expertise for a wide range of requirements, including:
First home buyer finance
New home finance
Property investment loans
Home loan refinancing
Fixed, variable and interest only home loan packages
Debt consolidation
Commercial finance
Personal and car loans
Insurances - home, contents and landlord
and more!
This video further explains what makes Mortgage Choice in Summer Hill different to other mortgage brokers, and why you should come to us first for your lending needs.
The right home loan for your needs
Our mission is to find the right home loan for your individual needs and to always have your best interests at heart. Plain and simple. Which is why we have such a wide range of lenders to choose from. We can search through hundreds of products to find something tailored to your situation. ~
Absolutely! Marguerite made the experience of refinancing a mortgage an absolute pleasure. She organised everything down to the last minute detail, with ease and efficiency. Marguerite delivered on every claim she made to make a mortgage loan cheaper and less stressful. Having to not stress about one's mortgage is a genuine improvement to one's quality of life. I am so fortunate to have found Marguerite, she is professional, personable, reliable and genuine in all her dealings. I felt safe entrusting my mortgage choice to her good judgement and professional expertise. She has been both supportive and tireless in her work to move along what can be a very strenuous and tedious undertaking. I highly recommend Marguerite Candy to ANYONE looking to undertake a mortgage or refinance their mortgage. It's one of the best decisions I have ever made, and I am so grateful.
Without your help the task of buying our house could have gone on for years ? you both made it easy and fast, I cannot thank you enough and would highly recommend your office to anyone who asks.
Team are fantastic! Their ongoing help along the way made our experience much less stressful. They are both very knowledgeable, personal and understanding - we will definitely use their services again.
Very impressed with your guy's service and knowledge...we were all nervous about coming to see you but that all changed once we walked out...we cant thank you enough... cheers...shane & rosie
We have never used a mortgage broker before and I was very impressed with the service and advice. We have saved a considerable amount of money and the whole process was very smooth. Marguerite was very knowledgeable and helpful and we have already recommended her to other people.
Marguerite Candy has recently helped me to refinance my mortgage with another bank and I am extremely happy with the service she provided. She tried very hard to find the best possible rate for me which is very important. I find her very friendly and pleasant, and knows her work well. I would highly recommend her to any of my friends.
Marguerite was a pleasure to deal with - we were first-time purchasers and a bit overwhelmed at the prospect of organising our mortgage. Marguerite was extremely helpful, giving us first-rate advice and always available to answer all our questions. I will definitely be recommending her services to other people.
Dealing with marguerite was a dream. She was so warm, friendly and really knew her stuff. She liased with our agent, solicitor and bank which made the whole process extremely easy and stress free. Thank you so much Marguerite, you're professionalism is an absolute pleasure to work with.
Thanks Marguerite for your excellent advice and follow up. I'm saving more on my mortgage now
We found Marguerite very responsive and efficient. This was important during what can be a very stressful time for a family.
Step-by-step guide to home ownership
There are many steps involved in purchasing a property which can vary between residential and investment properties. This guide explains each step in order as well as what is involved at every stage of the purchasing process.