Mortgage Brokers Melbourne "We'll find your ideal home loan"
, CHELTENHAM VIC 3192
Tel: 03 9585 7779 Fax: 03 8610 0365

Mortgage Choice CHELTENHAM

03 9585 7779
How Can Our Team of Mortgage Brokers Assist You?
Whether you're a first home buyer, upgrading to your next home, getting into property investment, or wanting to refinance and pay off your existing home loan sooner, our team of mortgage brokers in Melbourne can help you make the right move and stay on top - whatever your needs.
We'll compare your home loan options with more than 20 of Australia's leading banks and lenders to locate and secure the one that's just right for you - and you won't pay us for this service (we are paid by the lenders).
Mortgage Choice Cheltenham Customer Value Proposition
"We build long term business relationships with our clients by providing personalised financial solutions that are clearly communicated and seamlessly delivered by our accessible and supportive team."
--------

5 Good Reasons To Use A Mortgage Choice Mortgage Broker For Your Next Home Loan

The friendly team at Mortgage Choice in Cheltenham, Melbourne can provide you with:
1. WIDE CHOICE OF HOME LOANS:
When you use Mortgage Choice to help you find your new loan it's like having more than 20 of Australia's leading banks and lenders all competing for your business (which means you'll get a great deal!). We can help you analyse and compare hundreds of different home loans and then pinpoint the one that is most compatible to you. Of course we will be there to assist you throughout the entire process of securing your home loan.
2. CONVENIENCE
Our team of experienced mortgage brokers will meet with you at the time and place that best suits you to establish your home loan needs and preferences. Then we do all the research and running around to manage every step of the application process for you. This saves you shopping around - we can do it all on your behalf.
3. SAVE YOU MONEY
Mortgage Choice uses exclusive loan qualifier software which helps us to pinpoint the most suitable home loan for you. Typically this can help to cut the current interest rate you are paying as well as reduce your mortgage fees and monthly repayments. Using a mortgage broker like us is also a great way to maximise your borrowing power (how much you can borrow).
4. PROFESSIONAL HOME LOAN ADVICE
At Mortgage Choice we are fully trained, and accredited with every lender we represent. We are full members of the Mortgage & Finance Association Of Australia and we have many years of experience in Australia's ever-changing home loan marketplace. We also have a number of consumer protection initiatives in place to protect you - our valued clients.
5. MORTGAGE CHOICE DOES NOT CHARGE YOU FOR THIS SERVICE
Our head office pays us the same commission regardless of which bank or lender you take out your home loan with. This ensures that all we are concerned with is pinpointing the most suitable home loan for you from all the options on our extensive panel of lenders.
--------------------
We Can Help You To Track Down Any Type Of Home Loan In Australia Including:
Home Equity Loans
First Home Buyer Loans
Home Loan Refinancing
Reverse Mortgages (Seniors Loans)
Home Construction Loans
Low Documentation Loans
Property Investment Finance
No Deposit Home Loans
Second Home Loans
Bridging Loans
Mortgages For The Self Employed
Variable Home Loans
It doesn't matter if you are in Melbourne or an Aussie Expat living in London, we'd be happy to assist you in finding your ideal home loan. If you're local, why not come and visit us at the Mortgage Choice office in Cheltenham, Melbourne?
Some Recent Awards Won by the Team at Mortgage Choice:
Mortgage Choice Cheltenham - Franchise Council of Australia's, Franchisee of the Year VIC/TAS 2011 & 2012 (2+ staff).
Mortgage Choice Cheltenham - Voted Best in the Mortgage & Finance Industry.
MFAA 2009 Excellence Awards (6 + brokers category).
Mortgage Choice High Flyers Award 2005-2012.
Retail Aggregator/Originator of the Year - 2010 & 2012 MFAA Excellence Awards.
National Business Excellence Awards - Winner 2014.
Mortgage Brokers - the Way of the Future
Mortgage Choice writes about 1 in every 20 home loans throughout Australia.
Why not give us the opportunity to find your ideal loan?
Please have a look around our site, you'll find plenty of information, resources and tools to assist you in the search for your next home loan including - home loan calculators, information on all the different types of home loans and Mortgage Choice's consumer protection initiatives.
When you're ready to find out more about us or to book your free, no obligation appointment please contact us through this website or on 1300 302 668.
We'll come to you regardless of where you are situated around Melbourne - one of our fully qualified and experienced mortgage brokers will be happy to catch up for a chat.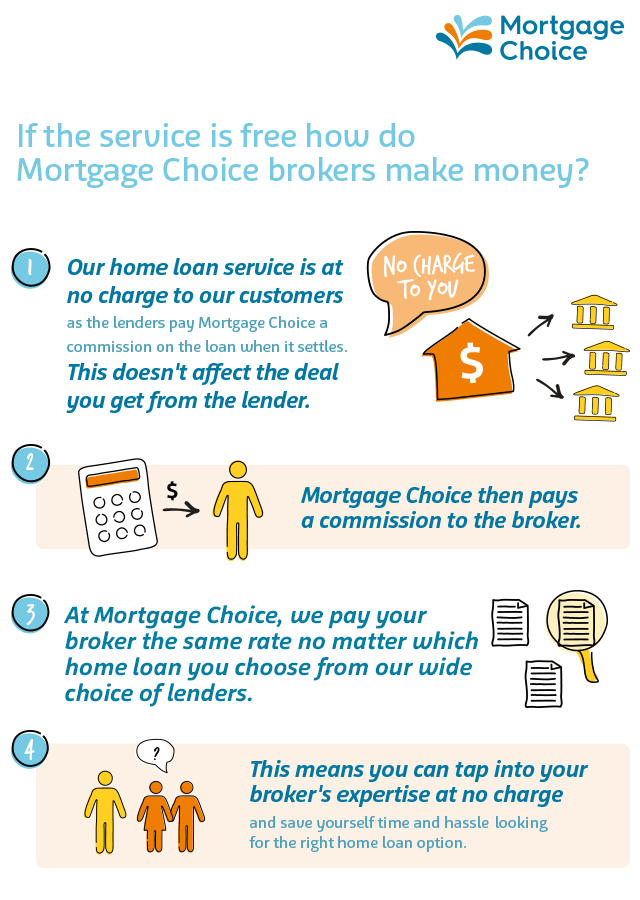 Review
Hi Jordan, Thanks for the update last week, we would like to thank all the team at Cheltenham mortgage choice for their outstanding service and professional approach, nothing has been too much trouble all questions answered just an overall outstanding service and we would not hesitate to recommend you guys or use you again in the future. Once again a big thanks.
Darren and Alexandra B, VIC
Read more reviews
Latest
media release
Published: 26th October, 2016
The Reserve Bank of Australia is widely expected to leave the official cash rate on hold next week, after new data from the Australian Bureau of Statistics reported a surge in inflation.
Read more media releases