Article published 02 August 2022
The Reserve Bank of Australia has raised the official cash rate by 50 basis points to 1.85% in August1, the fourth interest rate hike in as many months.
In his post-meeting statement, RBA governor Philip Lowe acknowledged the pressure higher interest rates and living costs are placing on households, but said further hikes were needed to get inflation back down.
"The increase in interest rates over recent months has been required to bring inflation back to target and to create a more sustainable balance of demand and supply in the Australian economy," RBA governor Philip Lowe said.
"The board expects to take further steps in the process of normalising monetary conditions over the months ahead, but it is not on a pre-set path.
"The board is committed to doing what is necessary to ensure that inflation in Australia returns to target over time."
At 6.1%, headline inflation is already running well above the RBA's 2-3% target range and expected to rise further as higher power costs, food and rent prices filter through.
PropTrack senior economist Eleanor Creagh said the RBA faced a delicate balance in bringing inflation back towards target.
"The RBA has the unenviable task of tightening monetary policy whilst trying to engineer a soft landing, avoiding tipping the economy into recession," Ms Creagh said.
She said more rate rises of this size and speed were expected in the months ahead.
"In order to preserve credibility with respect to their inflation target and ensure inflation expectations remain anchored around its 2-3% target, the board are expected to continue to frontload their hiking cycle," Ms Creagh said.
The official cash rate has now risen from a record low of 0.1% to 1.85% since May.
"The fast pace of rate hikes we're seeing at the moment is certainly unusual, but it reflects the unique combination of circumstances that we have experienced over the past two years," Ms Creagh said.
Inflation to get worse before it gets better
Data released last week by the Australian Bureau of Statistics showed the Consumer Price Index (CPI) rose 1.8% in the June quarter, pushing the annual rate to 6.1%2.
It follows sharp price increases in housing, fuel and food, which has been driven higher by supply chain disruptions, flooding, and the war in Ukraine.
But in a sign of how broad-based the price increases have been, underlying inflation has also risen rapidly.
Underlying inflation – also known as the trimmed mean – strips out volatile or one-off price changes. Over the year to June, trimmed mean inflation rose a record 4.9%, well above the RBA's inflation target.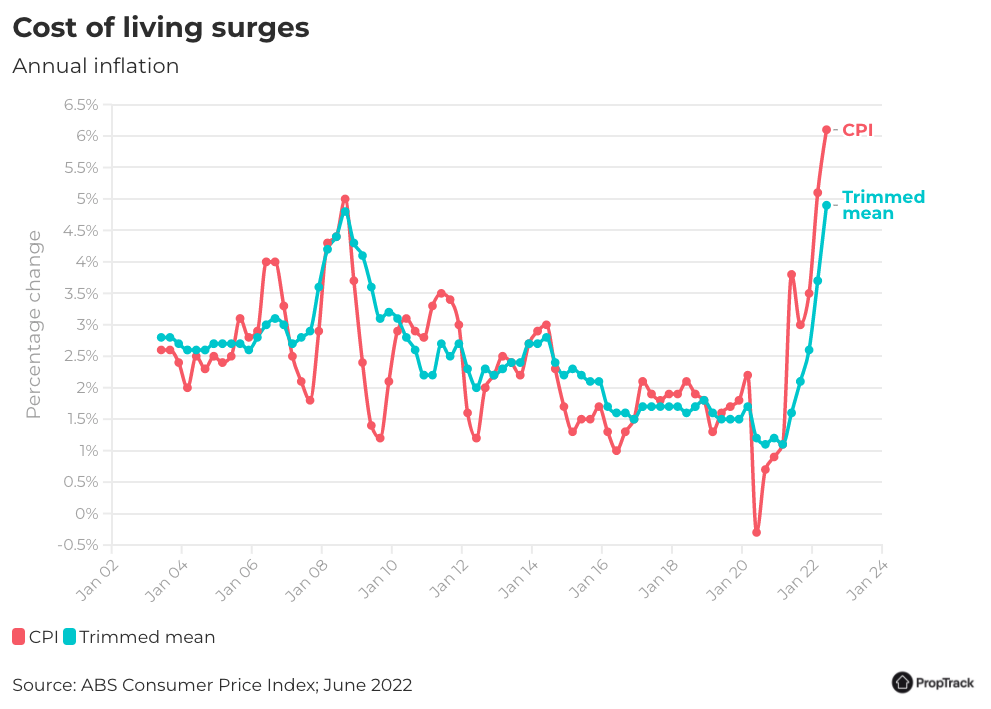 New forecasts released by the RBA on Tuesday see inflation peaking at 7.75% over 2022, before easing to above 4% over 2023, and around 3% over 2024.
"Inflation in Australia is the highest it has been since the early 1990s," Mr Lowe said.
"Global factors explain much of the increase in inflation, but domestic factors are also playing a role.
"The expected moderation in inflation reflects the ongoing resolution of global supply-side problems, the stabilisation of commodity prices and the impact of rising interest rates."
Refinancing activity ramps up
As the costs continue to add up, new lending data released Tuesday by the Australian Bureau of Statistics showed borrowers continue to seek out a more competitive deal on their home loan.
A record $18.2 billion worth of home loans were switched to a different lender in June3.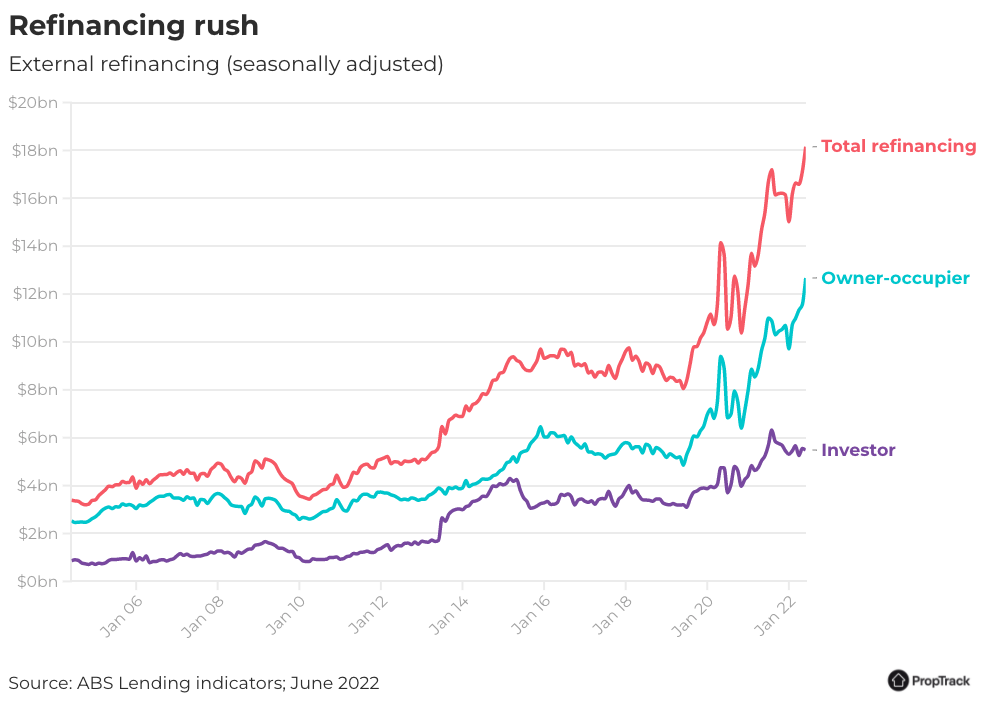 ABS head of finance and wealth, Katherine Keenan, said the result was driven by owner-occupier refinancing, which hit a record $12.7 billion during the month.
"The value of owner-occupier refinancing, where the borrower changed lender, was 25% higher in June compared to a year ago," Ms Keenan said.
"As interest rates rose in recent months, borrowers sought loans with lower interest rates and lenders competed to attract them."
Separate loan submission data by Mortgage Choice shows refinancing activity remained elevated in July.
"Mortgage Choice home loan submission data shows that many borrowers are being proactive with their home loans, seeking more competitive home loans by switching to new lenders," Mortgage Choice chief executive Anthony Waldron said.
"Our data shows that 42% of borrowers opted to refinance their home loans over July. What the data doesn't show is the proportion of borrowers whose brokers have been able to negotiate a better rate with their existing lender.
"Many lenders will no doubt pass on today's rate hike. As home loan interest rates and the cost of living continue to rise, it's critical that borrowers stay on top of their household budget and more importantly, their home loan."