All your Investment Property FAQ's Answered
Article published 15 September 2021
Buying Investment Property in Australia
Deciding where to buy your investment property in Australia can be overwhelming. It helps to make an educated decision and understand the area you are looking to invest in. You can read a detailed guide on investing in the major states and cities in Australia here to begin your investment journey. 
According to the ATO, in 2018-19 there were over 2.2 million Australians who owned an investment property.1
First Time Investment Property
The following steps involve a rough guide to get you prepared on how to buy an investment property: 
Establish goals and create a plan

Have a deposit ready - if you don't have a 20% deposit, you may be able to look at using any existing

home equity

or possibly a

guarantor

. 

Calculate one time and ongoing costs

Speak with a Mortgage broker and apply for your investment home loan. 
When buying an investment property, it is best to be strategic and look for a property that appeals to a wide range of tenants. It is important to look for the following features in an investment property and location: 
Security - is the property on a safe, quiet street, and does it have a home security system?

Ensure plenty of storage space 

Off street or undercover parking

Low maintenance

Local amenities and public transport options
Keeping these features in mind when finding the right investment property can help to increase your tenant appeal and command a higher rent.
When buying an investment property, it is important to consider the following factors when researching locations: 
Population growth

Tenant demand

Local price growth

Any developments planned for the area? 
These considerations will help ensure you choose an investment property in an area that is well positioned for long term growth. 
Investment Property Deposits
As with most home loans, you will typically need at least a 20% deposit for an investment property. In some cases, you may be able to get an investment loan with a deposit less than 20%, although with this situation you may incur lenders mortgage insurance (LMI). 
You may be able to buy an investment property with no deposit using a guarantor or equity in your existing home instead of a cash deposit. 
A guarantor is a person - usually relative - who will have sufficient home equity in their property to provide a guarantee in place of a cash deposit. Depending on your situation a guarantor may be in place of a full deposit. 
Similarly, if you own your home before purchasing an investment property you may have built up enough home equity to use as security on your investment home loan instead of a cash deposit. 
Investment Property Depreciation
Equity on Investment Property
You can use your equity to buy an investment property by taking out a loan using your equity as security instead of a usual cash deposit. 
A general rule when purchasing investment properties using your home equity, is to look at properties that are a maximum of four times the cost of the amount of equity in your home. For example, if you have $250,000 in accessible equity and are looking to purchase a property for $1,000,000, you can put down a 20% deposit and still have $50,000 remaining for legal fees, stamp duty and other fees associated with the purchase.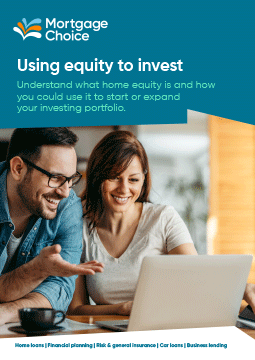 Using Equity to Invest guide
Download our guide on home equity to understand what home equity is and how you could use it to start or expand your investing portfolio.
General Property Investment Questions
1 https://www.ato.gov.au/About-ATO/Research-and-statistics/In-detail/Taxation-statistics/Taxation-statistics-2018-19/?page=6#Table8Individuals
---
Join our newsletter to stay connected