Article published 19 August 2021
Tradition has it that Spring is the ideal time to sell a home. After all, gardens are looking their best, buyers are happy to come out in the warmth for open home inspections, and a Spring purchase means buyers will be in their new home in time for the end of year holiday season.
However, 2021 has smashed plenty of norms in our lives, and it's likely that this Spring could be different from others.
When do buyers spring into action?
There is certainly some merit to the view that Spring is the peak period for real estate.
REA checked out sales data for the past three years, and found property market action – home sales in particular, tends to ramp up from about week 40 of the year (see Graph 1). For the record, week 40 is the first weekend in October, which also coincides with the Labour Day long weekend in NSW, the ACT and SA.
Graph 1 Preliminary weekly count of properties listed for sale on realestate.com.au that sold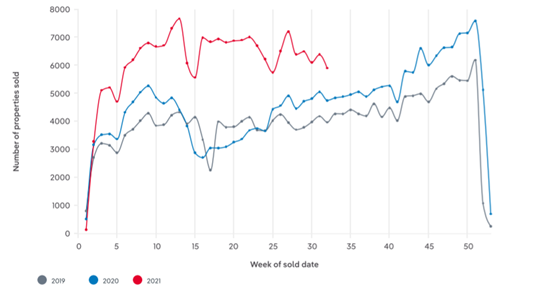 Source: REA Insights: Housing Market Indicators Report August 20211
How prices perform in Spring?
What's interesting, is that the warmer months can see home buyers pay a premium on their next property. Research by realestate.com.au found that across Australia, sales in November have attracted values almost 6% higher than those in January, the statistically cheapest month2.
However, in a country as large and diverse as Australia, each local property market has its own nuances. For instance, realestate.com.au found seasonal impacts can be strongest in Sydney, Melbourne and Hobart. In these cities, selling between October and November can bring higher sales prices of 10% or more3.
The same research showed seasonal impacts aren't as significant in Brisbane, Perth and Adelaide.
Why wait 'til Spring?
Successfully selling a home doesn't have to boil down to picking a particular time of year. Your home may have certain features such as a cosy open fireplace that make it especially appealing in winter, or a garden of deciduous trees that glow in a variety of hues in autumn.
It's all about talking to local real estate agents for insights into how the market is faring in your patch, and understanding how you can harness buyer interest when you're ready to sell.
The outlook ahead
When it comes to buying, we've seen property values skyrocket during 2021 – and that's despite all the disruption of COVID lockdowns. CoreLogic reports a 14.1% jump in property values over the first seven months of the year, and plenty of experts are predicting further growth in prices though possibly at a slower pace.
NAB is expecting home values to grow around 19% in 2021 and 4% in 20224. Westpac is forecasting an 18% lift in prices nationally over 2021, with price growth expected to slow to 5% in 20225.
Put simply, prices aren't expected to plateau any time soon, and holding off for a 'quieter' season could mean paying a higher price.
Be buy-ready today
The key is be 'buy-ready' when you start inspecting homes listed for sale. Home loan pre-approval can help here. It can give you an edge over other buyers when you find the property that ticks all the boxes on your personal wish-list.
Talk to your Mortgage Choice broker about the steps you can take today to achieve your property goals not matter what the weather is doing.