Article published 16 August 2021
Current Property Market in Brisbane
Brisbane's property market is currently experiencing a boom with exciting growth throughout the city. With the announcement of the 2032 Olympic Games in Brisbane, we can only expect this to mean big things for the city's property market.1 
In the last year to August 2021, the Brisbane market has performed extremely well with property values experiencing an increase of 15.9%. As of August 2021, the city's median house price is at $674,738, while apartments continue to be an affordable option with a median value of $419,143.
Recent Growth in Brisbane Property market
While property markets across the world saw negative impacts from COVID-19 in 2020, Brisbane's resilient market managed to maintain steady levels of growth with 85% of Brisbane's suburbs actually recording an annual growth in December 2020.2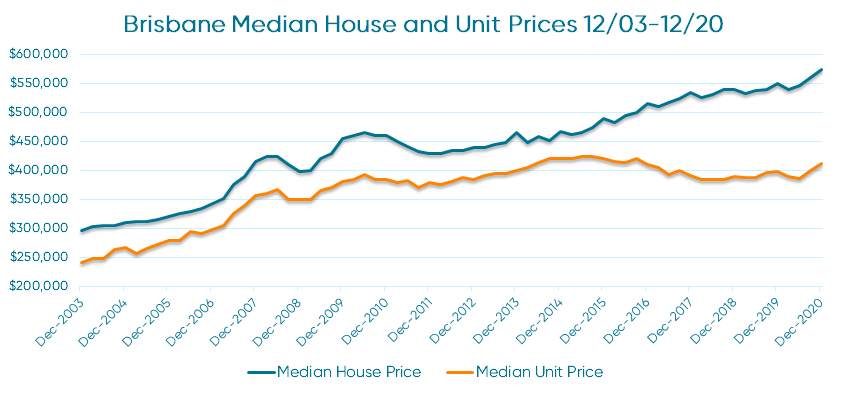 Source: Median price (unstratified) and number of transfers (capital city and rest of state)
Historically, Brisbane's property market has shown steady growth in both house and unit markets, particularly with the housing market showing a strong growth rate in the past 5 years. As mentioned above, Brisbane has maintained that growth from late 2020 into the first half of 2021. In the quarter leading up to August 2021, Brisbane's property market has seen an increase of 6.0% and is continually recording new record high house and unit values.
Although the Olympics are still 11 years away we can expect many developments to occur in Brisbane between now and then and this focus will have positive impacts on this already strong market. 
What are the plans for new infrastructure?
With the announcement of the Olympics in 2032, brings more opportunities to improve Brisbane's infrastructure, economy and create jobs across the state. It's estimated that these Olympics will bring $8 billion of economic and social benefits to Queensland,3 through an increase in tourism and the creation of approximately 91,600 full-time equivalent jobs in Queensland. 
84% of the venues for the 2032 Brisbane Olympic and Paralympic Games are set to be venues that are already built or will be temporary and will be located in three main hubs across the state. Of the 28 different sports, Brisbane will host 21, while the Gold Coast will host 7 and 4 on the Sunshine Coast. Of these existing venues, the major infrastructure work will include a $1 billion rebuild of The Gabba Stadium - where the opening and closing ceremonies will be held -  to increase its capacity from 42,000 to 50,000 seats. 
The 16% of new venues will include a 15,000 seat aquatic centre in Brisbane's CBD, a 12,000 seat basketball stadium and a 10,000 seat gymnastics and boxing centre. Additionally an athlete's village is planned to be built on Brisbane's waterfront in Hamilton. 
It is expected that by the time of the games, major infrastructure projects such as the Cross River Rail, Brisbane Metro and Coomera Connector will be completed to allow smooth travel for spectators and account for the growing population of Brisbane. However, Judith Mair, University of Queensland tourism and events expert, has noted that it is expected that "Infrastructure improvements, road transport improvements, public transport improvements that might have been in the 30-year plan for the city can be brought forward so they're ready in time for the Olympics".4