Article published 20 December 2021
Why have regional property values grown?
According to REA's 2021 PropTrack Regional Australia report, the COVID-19 pandemic has driven demand for more space, larger homes, and in many cases, a change in lifestyle1. 
Our newfound ability to work from home has seen more Australians opt for a sea or tree change. In addition, strong commodity prices have underpinned the mining industry, driving demand for homes in resource-rich areas, and adding to the regional renaissance1. 
The upshot according to REA, is that housing values in regional Australia have risen at the fastest annual pace in at least 35 years – climbing 28.5% in the year to September 20211.
Which regional areas have experienced the highest house price growth?
Regional NSW takes the crown for the highest price growth on a state-basis, with house prices up 35.2% over the past 12 months. Regional Tasmania comes a close second, having notched up 32.3% house price growth over the same period1.
As our table below shows, South Hedland in WA tops the league table for the regional suburb with the highest house price growth, with values jumping 58% in the last 12 months. In second place, San Remo, Victoria, recorded 55% gains, and in NSW, ritzy Byron Bay saw house values climb 56%. 
What's interesting is that across many of the regional suburbs shown below, house values have more than quadrupled over the past 20 years!
Top 10 areas for regional house price growth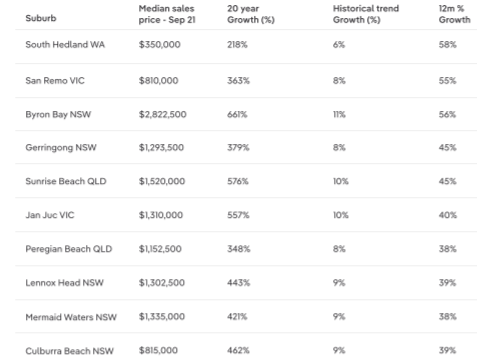 Source: REA PropTrack Regional Australia Report1 
Which areas of regional Australia have experienced the highest buyer demand?
REA's PropTrack report confirms that areas offering a 'sea change' are in especially hot demand. 
Queensland has long been a sea change destination for retirees. But with housing affordability declining in the south-east coast capitals – and many jobs now able to be done from anywhere – REA says the Sunshine State is enjoying a boost in popularity. 
In the past 12 months, 74% of interstate property searches for Queensland came from New South Wales and Victoria.
Regions where demand is highest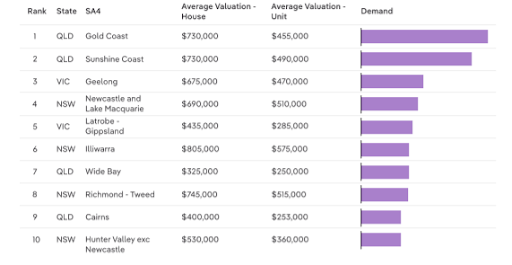 Source: REA PropTrack Regional Australia Report1 
Will regional property values keep rising?
As REA points out, "any crystal ball is inherently murky" but it says demand is increasing for both lifestyle areas, and locations within commuting distance to state capitals. 
In particular, REA data shows regions like Illawarra, Newcastle and Lake Macquarie, Hunter Valley, Southern Highlands and Shoalhaven, Gold Coast, Sunshine Coast and Geelong are all still seeing strong demand relative to the supply of properties for sale1. 
With many more prospective homebuyers engaging with properties for sale in the regions, REA believes there is potential for continued price growth across country Australia1.
Is a sea or tree change on your bucket list? Call us today for expert support securing the home loan to make your regional home a reality.