Experienced Mortgage Brokers in Shailer Park, Eight Mile Plains, Daisy Hill, Cornubia & Rochedale
Looking for a home loan, business loan, commercial property loan or equipment finance? Talk to Bob Korver, your local Mortgage Choice broker from Runcorn, QLD. Let us research and compare over 20 lenders for you
Call Us
Office - 07 3801 4794
Open Hours

Monday - Friday: 9:00am - 5:00pm


After hours by appointment
Address
Unit 19 373 Chatswood Road
SHAILER PARK,

QLD

4128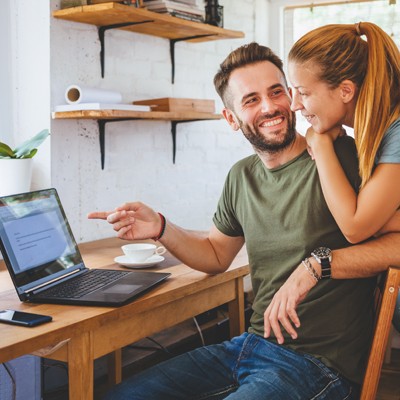 Latest home loan interest rates
Bob and Vicky are your local experienced Mortgage Brokers (Finance Brokers) in Eight Mile Plains, Runcorn, Underwood, Rochdale, Loganlea, Carbrook, Daisy Hill, Tanah Merah and all surrounding suburbs.
As finance brokers, Bob and Vicky can look at all types of lending including House Loans, Car Finance, Business Finance and Commercial Property Finance.
Looking for a mortgage (Home Loan) to purchase your dream home or refinancing your existing loans? There has never been a better time to talk to a broker to discuss your options.
Both Bob and Vicky worked in the banking industry as Lending Managers and are now able to use their experience to give their clients more. They are both passionate about providing excellence in customer service and enjoy assisting their clients achieve their goals.
We have access to a panel of lenders including all of the major banks- so don't spend your time going from Bank to Bank. Don't waste hours on the net yourself. Let us do the leg-work for you!
In a constantly changing lending environment we can ensure we are up-to-date with all lender specials and requirements so you can leave the research up to us.
Call us to discuss:
Purchasing your Investment property
First Home Loans
Refinance Options - Is it worth the exit costs?
Loan restructuring - it can benefit you without leaving your current lender
Self Employed finance solutions
Self-Managed Super Fund lending
Fixed vs. Variable – let's discuss your situation
We will save you time and we are passionate about service and have a genuine desire to help YOU.
We will formulate a plan and keep your property dream alive until you achieve it; even if you do not qualify now.
Call Bob on 07 3423 3202 or email bob.korver@mortgagechoice.com.au or call Vicky on 0403 152 390 or email Victoria.bleathman@mortgagechoice.com.au.
We look forward to hearing from you…..
Bob Korver and Vicky Bleathman





The right home loan for your needs
Our mission is to find the right home loan for your individual needs and to always have your best interests at heart. Plain and simple. Which is why we have such a wide range of lenders to choose from. We can search through hundreds of products to find something tailored to your situation. ~
On behalf of Richard and I, I would like to say a big THANK YOU for all your help and support throughout the whole process. I will and have definitely recommended you to any of my friends that are looking for help with a home loan. We really appreciate you always going to so much effort to accomodate us with strange appointment times and for being so efficient at getting back to us. We appreciate your advice in general on home loans and the process too - as newbies to this whole thing it was great to have someone to ask all the complicated questions to!
Bob had all the answers we needed. He made things so simple & helped us every time we asked. He really knows his business & explained everything so clearly. Having Bob organise our finance was the best decision we made. We would unreservedly recommend Bob Korver to anyone thinking about finance for buying property.
Bob offered a professional service to us which fitted our every need. Every question was answered and we were reassured every step of the way. The feed back and follow up with every stage of negotiations with the bank was efficient and super quick. Very very pleased we chose to get our mortgage through Bob at Mortgage choice. If ever given the chance to get another mortgage we would not hesitate to ask Bob for his help and we would recommend him to anyone for their mortgage needs. Thank you for making this process stress free and enjoyable!
Bob from Mortgage Choice has been our mortgage broker for many years now. We trust Bob implicitly as he has always found for us the best deal and his help guiding us through the mortgage lending maze is appreciated more than he knows. He is first class and we would highly recommend him to our family and friends. Thanks again Bob for your amazing help with our most recent refinance and sourcing a much better deal for us with significant savings!
Sorry I missed your call, I was on a work call at the time.

We are so very excited that the moment has finally arrived, it feels surreal.

Thank you for making our dream come true, I can?t begin to express how grateful we are that you made this possible.

Despite the stress involved with purchasing a home, you made the experience as simple as it could be and I really appreciated how quickly you responded to all my emails and always had an answer on hand.

I will sing your praises to anyone in need of your assistance.
It has been a pleasure working with Bob. He has made time for us, has provided excellent guidance in terms of the available home loan products, and has not hesitated to answer all our questions. We will be using his services again in the coming months and would not hesitate to recommend him to anyone looking for both a good home loan deal and a good home loan specialist.
We met Bob through the normal research on google.Before meeting Bob we ve met other mortgage brokers as well but after meeting him we find him the best.He is very paitent,polite,understanding and highly professional.We highly recommend him.
Bob made the whole scary experience of buying a house really easy. He was very patient in explaining everything and answering all my questions. I would recommend Bob to anyone that wants to make the whole process of borrowing money or buying a house as simple as possible. He went above and beyond and I loved that I could email him outside hours to answer my concerns.
Just want to say a MASSIVE THANK YOU for everything over the last couple of months. You were always very professional, efficient, easy to approach and very pleasant and overall you had our best interests at heart. We opened the store for trading on Monday and are looking forward to the future.
We will not hesitate to recommend your services to anybody we know.
The process of buying our first home was made easier by the excellent service and advice we received from Bob, our Mortgage Choice broker. It was reassuring to know we had someone guiding us through the process who really knew what they were doing. He was able to answer every question we had, and honestly present the best lending options to suit our needs.
It has been a pleasure working with Bob. He is helpful, efficient and 'down the line', and at all times we have felt that we were in good hands. We would not hesitate to recommend Bob to anyone looking for a good mortgage broker.
Bob Korver provided excellent service and I strongly recommend him. As a first time home owner I was quite anxious and nervous about the whole process but was swiftly put at ease with Bob at my beck and call. I asked every question you could think of (including the dumb ones) and Bob happily answered every question without judgement and provided excellent advice. From day one of the consultation to the day we received our keys Bob was there every step of the way providing advice on absolutely everything from real estate agents, paperwork and banks. I don't even know if half the time we were calling him it was apart of his job scope but he certainly went out of his way to respond/answer any question we had. Thank you Bob for providing such an excellent service!
Bob from mortgage choice is very informative, patient and friendly. Our experience with Bob was very pleasant and we will definitely use Bob's services again in the future. We are very happy to refer him to anyone.
This was my first land purchase so I had absolutely no idea what to do. Speaking to Bob was the best decision I made!! There were quite a few hiccups with the bank and Bob sorted everything out which meant at settlement time things were able to go smoothly. Without his help I don't think I would have coped with the stress! Thank you.
My experience with Bob was excellent, he was very accommodating when he visited my house after hours to speak about and to arrange my financial affairs. He regularly kept in touch during my refinancing and kept me up to date with all the dealings. I wouldn't hesitate to recommend Bob or utilise his services again myself.
First home buyer's guide
Purchasing your first property can be an overwhelming process and there may be steps you are unsure or unaware aware of. This guide will walk you through all of the steps involved in the buying process.