Your local mortgage broker & home loan expert in Keilor & Moonee Ponds
Refinance Cashback - Lenders will give you $2000, $3000, $4000, even more just to switch home loans - Contact us to see if you are eligible!

Call Us
Office - 03 9318 8890
Fax - 03 9021 8554
Open Hours

Monday - Friday: 9:00am - 5:00pm


After hours by appointment
Address
14/42 Wright Road
KEILOR PARK,

VIC

3042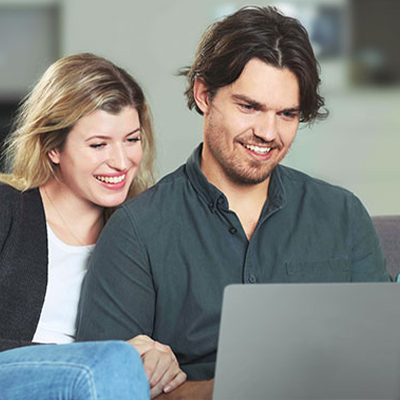 Latest home loan interest rates
We give great home loan advice and so much more....
Our team in Keilor & Moonee Ponds pride ourselves on being your very own local loan & finance experts! We are passionate about helping our customers make informed decisions about their finances, and that means we look beyond your home loan.
We offer a range of services like:
Home loans

Investment loans

Refinancing loans

First home loans

Financial planning

Budgeting & saving plans

Retirement planning

Insurance

Business lending

Equipment finance

Car loans

Personal loans

& more!
We have over 20 lenders competing for your home loan.
Finding the right loan for your first home, investment property, business or new car takes time, research and a lot of shopping around. Let us at your local Keilor & Moonee Ponds Mortgage Choice team do the hard work for you!
Our panel of lenders includes the big banks, as well as a range of specialist lenders to make sure that whatever you need - we'll find for you. We work with you to understand your budget & goals, then do all the shopping around for you to find the right lender, a great rate & fantastic features. It's like seeing 20 lenders all at once!
Not sure how much you can borrow? Do some preliminary numbers with our mortgage calculators
We are paid the same regardless of the loan you choose
This is what truly sets us apart at Mortgage Choice! Usually, mortgage brokers are paid different commissions based on which lender you choose. Some lenders pay bigger commissions than others. But at Mortgage Choice, we wanted to make sure our brokers were as transparent as possible.
Let's get started
We've helped hundreds of Australians just like you find the right home, car or business loan - and we would love to help you too! Our team is mobile and have been in Keilor & Moonee Ponds area for over 15 years! We can meet at a time & place that suits you.
To get started, call us on 9318 8890 or click on the Contact Us button at the top of the page.
We service the areas of Ascot Vale, Maribyrnong, Keilor East, Moonee Ponds, Essendon, Essendon West, Essendon North, Strathmore, Airport West, Keilor Park, Niddrie, Tullamarine & surrounds.
Refinance Cashback!
Lenders will give you $2000, $3000, $4000, even more just to switch home loans - Contact us to see if you are eligible!
Refinance Quick Quote & Purchaser Quick Quote - Spend 5 minutes answering questions about your financial situation and we'll give you a break down of how much you could borrow as well as fees and costs involved.
Grants, Grants,Grants!

During Covid 19, the Government announced further grants. For clear, concise information, please see our blogs and videos.
Home Builder Scheme explained simply
We have loads of information for First Home Buyers including direct links to:
· First Home Super Saver Scheme
· Stamp Duty Concessions for First Home Buyers
· First Home Loan Deposit Scheme
Our team in Keilor & Moonee Ponds are with you from the very start of your home loan journey through to settlement and beyond. And our home loan service is no cost to our customers as the lender pays us a commission after your loan settles.
This means that:
We do all the shopping around & research for you
We present a choice of loans that suit you & your budget
We complete your application paperwork & submit to the lender
We field any questions from the lender on your behalf
We'll follow up to make sure your loan is progressing & keep you informed
We communicate with other contacts as required throughout the process
We help you with all the final contracts & step you through to settlement
We will remind you when it's time to refinance & get a better deal!
Stay informed on finance & property news
The finance & property market is always changing and it's important to stay informed, so you can make informed decisions! Follow us on Facebook to get the most important breaking news & rate changes, without all the clutter.
Click here to Like our Facebook page and know what is happening in the homeloan world!
The right home loan for your needs
Our mission is to find the right home loan for your individual needs and to always have your best interests at heart. Plain and simple. Which is why we have such a wide range of lenders to choose from. We can search through hundreds of products to find something tailored to your situation. ~
We first met Yew Kong at a business function where he was a presenter on loans issues affecting small business owners and offered advice on how to save on their loans by structuring them better. We found him to be an expert on such matters and a breath of fresh air on the issues that were related to our situation and that we had limited knowledge on.

We decided to set up a meeting with him to explore our situation in greater details and that is the best decision that we have made in a long while, as far as our finances are concerned. Our situation is fairly complex, suffice to mention that we had a commercial loan for our factory on top of our home and investment loans secured against the 3 properties.

We were paying a fairly high interest p.a. Our home loan wasn't crash hot, either. The interest rate was higher than it should be and there was on-going fees to content with. It just seemed that the bank was bleeding us from all directions.

He refinanced all our loans to a bank who took over a huge part of our commercial loan at a very low home loan interest rate. The home and investment loans were also at that low home loan interest. The best thing was that, there were no ongoing fees on all the loans except one.

From our calculations, he has saved us more $9,500 in bank fees and interest of $2,500 a year. That would equate to more than $200,000 savings over the term of the loans. That is certainly better than a poke in the eye with a blunt instrument and we are amazed what a simple meeting and an assessment can lead to.

Apart from the massive savings that we have achieved, the whole process was relatively smooth. Sure, there were hiccups as you would expect dealing with banks and our complex situation but, Yew Kong was there to smooth out the kinks each time. We have found him to be an authority in his field, very efficient, patient and was constantly keeping us informed of the situation.

We would say that it was an overall pleasant journey, so much so that, we had no hesitation in recommending him to our sister whom he has helped and in future, to any of our family, friends or business associates. In conclusion, we have no hesitation in endorsing his expertise and high level of service. We just feel that Yew Kong is on a personal mission and crusade to help anyone he comes across in finding them a better loan and help them save money.

Maybe, that is why he is so confident in offering his guarantee, which I am sure he will not be challenged on, at the rate he is going.

We first utilised the services of Yew Kong at Mortgage Choice Essendon in July 2004 for a pre-approval. We eventually bought a property in September 2004 and the pre-approval was activated with military precision. One week prior to settlement Yew Kong's determination and efficiency was put to the test, as the selected bank failed to deliver the correct documents in time for my husband to sign before proceeding overseas for a business assignment.

Once the correct documents were obtained, Yew Kong ran around on a few trips to get my signature and then arranged for the documents to be delivered out to Singapore to hasten the process for a smooth settlement. He went beyond the call of duty and provided this extra service with a smile.

Though I was anxious about the settlement, we were confident that Yew Kong would deliver his promises about extraordinary service. We are happy to say that settlement went ahead as scheduled without any hiccups.

We were very impressed with Yew Kong's professionalism, thoroughness in explaining the products and features of the loans, his calm and collected manner when under pressure and his unflinching motivation to provide an excellent service and be responsible for the only acceptable outcome-a smooth and hassle free settlement. We totally trust and respect his advice we have no hesitation to recommend his impeccable services to anyone.
Ten years ago, I would not have believed that I would be on the verge of buying my third property before I reached the age of 35. I work with the Postal Services, earning a modest income. No, I did not strike the Tattslotto, if that's what you think!

It was my good fortune to meet Yew-Kong Lye who advised me on how to structure my loan with the equity from my first property to buy my second property. The repayments were paid from the rental income and I did not have to dip into my own pocket for any of the repayments. Now, four years later, I'm ready to invest in my third piece of property.

Not only did Yew Kong give me good advice on how to structure my loan to get the best mileage out of my first investment property, he saved me a lot of time as well. Dealing with Yew-Kong was a pleasant experience. He took control of the loan application and dealt with the lender removing all the stress of seeing the loan through the different processes involved from the submission till settlement from me. That is why I have come to him again to help me with my loan application for my third piece of property. I have no qualms about recommending him to all my friends.
My brother, Pieter recently had the bad luck of having a medical procedure go wrong which put him out of work for 4 months. As a result, his mortgage which was leveraged against my home, fell into arrears. At the same time, I had intentions of renovating my home and consolidate my expensive car loan. Once Pieter returned to work and got his mortgage in order, we approached our bank that turned us down. We then saw a broker who recommended that we should refinance with Interstar Securities, an institution that specializes on borrowers who have credit impairment or had their mortgage in arrears. They charge interest of more than 10%. We felt we had no other options!

Pieter met Yew-Kong at a seminar when he was presenting to a business group and was impressed with his sound knowledge and honesty. We decided to seek a second opinion and that was probably the best decision we have made in a long while.

A few days later we met up and he is everything Pieter made him out to be and more. He immediately said that something was wrong and that we should not go anywhere near InterStar as they are a lender of last resort, hence the high interest rate. He did not promise anything but was confident a few mainstream banks will consider our case because of hardship clauses in loan contracts. He was patient, clear and concise with his explanation which made our selection process that much easier.

We decided to go ahead with the application and I cannot believe what he has achieved for us. The whole process was smooth, stress free and a dream. That is not to mention the time we saved having someone take care of everything for us?all absolutely free. The dream run has everything to do with Yew-Kong and his team in Essendon. He is organised, meticulous and kept us informed at every stage of the process.

I must admit at one stage, I wanted things to happen quicker and was slightly anxious. All he did was assured me that everything was under control and that I should take the weekend off and have a few chardies and relax. He is just so calm that I feel so re-assured each time after speaking with him.

Not only is he efficient, he has integrity and will absolutely go all out to help us get the best loan and savings. He has saved us 3.5% in interest rate and thousands of dollars both in fees and interest over the coming years. To say that I am most impressed with the whole experience would be an understatement.

I have no hesitation in recommending his service to anybody. In fact, I will actively drum up some referrals to him as I feel more people deserve to receive his impeccable service and in the process save themselves thousands of dollars and not be duped by other unscrupulous operators.
Yew Kong, you are by far the best mortgage broker we have come across! Very professional concise and to the point. Friendly, knowledgeable, and always quick to reply to all enquiries. We've greatly appreciated your responsiveness and will certainly be in touch for any future property purchases.

I would like to take this opportunity to say a few words about the help I have received. Your focus was getting me a competitive home loan that suited my requirements and you have far exceeded that. You have probably saved me nearly $30,000 in interest over the 30 years life of the loan.

You explained everything clearly and you were very thorough in your processes and kept me informed along the way and never failed to return my calls in a timely manner. Your professionalism is second to none and you completely took charge of the whole process without me having to stress about things. The best part was how you encouraged me to apply for the First Home Buyer additional grant when I thought I did not qualify. I am $18,000 richer.

Again I thank you for the excellent home lending advice and assistance you provided me when getting me into my first home. You ensured that I received very competitive interest rates and provided me with fantastic continual, prompt personal service. I would highly recommend your services to anyone.
We were very impressed with Yew Kong's professionalism, thoroughness in explaining the products and features of the loans, his calm and collected manner when under pressure and his unflinching motivation to provide an excellent service and be responsible for the only acceptable outcome-a smooth and hassle free settlement. We totally trust and respect his advice we have no hesitation to recommend his impeccable services to anyone.
You may remember that you had helped me previously with home loan advice. Unfortunately, there were various reasons why I ultimately chose not to follow through with your advice on the last occasion we met. I recall that the reasons for this were unfortunate and not of your direct making.

I was struck at that time, however, by the fact that you still followed through on your undertakings, even though I made it clear that I would not be taking up the loan that you had arranged because of my disappointment. The fact that you followed through on your actions showed high professionalism on your part, and I have never forgotten that gesture.

So, if you are willing to do so, I would like to again make use of your expertise!


Thanks Yew Kong & Mortgage Choice Essendon! We are very happy with your services and relieved that the process has come off without a hitch! After our initial stress of being with a different mortgage broker who dropped the ball, we were very worried that we wouldn't even get our finance together in time.

It was such a relief when we engaged your services and you assured us that we would be fine and walked us through the process of applying for loans - and also structuring it in such a way that our resulting finance will benefit us for more than just this investment property. Thanks for your comprehensive and professional service and assistance
We really appreciate your personalised support and commitment to ensure settlement goes through without any stress.
The whole process from start to finish has been a very challenging one , but we believe we have reached an acceptable resolution to all the issues and Danielle and Sam can now focus on the future.

Your assistance during this time was invaluable. You helped us understand our options and added very useful information to the decisions we needed to make. Thank you for your patience, your guidance, your effort and support in helping Danielle & Sam settle the property and achieve a very good outcome.
E-guide: Step by step to property ownership | Moonee Ponds & Maribyrnong
This step-by-step guide has been prepared to assist you not only along the path to property ownership, but in your overall financial journey. It's a great tool if you're just starting out! Download our step by step guide to property ownership today from Mortgage Choice Moonee Ponds & Maribyrnong.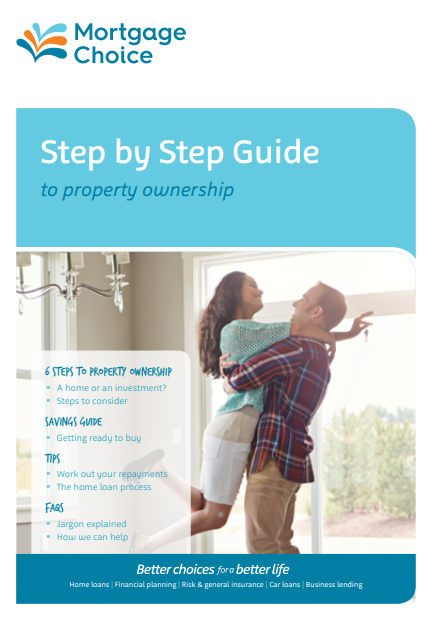 Help me
calculate