Mortgage Broker - Copper Coast & Yorke Peninsula
Need help with your finances? We are the experts when it comes to home loans and regional lending
Call Us
Office - 0499 051 422
Open Hours

Flexible appointments including after business hours to work around your schedule. Call 08 88213446
Mobile Broker
Servicing the Copper Coast and Yorke Peninsula. Meet us in a location convenient to you!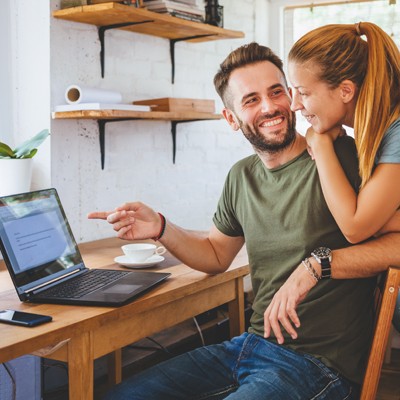 Latest home loan interest rates
Why Mortgage Choice?
At Mortgage Choice we have a passion for helping our customers make Better Choices for a Better Life. With a panel of over 20 lenders and hundreds of different products, we take the time to understand your individual needs and financial goals to find the right home loan and finance solution for you.
As your local Mortgage Choice Broker living and working on the Yorke Peninsula, I understand regional South Australia and pride myself on being your local home loan expert.
Buying a house or refinancing can be overwhelming so whether you are buying your first home or you are an experienced investor, let me take out the stress and simplify the process!
Services
We can help with more than just home loan finance! Our services include:
Home Loans
Pre-approvals
Refinancing
Construction Loans
Debt Consolidation
Free Home Loan Health Checks
Guarantor Loans
Investment Loans
We can also help with
Car Loans
Personal Loans
Asset & Equipment Finance
Commercial Loans
Loan Protection Insurance
Home, Contents, Motor and Landlord Insurance
Flexible appointments including after hours and weekends to suit you!
Contact us on 08 88213446 or carlee.horsell@mortgagechoice.com.au to book a time convenient to you.
The right home loan for your needs
Our mission is to find the right home loan for your individual needs and to always have your best interests at heart. Plain and simple. Which is why we have such a wide range of lenders to choose from. We can search through hundreds of products to find something tailored to your situation. ~
Client reviews
Carlee and Cory were fantastic We couldnt have asked for a better experience with buying our first family home Exceptional communication and professional service Highly recommend
Carlee and her hubby were great from the get go. Completed most things while I was away in thailand, which I thought would be difficult but all went smoothly and whole process was completed very quickly for me. Highly recommend her. Thanks guys
My partner and I recently had our home refinanced. Carlee and Cory at Mortgage Choice Kadina were fantastic and I couldn't recommend them highly enough. It was a painless experience which really took the stress off our shoulders. Carlee was able to get us an extremely good interest rate that we were very happy with I wouldn't take a chance with anyone else and we will definitely be back for another round of great service and outcomes Thanks again
1010 Very pleased with team from Mortgage Choice. Cory and Carlees professional service from start to finish made the build and loan application a breeze. For anyone who is looking at getting into the property market I couldn't recommend them enough.
Carlee was great. Any trouble I had she fixed it. She was very patient with me. She was very understanding with me. Any questions I had she was quick to get back to me. I recommend Mortgage Choice Carlee to anybody. They are great.
We couldn't have asked for a better experience buying our first home. We definitely recommend Carlee and Cory to anyone looking to source the best options and easy processes.
Carlee and Cory were brilliant throughout the whole service. Very informative and patient with questions. Great professional advice, would definitely deal again. Highly recommended.
Service provided by Carlee for my first ever home loan was very professional, friendly and helpful. Highly recommend her service.
Carlee worked hard towards getting us a loan that suited our needs. She listened to what we wanted and kept us updated throughout the process. She was very professional and genuine and made the whole process very easy.
I can't believe that I didn't do this sooner. I have a great new rate and accounts. Carlee has been fantastic through the whole process and is still keeping in touch to ensure that what she has set up for us is running smoothly. I couldn't recommend her highly enough. The best choice we ever made to ring her.
We had an awesome broker. Extremely helpful. Great communication
I was very happy with the way Carlee handled all the things I wanted to do, with changing banks, getting a better interest rate. The process went very smoothly and she kept me in the loop at all times. I will be using her again for any other financial help I may need in the future.
Carlee was excellent and we couldn't have asked any more of her. She has so much knowledge and kept us informed every step of the way.
Good follow up from Carlee even after the loan was approved. She also made herself available when I needed answers to questions so that the paperwork could go through during the Xmas break.
Carlee was very professional and helpful throughout the application process. I found her advice ethical and grounded
Carlee was fantastic from start to end! Answered every question I had professionally and efficiently. Amazing service.
I contacted Carlee for a specific mortgage requirement and Carlee provided the best options to me. First class service all round, well done.
We had a great and easy experience. I could give Carlee a call whenever I needed information and she was very knowledgeable and helpful
First home buyer's guide
Purchasing your first property can be an overwhelming process and there may be steps you are unsure or unaware aware of. This guide will walk you through all of the steps involved in the buying process.