May 24, 2017
Caroline Jean-Baptiste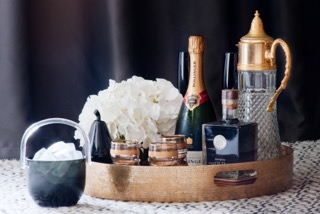 We may be in the middle of winter, but now is the perfect time to shake off those "Winter Blues" and create a new look for your home to make it Summer ready!
The team at Mortgage Choice Fortitude Valley have asked Grainne Devlin, Creative Director for Brisbane based International Award winning, Interior Design firm, Design & Co, for her insights into the 5 hottest trends to help you get your home ready for Spring and Summer 2018.
Show-Off your clutter
The days of absolute minimalism have gone, it's now time to make your house look and feel like a home again! We've been hiding our precious treasures away for too long, its time to createbeautiful visual displays and put the detail back into our houses, making them softer, cosy and more lived in. Don't go overboard though - too many pieces on display and it can become overpowering and too cluttered!
Metals, Metallics and Semi-precious stones
Metallics are ever evolving, and Grainne foresees we will move away from shiny metallics towards matte finishes and oxidised metals.
Furniture and decor items made from chunks of quartz and agate, and door handles in brass and semi-precious stone have been a big part of our interiors in 2017, this will continue into 2018.
A move away from copper, we should be using more Bronze or Brass metals for the warmer palettes, or striking Gun Metal or pewter are the metals to use for those cooler toned interiors -
especially in bathrooms and kitchens.
Sustainability
The days of the 'throw away" culture for interior items are gone. Furniture pieces that are made to last and are reusable are essentials for the modern interior, with many homes using reclaimed and restored furniture. Now is the time to get Granny's table from the attic and have it restored or even
remodelled with a contemporary twist. Bespoke pieces made by skilled local craftsmen which are durable and long lasting, to be handed down over generations will complete the luxury look for many home interiors.
Escapism
As we spend more and more time in front of computers or smart devices during the day, we will seek to create a tranquil haven of calmness to escape to in our homes. Nooks and hideaways with relaxing furniture - deep sofas, oversized floor cushions and textured chunky wools and sheepskins will give us that chill out place to relax - and probably catch up on instagram!
Bringing the 'outdoors in" will also help create this calming environment with huge plants creating internal green spaces, making it feel like summer indoors all year round!
Colours
"Greenery" is the pantone colour of the year for this year, 2017. It has been used extensively in many interiors this year, and green will continue into spring and summer next year.
I do see pastel shades featuring prominently to contrast with deeper hues. Pink is definitely still around, and we will absolutely see soft peach tones popping into our interior decor schemes. Peach and green - are my choice for a perfect colour scheme for summer 2018!
Grainne Devlin
0409 309036
D E S I G N & C O
INTERIOR DESIGN | RESIDENTIAL INTERIORS | COMMERCIAL INTERIORS
0409 309 036 | PO BOX 1570, MILTON, QLD 4064 | ABN: 76359660573 | DESIGNANDCO.COM.AU