November 23, 2017
Caroline Jean-Baptiste
For many years, property investors have assumed that Interest Only loans are the best option when buying an investment property to rent. And this was the case for a long time, but times have changed.
First let's talk about the major differences between the two loan options. In a nutshell, a Principal and Interest (P&I) loan is a when you agree to repay the loan over a period of let's say 30 where you're not only repaying the interest on the loan but also the actual loan amount (principal). This may initially be a bigger hit on the cash flow than the Interest Only loan, but a builds equity in the home by reducing the debt. In the current market the P&I
interest rates are more competitive so you'll save more on interest plus you can get into the market with a smaller deposit in many instances.
An Interest Only (IO) loan requires you to repay the interest of the loan for a capped term, generally five years. This has historically been an easier way for investors to get into the market sooner and keep their cash flow strong, because of the lower repayments and tax deduction benefits. To qualify for an interest only loan, you would often need to contribute
more to the purchase. Most lenders are only permitting IO at 80% LVR in the current market.
The theory behind this was that while the Interest Only component of the loan was being paid off over the first five years, investors typically saw a rise in their property values and rents. By the time their loan rolled over to Principal and Interest, the rent growth at this stage often helped cover the extra payments when paying off the principal amount.
Well, times are changing with regards to Interest Only loans. ASIC has put guidelines in place so that lenders are restricted to how much Interest Only lending they can provide. This seemingly is to cool down the investor market and speculation by incentivising the Principal and Interest loan borrowing instead.
As a result, the majority of lenders have increased their Interest Only interest rates to be typically about 1% higher than Principal and Interest loans. They've also become tougher on approving these loans. So, for buyers taking on an Interest Only loan simply to afford a property in an otherwise out of reach area for them economically, securing an Interest Only loan may now be far more challenging for them.
But don't give up on investing or even Interest Only loans! My job as your mortgage broker is to find you the most suitable solution for your individual circumstances, be it an Interest Only or Principal and Interest loan.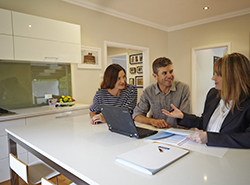 Recently I helped a client who was in a significant growth phase of his business, needing to invest more into his business than ever before. I discussed with him how we could make repayments easier during this growth phase, so we're now converting his mortgage from a Principal and Interest loan to an Interest Only loan for five years. He's thrilled with the solution. It helps to have a great mortgage broker who listens, understands and delivers a tailored solution. What's your situation and how can I help?
Caroline Jean-Baptiste - Mortgage Broker in Fortitude Valley, servicing New Farm, Spring Hill, Newstead, Teneriffe and all of Greater Brisbane.