Call Us
Office - 08 9485 0090
Fax - 08 9485 0041
Open Hours
Monday - Friday: 8:30am - 5pm
After hours by appointment
Address
Suite 1, 1st Floor 876 Hay Street, (Cnr Shafto Lane)
PERTH,

WA

6000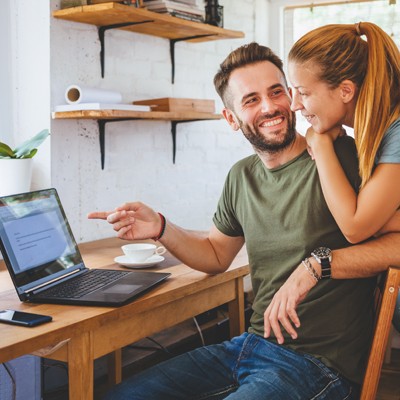 Latest home loan interest rates
The right home loan for your needs
Our mission is to find the right home loan for your individual needs and to always have your best interests at heart. Plain and simple. Which is why we have such a wide range of lenders to choose from. We can search through hundreds of products to find something tailored to your situation. ~
Rebecca Wilson is the best mortgage broker ever! I would never have had the confidence to buy a house without her. I trust her completely and I encourage everyone I know to use her.
I have dealt with Peter when I first got my mortgage. Nothing short of professional and attentive to all of my queries and questions. Having recently gone back to them for refinancing, I have been in correspondence with Rebecca. Outstanding professionalism and prompt responses, going above and beyond to deliver an exceptional customer experience. Can't recommend them enough.
Cannot speak highly enough of how much Rebecca Wilson help in my situation. Rebecca was efficient and answered all my questions with a speedy response. Would highly recommend her to anyone needing help with their mortgages.
Mortgage Choice in Perth CBD are a hard working team who are able to efficiently put through and recommend home loans that suit the client. Despite being with a bank that was not a preferred option, the team considered my choice and helped through the whole process, even through the Christmas/New Year break period where EVERYTHING runs slow. I am happy as a returning client to Mortgage Choice in Perth CBD and would encourage friends, colleagues and family to allow these wonderful people to help you with the home loan process. Thank you Mortgage Choice in Perth CBD!
We have been so impressed with Rebecca and her team! The communication, professionalism and efficiency throughout the whole process was above and beyond! Overall, extremely happy with the service we received. We will be recommending you to everyone!
Would not have picked a better business to buy my first house with. Nothing but excellent. Rebecca and Sonja continued to go above and beyond for us, can not recommend enough! Thank you again!
The Mortgage Choice guys in PERTH, WA were absolutely fantastic. They offered great advise, replied to emails immediately, were highly efficient and were super easy to work with. We had a few issues with the house we were buying and had to change lenders halfway through the process. Mortgage Choice smoothed the process and secured the new loan with a minimum of fuss. The greatest part of the process was their friendliness and speed of response to questions and issues. I would certainly recommend the PERTH team to anyone looking to secure a mortgage or ask advice.
This is the second time I have dealt with Rebecca on a property purchase, from the first initial email everything went extremely smoothly. Nothing was ever any trouble for Rebecca and her professional work ethic and commitment to customer service is world class, Thanks!
The help I received from Mortgage Choice in Perth was next to none. I was quite a difficult customer as this was my first home, so I asked questions every step of the way but Rebecca was there to answer every question in a timely and courteous manner. Very helpful.
Rebecca was so incredibly helpful, knowledgeable and friendly. She took on our case knowing it was a tricky one and helped us get into our new home so smoothly and quickly. Being first home buyers, Rebecca answered all our questions promptly and professionally, no matter how silly they were. We will definitely be recommending our friend and family to see Rebecca in future!
Rebecca has been very fast and efficient in assisting us to get our loan approval throughout the whole process. She is very good at liaising with clients needs. I would highly recommend anyone to get in touch with her at any time. Sonja is prompt with queries and updates. She is good at what she's doing! Thanks again!
Our experience with Mortgage Choice Perth has been fantastic. Quick, easy and hassle free from start to finish. The communication all throughout the process was excellent. Awesome job guys, will definitely use you again and will have no hesitations in recommending you to our family and friends. Thank you!
The team at Mortgage Choice in Perth were always available and willing to help with any of my requests. There may be times through the process that you don't quite understand, but Mortgage Choice in Perth will help you with clear concise answers and solutions to any questions, no matter how trivial or petty they may seem.
We have had such a wonderful, stress-free experience sorting out our home loan with Mortgage Choice in Perth. They put us at ease from the first appointment that we had with him and we were kept constantly 'in the loop' with updates from Sonja. I would highly, highly recommend using Mortgage Choice in Perth to anyone. Our dream home became a reality, quicker and more easily than we ever imagined!
My real estate agent recommended a Mortgage Broker, but I chose to use Mortgage Choice Perth. The service I received was very professional and the personal attention and follow up at every stage of the process was excellent. My real estate agent also commented on how impressed he was with Mortgage Choice Perth for keeping him informed at every stage of the process.
Refinancing guide
Considering refinancing? Our guide explains the reasons, costs and steps involved in refinancing your home loan.