Property investment
Property Investment Loans | Your Local Brokers in Perth CBD

If you're thinking about property investment, it definitely pays to get the right finance advice. As the right investment loan can help you maximise your investment strategy. That's where our team at Mortgage Choice in Perth CBD can help.
We've helped hundreds of Perth locals become property investors
Our expert team has assisted hundreds of Perth homeowners buy an investment property to build their wealth, from Mums & Dads investors through to savvy investors. So we understand that it's a big financial commitment and not one to take lightly, which makes it so important to get the right advice.
"Catherine was amazingly helpful at all points. Would not hesitate to recommend." - Charles, PERTH
Our brokers have access to over 25 lenders
With over 25 lenders on our panel, we have access to hundreds of different loans including a wide and competitive range of investment loan products to suit any need.
Our experienced brokers will take the time to find out what you want from your investment property and loan, and research and compare our range of home loans to find the right one for you.
Start crunching some numbers with our home loan calculators
How to get started investing
First things first, take a look at your current financial situation
Can you afford to purchase an investment property and all the associated costs that come with it? Particularly if you were to experience potential periods of vacancy? We can help you work out how much you could borrow or look at options to unlock equity in your current home.
How much can you borrow?
Understanding your borrowing capacity is one of the first steps before diving into an investment property. Our team at Mortgage Choice in Perth CBD can calculate how much you can borrow and also assess whether you could use your current home equity to purchase an investment property instead of a cash deposit. This will then help you work out what type of property and the location you could afford to buy in.
Are you able to secure a quality property?
Will the properties in your price range or suburb area attract quality tenants and good rental income? If you're unsure, we offer property reports on suburb areas and individual properties to help you work out what the rental yields may be and whether it's a good investment.
What are your goals?
Are you looking to hold onto this property for the long-term? As property is typically a long-term investment, rather than a short-term gain so it's important to make sure it aligns with your goals now and in the future.
How much money will you need to invest?
If you currently own a home, you know that there's certain costs that come with having a property including ongoing maintenance, council rates etc. So how much money will you spend to support your investment property? Are you comfortable with this?
All of these factors are important to understand when you're considering investing in property.
Check out more about how you can unlock your home equity to invest in our video below!
Our home loan service is at no cost to you
At Mortgage Choice in Perth CBD, our home loan service is at no cost to you as your chosen lender pays us a commission once your loan settles.
So you might be wondering if our advice is influenced by the amount of commission your lender pays us? Not at all. Unlike other mortgage brokers, we are paid the same commission regardless of which lender you choose. So you can trust that our advice is based purely on your best interests.
We do all the legwork and paperwork for you
If you've had a home loan before, you'll likely know that there is quite a bit of paperwork and follow up involved in the process. But at Mortgage Choice in Perth CBD, our team takes care of all of it on your behalf. We will complete and submit all the associated paperwork, as well as follow up with your lender and other third parties such as the real estate and settlement agent to check on your application and ensure it is running smoothly. Then we'll keep you updated every step of the way.
We take the boring and time-consuming stuff off your hands so you can focus on finding the right investment property.
Other resources you might find useful:
We've put together some other home loan resources you might find helpful to help guide you through your property investment journey;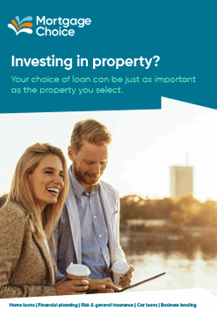 Download our Free Property Investor Guide
Book in a chat with our team today
We absolutely love helping our clients achieve their goals. Chat with our team at Mortgage Choice in Perth CBD today -
we can talk you through everything you need to know about investment loans and buying an investment property.
Book a no-obligation chat with our team today
The right home loan for your property investment
Our mission is to find the right home loan for your individual needs and to always have your best interests at heart. Plain and simple. Which is why we have such a wide range of lenders to choose from. We can search through hundreds of products to find something tailored to your situation. ~