Refinancing
Refinancing your home loan | Perth CBD

Refinancing your home loan can be a great way to reduce your mortgage repayments and save money, switch to a better loan product, consolidate debt or access your home equity. Even if you have only had your loan for a few years, there's a lot of benefits to refinancing.
What is refinancing?
With interest rates at record lows, we have a lot of clients looking to refinance their home loan to lower their home loan rate or fix their home loan.
Refinancing your home loan is the process of paying out your current home loan by taking out (or switching to) a new home loan, either with your current lender or a different lender.
In doing so, you could get a lower interest rate and reduce your repayments or switch to a loan with different features such as a fixed rate loan.
There are a ton of reasons why you might be considering refinancing your home loan. But the most common is typically to secure a more competitive rate or different features to keep up with your changing lifestyle.
Our Free Home Loan Review
Our team at Mortgage Choice in Perth CBD offer a Free Home Loan Review to anyone wanting to find out if they could be getting a better home loan rate.
We research and compare your home loan to hundreds of loans on the market right now to see if we can find you a better deal so we can hopefully save you some money on your monthly repayments! With record low rates right now, we have managed to save lots of our clients thousands of dollars a year on their home loan repayments just by switching to a lower rate.
If you'd like to book in a Free Home Loan Review with our expert brokers, it only takes a few minutes and it could save you thousands on your loan!
Book your Free Home Loan Review
"Excellent and fast service. Turned around a general mortgage rate query within 24 hours to give us a competitive new rate (that the bank was not proactively offering). Highly recommended."

-Keith, Wembley
Don't set and forget - why you should be reviewing your loan every 2 years
Once you have a home loan, our biggest piece of advice is not to take a "set and forget" attitude towards your loan and finances, particularly because the home loan and finance market is always changing.
Our advice is to ideally review or have a mortgage broker review your home loan every 2 years. As during this time, there is likely to have been significant changes to interest rates and home loan features that you could be taking advantage of.
With our team at Mortgage Choice in Perth CBD our service doesn't stop when your loan settles. We truly believe in making sure your home loan and finances are always working hard for you so we'll regularly keep in touch to share the latest rates and see if you could get a better deal.
There's a range of different reasons why refinancing might be a good option for you, including;
Refinancing to secure a better interest rate on your loan
This is definitely the most common reason for refinancing to get a better interest rate and save money on your monthly loan repayments. However it's worth noting that there are costs involved with refinancing, so before you go ahead you need to weigh up the savings of refinancing versus the associated costs.
Check out our lowest interest rates
Switch to a fixed / variable rate loan
With rates so low right now, you might be keen on the certainty of low and stable repayments in which case it may be a good option to refinance to a fixed rate loan. Or on the other hand, you may want to refinance out of your higher fixed rate to take advantage of the current low rates with a variable rate loan.
Refinancing for better loan features
It's important that your home loan keeps up with your changing lifestyle. So you may want to refinance to get more suitable loan features such as an offset account or redraw facility, or perhaps more flexible repayment options if you want the ability to make extra repayments to help pay your loan off sooner. There's a lot of different loan options available so we can definitely find something that best suits your needs.
Refinancing to unlock home equity
Accessing your home equity is a great way to help build your property portfolio and wealth or use the money to achieve other goals. Refinancing can help you to unlock your equity and have some money to play with.
Read more about home equity and how you can use it
Refinancing to consolidate debt
If you are like most Australians, you probably have multiple debts such as a home loan, credit cards or car loan. But having several debts means managing multiple repayments each month which can be tricky.
Refinancing your loan can allow you to streamline your debts and possibly reduce the overall interest you're paying through what is called debt consolidation. This is the process of combining multiple high interest debts into one lower rate debt - like your home loan - and this could reduce your total monthly repayments.
BUT there are some downsides to consolidating your debt that you should be aware of. It can result in a short term debt such as a car loan turning into a long term debt (like your mortgage) and that will mean you're paying interest on the balance for a longer period of time which could cost you more long term.
Check out the video below that looks at the benefits of refinancing to consolidate debt.
Other helpful refinancing resources
We have several other refinancing resources available that you may find useful, to help you decide if refinancing is right for you.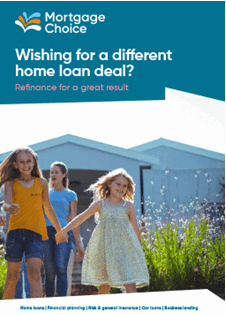 Download our Free Refinancing E-Guide
Get expert refinancing advice today
At Mortgage Choice in Perth CBD, we have helped thousands of homeowners across Perth refinance their home loan to better their financial situation. So find out if you could get a better deal on your loan today with our Free Home Loan Review.
We do all the research, paperwork and follow up for you - so you can just sit back and enjoy the extra savings back in your pocket!
Book your Free Home Loan Review with our team
Is it time to refinance?
Our mission is to find the right home loan for your individual needs and to always have your best interests at heart. Plain and simple. Which is why we have such a wide range of lenders to choose from. We can search through hundreds of products to find something tailored to your situation. ~