Renovating
Renovation Home Loans | Perth CBD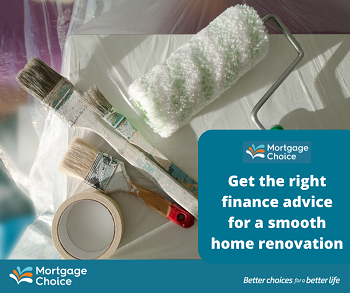 Renovating your home can be a great way to significantly improve your property's value, as well as make your home feel brand new or more suitable to you and your tastes. When you're considering home renovations, it's important to make a plan to work out exactly what you want to do and what it will likely cost.
If you need a loan to help fund your renovations, our team at Mortgage Choice in Perth CBD can help you navigate the different financing options to find the most suitable one for you.
If you're considering renovating your home, you're probably looking at how you will pay for it. There are a couple of options to help you finance your home renovations, including:
Top-up
One option is to top up or increase your existing home loan by using the equity in your property or redraw facility.
Home equity loan
This type of loan involves using the equity in your home to borrow for a personal use. Equity is calculated by the difference between what you still owe on your home loan and your property's current value, which is determined by a property valuation.
Redraw / Offset
If your current home loan has an offset account or redraw facility and you have been making additional payments on your loan, you might be able to withdraw these funds and use them to fund your renovations.
Construction loan
A construction loan is used for a major renovation or new build and allows you to withdraw funds in stages as you receive your invoices. If you're looking at a major home renovation, then this is a great option as it allows you to save as you only pay interest on the funds you have drawn on.
Download our Free Construction Guide for everything you need to know about construction loans.
Line of credit
This finance option is a flexible loan arrangement with a set credit limit to be used for your choosing. With a line of credit, interest is calculated on the balance owed, rather than the total loan amount.
Personal loan
This can be a good option for smaller renovations as they typically have higher interest rates and shorter loan terms.
How our team at Mortgage Choice in Perth CBD can help
Trying to figure out which option is best for you can be confusing and overwhelming, that's where we come in. Our team of home loan experts take the time to understand your situation and goals, talk you through all the finance options for your home renovations and recommend a finance option that is best for you and your needs.
We take the time and hassle out of finding the right loan by shopping around for you. We research and compare hundreds of home loans from our panel of over 25 lenders to find the most suitable and competitive finance option for you.
Our team also takes care of all the paperwork and legwork involved in applying for a loan, and will update you and all the third parties involved every step of the way.
Our home loan service is at no cost to you, as we get paid directly by the lenders when your loan settles. Unlike other mortgage brokers in the industry, we get paid the same commission regardless of which loan you choose. So you can be confident that our recommendations are based purely on your best interests.
Start your renovations with the right finance
If you want to find the right finance option to start your home renovations, book an appointment with our expert team at Mortgage Choice in Perth CBD. We'll guide you through the finance options and find the right one for you.