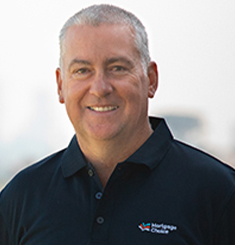 Chris Howitt
Chris is a fully trained and accredited (COSL & MFAA) Diploma in Finance & member of the successful Mortgage Choice team since 2004.
Chris offers a friendly, efficient and complete mortgage broking service made possible by his unique combination of training, skills and experience.
Chris has a "client for life" attitude towards his business relationships and a genuine interest in the financial well-being and goals of each client.
This personal approach is evident from the very first meeting with new clients as Chris takes the time to clearly understand their individual circumstances, needs and any special requirements they may have.
Chris believes in setting up the correct loan structures from the start. He strives to locate and secure the most suitable home loan for each client and at the same time reduce lending costs and any associated stress.
There's no greater reflection of this absolute commitment to clients than the fact that the vast majority of his new clients are referred by existing clients.
As well as being involved in Australia's ever-changing home loan marketplace in his role as a mortgage specialist, Chris also has a passion for property investment. In the past few years he has built and continues to grow a successful portfolio of investment properties spread throughout Australia.
Chris has the expertise, experience and attention to detail to navigate his way through almost any home loan situation that may arise.
Give Chris and the Team a a call now on (03) 9646 7973 or 0401 334 599