While your ultimate goal should always be to pay off your mortgage as soon as possible - Daniel Eigenmann, mortgage broker with Mortgage Choice in Subiaco (Perth) highlights four reasons paying off your mortgage sooner is not actually in your best financial interests.
Here are 4 instances you should keep your champagne on ice a little longer...
1. You may incur penalties
Sometimes you can be hit with an 'early termination fee' or 'exit fee' when you pay out a loan early .
While exit fees on all new loans were banned on 1 July 2011, loans that pre-date this time may still incur this type of fee. Make sure to check with your lender or broker first.
Alternatively, if you are in a fixed rate home loan, paying your loan out early could cause you to be charged a 'break fee'.
As a general rule of thumb, the more interest rates have dropped since you took out your fixed rate home loan, the higher the break fee will be.
Of course, you won't know exactly how much these fees will be until your credit provider tells you – so make sure you find out what you could be up for before making any final decisions.
If you are in a fixed rate home loan call your bank to ask for your 'payout figure'.
2. You may be paying off the wrong debt
If you have different forms of debt, it's important to pay off the debts that have the higher interest rates first.
For example, if you have a credit card with an interest rate of 19% and a home loan with a 5% interest rate... it makes sense to actually put any additional money you have towards the credit card debt first (until it's paid off and then to go back to paying off the home loan on your home).
If you're finding it hard to pay off your credit card (or any other high-interest personal debt) and at the same time make your home loan repayments - you have the option to consolidate all your debts into the one home loan. Banks refer to it as debt consolidation.
But be warned...
If you're not careful - and don't eliminate the reasons you got into debt in the first place - all you're really doing is turning a realtively short-term debt (e.g. 5 years) into a long-term one (up to 30 years) and paying a lot more interest at the end.
A new loan will only be a temporary measure if you never learn to manage your finances better.
Debt consolidation should really only be used to relieve your monthly cashflow to get you back on your feet. Your aim should be to put an accelerated debt repayment plan in place asap.
3. You may be missing out on tax benefits
If you have a mortgage on both your family and an investment property... it often doesn't make sense for you to rapidly pay down the debt on both properties at once.
Instead, you'd be better off putting any additional income you have towards accelerating your repayments on the home loan on your family (owner-occupied) home.
Not only will this allow you to pay off the pool of debt you have between the two properties, but there are certain tax benefits associated with investment loans that you'll still be able to take full advantage of.
It makes little sense of paying off the principal of a tax-deductible loan (on the investment property), when the same payments could be reducing your non-tax deductible loan (on your owner-occupied home).
Home loans can be structured to help maximise the repayments on your non-tax deductible mortgage.
4. You may not be maximising your investment returns
If you don't have any other investments apart from your property, putting additional funds towards shares or other various assets could help you to make more bang for your buck in the long run.
The extra money you're ploughing into your owner-occupied property (in addtion to your required minimum repayments) may be used to invest and generate better returns in the long run.
A financial adviser can help you put a financial plan in place and ultimately recommend the best investment strategy for your needs.
Have more questions?
If you have questions about any of the issues covered in this article or would like to discuss your personal circumstances and home loan needs, call Daniel Eigenmann of Mortgage Choice in Subiaco (Perth) for a Zero-Obligation Chat - either on the phone (08) 6355 6834, in person (2/337 Rokbey Road, Subiaco WA 6008), or by email on daniel.eigenmann@mortgagechoice.com.au.
If you want to find out if you could benefit from switching home loans (i.e. refinance) - take advantage of our Free 15-minute Home Loan Health Check service...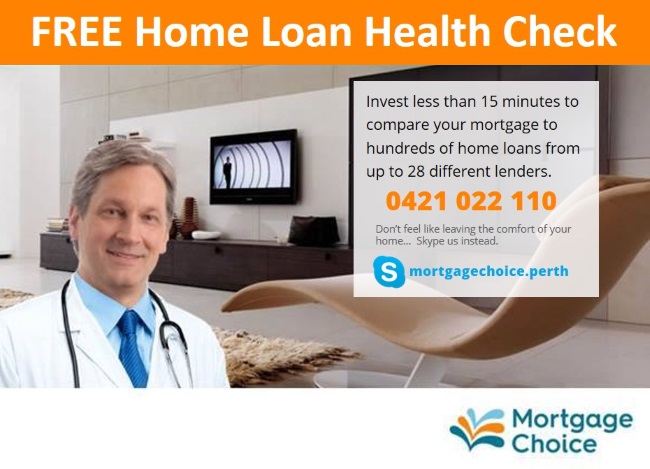 Mortgage Choice Subiaco, Perth - 2/33 Rokeby Road, Subiaco WA 6008 - Tel: (08) 6355 6834 - Mobile: 0412 022 110 - Email: daniel.eigenmann@mortgagechoice.com.au