October 04, 2014
Daniel Eigenmann
Are you wondering if refinancing your home loan is the right move for you? While there is no right or wrong answer to this question… the fact remains that refinancing your existing mortgage can bring many benefits.
Benefit 1. Mortgage refinancing lowers your monthly mortgage payment.
By refinancing, you may find you can lock in your home loan at a lower fixed rate, or you may be able to secure a lower variable rate that could drop even more in the future.
Benefit 2. The total interest paid on your mortgage could be reduced.
While it depends on the loan terms, the costs of refinancing and also the interest rate that you receive when you refinance, it is still possible for you to pay less in total interest. Be thorough with your calculations of the costs associated with refinancing and calculate your total payments to forge an accurate picture. At Mortgage Choice in Subiaco we can provide you with a detailed loan comparison table to help in your decision.
Benefit 3. You can pay your mortgage off faster.
You may find yourself in a situation where you are making significantly more income than you did when you bought your home. Paying more on your mortgage each month isn't always allowed according to the loan terms, so refinancing could be the ideal option for you. You could also choose a lower term to pay off your mortgage sooner.
Benefit 4. Your better credit could qualify you for lower interest rates.
If you bought your home when your credit was suffering, you probably paid the highest interest rate available. If you have been able to rebuild your credit since purchasing your home, refinancing might enable you to take advantage of lower interest rates. A better credit score will mean lower interest and better mortgage terms.
Benefit 5. Refinancing lets you unlock the equity in your home.
A major benefit of refinancing is that it allows you to access the equity in your home. This equity can be accessed to purchase an investment property, fund home renovations, pay for university costs or holidays. Not all lenders are the same when it comes to the reasons why you want to access your equity, so call Mortgage Choice Subiaco is you want to be sure. The interest rate is equal to your mortgage rate, so borrowing from the equity in your home tends to be the most cost-effective financing option available to homeowners.
If you're considering refinancing your home loan, and are not sure if refinancing is right for your situation, or have more questions unique to your situation, call me, Daniel Eigenmann at Mortgage Choice in Subiaco.
Free Home Loan Health Check
At Mortgage Choice Subiaco we offer free home loan checks to help you review your current home loan to make sure it is still the best solution for you. This can be done face-to-face or over the phone and doesn't take more than 15 minutes.
To book a free 15-minute Home Loan Health Check with Mortgage Choice Subiaco, call (08) 6355 6834 or 0412 022 110.
See what others say about Mortgage Choice in Subiaco.
Sign up to our free monthly newsletter to receive the latest news, tips and offers about home loans.
Be sure to share our blog on Facebook and Google+ and let others join the conversation.
If you want to find out if you could benefit from switching home loans (i.e. refinance) - take advantage of our Free 15-minute Home Loan Health Check service...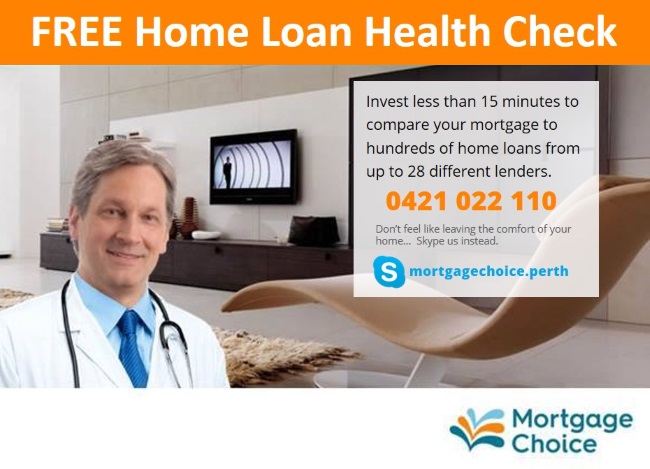 Mortgage Choice Subiaco, Perth - 2/33 Rokeby Road, Subiaco WA 6008 - Tel: (08) 6355 6834 - Mobile: 0412 022 110 - Email: daniel.eigenmann@mortgagechoice.com.au