July 16, 2015
Daniel Eigenmann
There are many reasons why you should choose a Mortgage Choice broker to organise your home loan.
Jessica Darnbrough of Mortgage Choice explains why it makes sense to talk to your local Mortgage Choice home loan expert...
1) A Mortgage Choice broker will come to you and work with you to understand your financial circumstances, needs and goals.
2) A Mortgage Choice broker will work out how much you can borrow and then they'll source through hundreds of home loans products from a panel of up to 28 different lenders and use their expertise to help you find the right home loan for your needs.
3) They do all the paperwork and liaise with the lenders on your behalf so you don't have to worry about a thing.
4) They can also arrange pre-approval if that's also something that you need.
5) But the best part is, they'll do all these services at no charge to you.
How do mortgage choice brokers get paid - if there's no cost to you?
The lender pays the broker a commission once your loan settles.
Now that commission in no way affects the deal you receive from your lender.
At Mortgage Choice we then pay our brokers a commission.
But Mortgage Choice is a bit different to other brokers.
We pay our brokers the same rate of commission regardless of the home loan you choose from our panel of lenders.
Mortgage Choice don't just offer home loans...
We can help our customers with everything. From
Car loans,
Personal loans,
Commercial finance,
Equipment finance.
We can even help them with their risk and general insurance needs.
And also thanks to our growing network of financial advisers we can also provide them with financial advice.
Contact Mortgage Choice Subiaco (in Perth) to find out how we can assist you with all your lending needs.
Call (08) 6355 6834 or
Email us at daniel.eigenmann@mortgagechoice.com.au
If you want to find out if you could benefit from switching home loans (i.e. refinance) - take advantage of our Free 15-minute Home Loan Health Check service...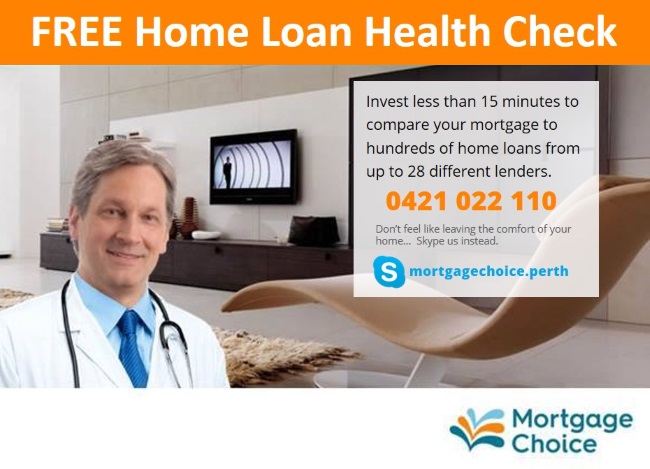 Mortgage Choice Subiaco, Perth - 2/33 Rokeby Road, Subiaco WA 6008 - Tel: (08) 6355 6834 - Mobile: 0412 022 110 - Email: daniel.eigenmann@mortgagechoice.com.au