August 30, 2014
Daniel Eigenmann
When was the last time you looked at your mortgage in some detail? If you're like borrowers in Australia, the last (and only) time you briefly glanced at your loan contract was when you first signed it. Since then it's been filed away, gathering dust.
With spring clearly settling in and the interest rates at never seen before low levels... now is the time to find your loan documents, blow off the dust and give it a good old spring clean.
Understand that whilst your loan papers have been gathering dust, your circumtances and needs have probably changed, interest rates have plummeted to never before seen levels and banks have been throwing everything they can at Australian borrowers so they choose them and not their competitors.
That means that today as a borrower you have more options than ever before!
Make sure you're not missing out on opportunities to save on interest (probably thousands) and pay down your loan faster (shaving off years off your mortgage in many cases)... give your mortgage a serious spring clean.
Here are 5 simple tips to get your spring clean underway:
Tip #1: Look at last year's budget
Look for expenses you can move around so you can add extra dollars to your mortgage. Every little bit goes a long way to reducing your debt. Remember, the more extra payments you make, the less interest you'll pay and the faster your mortgage will be paid off.
Tip #2: Get to know your mortgage
Do you know how much interest rate you're curently paying on your home loan? If you don't, you're like more than half of Australia's mortgage holders who don't have a clue what rate they're being charged. I don't have to remind you that a mortgage is one of the biggest financial commitments you can make, so make sure you know all about it.
Taking a proactive approach (rather than the usual set-and-forget approach) is likely to save you thousands in interest payments and shave years off your mortgage. Imagine what you could you do with the extra money and time.
Tip #3: Consider the mortgage features
Does your home loan have a range of features you don't use (and are being charged for)? Like cars, extra home loan features come at a price. A good example is paying $395 a year for an offset account when you're not holding enough money in the account to make it work. You'd be better off with a simple account that would cost you $10 per month at most ($120 per year).
Remember. Review your features. Find out if you're being charged extra for features you don't use. If you are, you might be able to switch to a 'cheaper' loan with fewer options. In some cases, you may actually benefit from a loan with more (different) features.
Tip #4: Look into debt consolidation
If you're struggling with a range of debt repayments, rolling your other debts into your mortgage can help you to pay less each repayment period and gain some peace of mind. However, remember that those debts will be stretched over a longer period (i.e. your entire home loan term). But it might help you out in the short term until your financial situation improve.
Tip #5:Get a free home loan health check
A free home loan health check like the one we offer at Mortgage Choice in East Perth, can not only help you understand what home loan features are available, but find a solution that best suits your needs. There is no obligation, so why don't you check you're still doing the best thing by your mortgage.
We can review your current mortgage over the phone in less than 20 minutes. To organise a suitable time for a free home loan health check... call me, Daniel Eigenmann at Mortgage Choice Subiaco in Perth, on (08) 6355 6834 or 0412 022 110, or email at daniel.eigenmann@mortgagechoice.com.au.
And if you're in Subiaco, why don't you pop into our office for a coffee and review your car finance options at the same time.
Sign up to our free monthly newsletter to receive the latest news, tips and offers about home loans.
Be sure to share our blog on Facebook and Google+ and let others join the conversation.
If you want to find out if you could benefit from switching home loans (i.e. refinance) - take advantage of our Free 15-minute Home Loan Health Check service...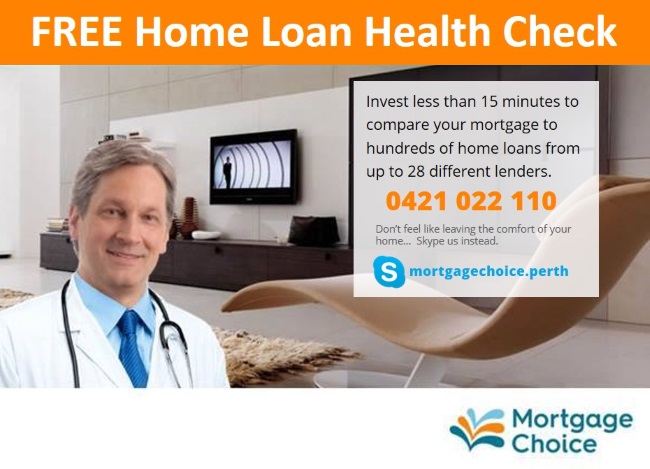 Mortgage Choice Subiaco, Perth - 2/33 Rokeby Road, Subiaco WA 6008 - Tel: (08) 6355 6834 - Mobile: 0412 022 110 - Email: daniel.eigenmann@mortgagechoice.com.au