May 29, 2014
Daniel Eigenmann
No one likes paying interest. Especially to the bank. By applying just one of these simple strategies you could shave years off your home loan and save thousands of dollars in interest payments.
Let's imagine you have a 30-year home loan for $350,000 with an interest rate of 5% and make monthly repayments.
Your repayments would be $1,879 per month; and
You would pay a total of $326,395 in interest over the 30 years
As you can see, after 30 years you would have paid your bank almost twice as much as you originally borrowed to buy your house.
Now, let's look at how we could reduce the total amount of interest you pay and the number of years it takes to pay off your loan.
Strategy #1: Shop around for a better rate
Obviously, if you've just set up your home loan, it'd be too late for this strategy.
But, let's see how much you'd save you if we were able to find you a home loan with not only all the right features, but also an interest rate of 4.90%:
Savings on monthly repayments: $22 per month
Savings on total interest paid: $7,679
Remember, that it is not always only about chasing the cheapest interest rate. It is about finding the best possible rate for the home loan product that is right for you.
Start with your objectives so that you can structure your loan adequately. And then, and only then, seek to find the best available rate.
If you're still looking for the right home loan, give us a call at Mortgage Choice in Subiaco East Perth, and we'll help you find the best rate for the right home loan.
Strategy #2: Overpay or make extra repayments
Once your loan is setup, the easiest way to save time and money is to make extra repayments. Either by simply paying a little more then you have to every month. Or by making extra payments as often and of whatever amount you can.
Let's see how much you'd save if you decided to pay an extra $100 per month on top of your required monthly repayments:
Savings on total interest paid: $40,847
Time shaven off loan: 3 years and 3 months
To save even more money and time... keep increasing your overpayments with every wage increase.
Make sure the product you choose allows extra repayments. Not all of them do. Many fixed products either don't allow extra repayments or only in a limited way.
Strategy #3: Make lump sum repayments
Lump sum repayments are another form of extra repayments but less predictable and usually made in bigger chunks. The money can come from tax refunds, gifts, bonuses, or inheritance.
Get into the habit of making lump sum payments into your home loan whenever possible. If your product allows redraws, you can always take some of that money out if you ever need to.
Let's see how much you'd save if you made a single one-off lump sum payment of $5,000, 2 years after you set up your loan:
Savings on total interest paid: $14,818
Time shaven off loan: 10 months
Again, make sure the home loan you choose allows you to make lump sum payments.
There are only a few products that allow unlimited extra payments on fixed rates. Call us if you are interested to find out which ones.
Strategy #4: Increase your repayment frequency
This is one the simplest and most effective ways to painlessly shave years off your loan and save tens of thousands in interest payments.
It's simple. By switching to fortnightly repayments instead of monthly, you're effectively making one extra loan repayment each year.
Let's see what happens to our home loan if you opted for fortnightly repayments instead:
Savings on total interest paid: $60,074
Time shaven off loan: 4 years and 9 months
Again make sure your home loan products allows you to pay fortnightly. Not all of them do.
Strategy #5: Maintain your repayment even if interest rates are going down
If interest rates go down and your bank reduces your repayments - don't change the amount you pay.
This has the same effect as making regular overpayments (see strategy #2).
Strategy #6: Make an offset account work for you
An offset account is a great way to save significant amounts of money and time on your home loan. But only if you use it properly.
Let's see what savings you could achieve if you were using your offset account properly and were able to maintain an average balance of $7,000 in your offset account at all times:
Savings on total interest paid: $13,202
Time shaven off loan: 1 year
But an offset account is not for everyone. We've found that an offset account is only really worth it if you are able to maintain a balance of at least $7,000.
Anything less and the cost of having an offset account will erase all the benefits and may even, in some cases, cost you money.
Almost every lender charges either an annual package fee or a monthly account keeping fee on their offset accounts. Ask us if you're not sure if an offset account is right for you.
Strategy #7: Reduce your monthly ongoing fees
Think of any ogoing fee as money you could have saved towards extra repayments.
The home loan market is currently fiercely competitive which means lenders are trying to attract new customers not only with more attractive rates but also with special offers on upfront fees and ongoing fees.
Make sure to shop around to make sure the home loan you choose not only has all the features you need but also offers you the best value.
As a mortgage broker with Mortgage Choice East Perth I compare and contrast hundreds of home loan products from up to 27 different lenders (including the big four).
We can access the latest offerings from all our lenders and are able to perform up-to-date product comparisons in minutes.
Bonus Strategy: Review your home loan regularly
Many home loan owners are missing out on substantial savings by adopting a set-and-forget approach. But almost every one we ask can't tell us what their interest rate is and what their repayments are.
The home loan market is changing almost on a weekly basis. Your circumstances change over time too. Your needs, goals, expectations, all evolve as time goes by.
If you're serious about paying off your home loansooner you need to be pro-active and review your home loan on a regular basis.
You want to make sure that your current home loan is still the absolute best option for you. What may have been the best products then might not be the right product now.
In some cases, substantial savings in repayments, interest payments and time can be achieved by switching to a more appropriate loan.
But please do your sums first before switching to a new loan. Make sure that after you've accounted for the new interest rate, all the costs involved in closing one account and setting up a new home loan, and the new ongoing fees, that you still end up ahead.
Free Home Loan Health Check
We offer all our clients a free yearly home loan health check to review their current home loan. If you mention this article when you call, you too can take advantage of our free home loan health check.
We take the stress out of your next home or car loan
Find out how we can help you with your home loan or car finance. Our home loan service is free (because we the lenders pay us) and there are no obligations to talk to us.
Call Daniel Eigenmann on (08) 6355 6834 or email daniel.eigenmann@mortgagechoice.com.au.
And if you're in Subiaco, why don't you pop into our office for a coffee.
Sign up to our free monthly newsletter to receive the latest news, tips and offers about home loans.
Be sure to share our blog on Facebook and Google+ and let others join the conversation.
If you want to find out if you could benefit from switching home loans (i.e. refinance) - take advantage of our Free 15-minute Home Loan Health Check service...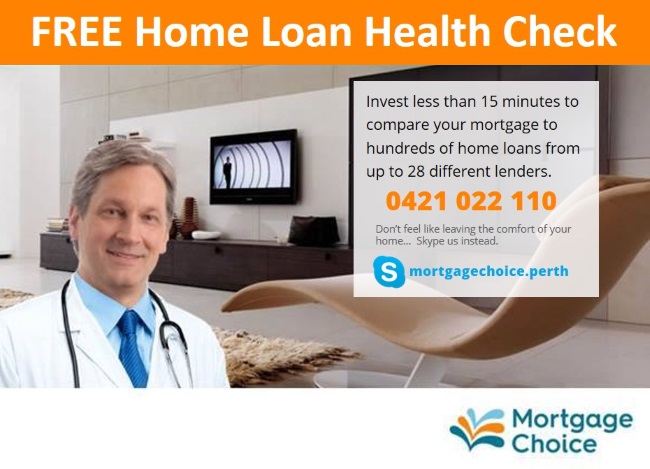 Mortgage Choice Subiaco, Perth - 2/33 Rokeby Road, Subiaco WA 6008 - Tel: (08) 6355 6834 - Mobile: 0412 022 110 - Email: daniel.eigenmann@mortgagechoice.com.au