May 14, 2015
Daniel Eigenmann
We make it easy to find the right home loan for your needs.
As your local Mortgage Choice broker in Subiaco (in Perth) we have access to hundreds of great home loan deals from a wide range of experienced and professional lending institutions, including banks (including the top 4), credit unions and building societies.
Adelaide Bank is the specialised lending business of Bendigo and Adelaide Bank Group, with its loans only accessible to borrowers via partners such as Mortgage Choice.
Whether you're taking your first steps into the property market or you're an experienced investor, looking to upgrade or purchase an investment property, you'll find an AMP Bank home loan that's right up your street.
ANZ is committed to helping you make your home ownership plans real. Whether you're refinancing, renovating, buying or investing, ANZ is dedicated to helping bring your plans to life.
Bankwest's vision is to be the best value, most innovative and approachable bank in Australia with an absolute focus on customer satisfaction.
BETTER CHOICE HOMEM LOANS
Better Choice is a non-bank lender, specialising in providing personal contact with borrowers and our mortgage brokers.
Bluegum home loans funds are provided by Australia's leading wholesale service, Advantedge Financial Services Pty Ltd (Advantedge), a wholly owned subsidiary of National Australia Bank.
For 27 years, Citi has worked to fulfill the unique ambitions of their clients by being the bank that connects better - bringing people, the best ideas and resources from anywhere in an increasingly dynamic and open world.
Commonwealth Bank can offer you a flexible home loan. Their home loans come with options which allow you a repayment holiday, top-up or redraw. CommBank can lend in all postcodes.
CUA is Australia's largest 100% customer-owned financial institution, providing a range of home loan products to customers across the country, including fixed and variable options.
Heritage is Australia's largest customer-owned bank and one of the longest running financial institutions in the country, with a history going back to 1875.
Homeloans was established in 1985, and since then has grown to one of the mortgage industry's most respected lenders, providing finance to home buyers and investors throughout the country.
Whether you're a first home buyer, upgrading to a bigger house or buying an investment property, there is a NAB home loan to suit you.
Launching in 1999, ING DIRECT pioneered branchless banking in this country and quickly grew to become Australia's 5th largest mortgage lender. ING DIRECT revolutionised the mortgage market by providing simple and straight forward home loans.
Keystart provides unique home loan options for customers by offering low deposit finance options. No LMI Charged and low deposit home loans.
La Trobe Financial is one of the largest privately owned Australian financial groups specialising in credit, dedicated to providing financial solutions for borrowers, brokers and other mortgage operators whose needs are under-serviced by traditional financial institutions.
Liberty is one of Australia's leading non-banks offering a competitive alternative to the banks. They provide a wide range of products for home, car, business and investments.
Macquarie has been helping Australians buy homes and investment properties for more than 20 years. Macquarie has a range of solutions designed to suit your needs.
Mortgage Choice offers our own range of home loans that can adapt with you as your needs change over time. The Mortgage Choice home loan suite was developed exclusively for our broker network to enhance our commitment to providing you peace of mind and help you achieve your home ownership goals.
Pepper is a leading Australian specialist lender offering innovative home loan products to suit borrowers who appreciate flexibility from their lender. Pepper offers solutions for clients who fall outside the credit criteria of banks and other traditional lenders.
The Rock Building Society has been supporting customers throughout Australia to achieve their home owner dreams for over 40 years, with 23 physical outlets throughout Queensland and a team of national dedicated broker relationship managers.
St.George Bank is one of Australia's favourite Retail brands with over 2.6 million customers. St.George is well known for its range of mortgage products and for its friendly customer service focused staff who will work with customers to build financial solutions.
Suncorp Bank knows finding the perfect house is hard work. But finding the perfect loan shouldn't be. Suncorp Bank offers a range of home loans to fit with your lifestyle and give you peace of mind. They also offer highly attractive interest rate specials and life of the loan discounts to save you money.
Want to fund renovations? Need to buy your first or next home? Looking to refinance or invest? When it comes to home ownership goals, Mortgage Choice can help you get there faster with access to a great range of TIO home loans and competitive rates.
Westpac understands when it comes to buying property, whether it's your first dream home or one of many, it's the most important financial and emotional decision you will undertake. Their goal is to help make your property purchasing journey simple, straight forward and easy.
If you want to find out if you could benefit from switching home loans (i.e. refinance) - take advantage of our Free 15-minute Home Loan Health Check service...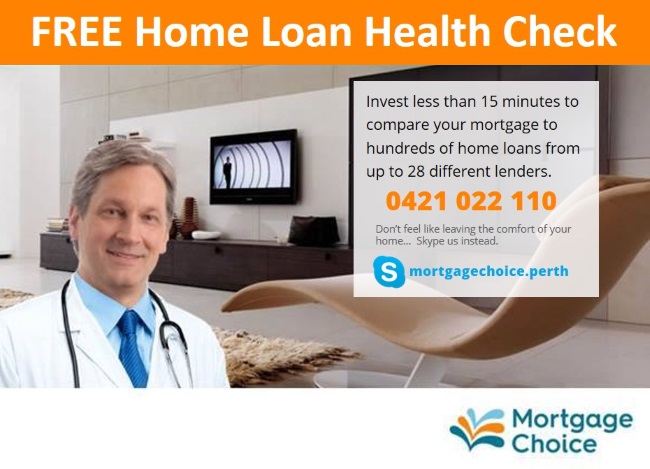 Mortgage Choice Subiaco, Perth - 2/33 Rokeby Road, Subiaco WA 6008 - Tel: (08) 6355 6834 - Mobile: 0412 022 110 - Email: daniel.eigenmann@mortgagechoice.com.au