After cutting rates twice already this year, it was no surprise that, in June, the RBA decided to leave the cash rate untouched at the historical low level of 2%.
Does that mean we've reached the bottom of this rate cycle?
Whilst experts and commentators are debating the question... what we know, for sure, is that strong consumer sentiment combined with moderate dwelling value growth has encouraged the Reserve Bank to leave the official cash rate on hold.
More time's needed to assess the true impact of the May rate cut
One major reason for this month's RBA decision is that not enough time has passed for the Reserve Bank to truly understand what impact the May's rate cut will have on the domestic economy.
It'll take at least another month or so before we see how the last rate cut will impact (if at all) employment, inflation, business confidence and sentiment, etc.
And until such a time as we know what effect the May rate cut has on the economy... there is no reason for the Board to pull the rate lever.
Domestic economy showing early encouraging signs
While the Reserve Bank takes a 'wait and see' approach to rates, preliminary data would suggest the May rate cut combined with the relatively benign Budget are starting to have the intended effect on the domestic economy.
For example:
The Westpac Melbourne Institute Index of Consumer Sentiment rose by 6.4% in May to 102.4. This jump in sentiment marks the first time since February that the Index has been above 100 - the point which optimists outnumber pessimists.
Furthermore, new data from Core Logic found property price growth may be starting to moderate, with dwelling values falling 0.9% throughout May.
This is the first month-on-month fall since November.
No doubt the Reserve Bank would be pleased by this result, as the Board has consistently said the rapid growth in dwelling values across some of the capital cities is a worrying trend.
But further rates cuts can't be ruled out just yet!
Whilst inflation is benign and uncertainty about global growth and markets continues, there is still reason for the Reserve Bank to move the cash rate lower in the future.
For the time being however, it really is a case of watch this space.
If you want to learn more about your home loan options, call (08) 6355 6834, email Daniel Eigenmann or visit Mortgage Choice Subiaco in Perth website at www.mortgagechoice.com.au/daniel.eigenmann.
Make your own rate cut - Don't wait for the RBA - Give your home loan a Free Home Loan Health Check
Our Free Home Loan Health Check will tell you if 9and how) you could save thousands and shave years off your mortgage by switching loans?
Find out (in matter of minutes) by comparing your current home loan to hundreds of loans from 28 different lenders.
Switching home loans... is today a lot easier and cheaper then ever.
Speak with us today (by phone, skype or in person) about refinancing your current home loan if you want to…
Get a better rate (without for the RBA to cut rates)

Renovate or build

Consolidate loans

Access equity
If you want to find out if you could benefit from switching home loans (i.e. refinance) - take advantage of our Free 15-minute Home Loan Health Check service...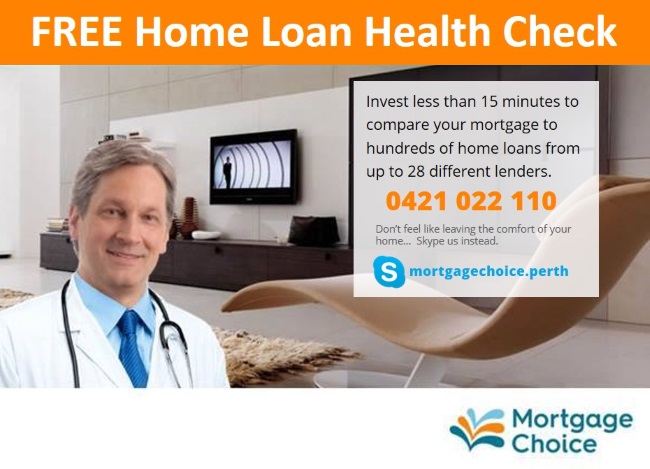 Mortgage Choice Subiaco, Perth - 2/33 Rokeby Road, Subiaco WA 6008 - Tel: (08) 6355 6834 - Mobile: 0412 022 110 - Email: daniel.eigenmann@mortgagechoice.com.au