August 12, 2014
Daniel Eigenmann
At Mortgage Choice East Perth we recognise the importance of referrals, this is why we want to show our gratitude by offering a $100 EFTPOS card to you each time you refer someone who settles a new home loan, or refinances their current loan with us.
There is no limit to the number of $100 eftpos card we'll mail you!
The best thing is that there are no limits to the number of people you can refer. We'll happily mail you a $100 EFTPOS voucher each time you refer someone and they settle a new home loan, or refinance their current loan with us.
It is our way of saying thanks, and making it easy for you to help anyone you know who could use our advice and experience the level of service we pride ourselves in (see what clients say about Mortgage Choice Subiaco in Perth).
It's easy to get started…
If you hear someone you know (friend, family, or colleague) talking about...
Buying a new home,

Planning to invest in property, or

Wanting to review their current home loan to see if they could save money on interest, or pay it back earlier,
...you can get them to contact me directly on 0412 022 110. Or if you prefer, email me their details - and I'll make sure to look after them.
Friends and family members could save money by refinancing
Many of our clients are taking advantage of current rock bottom rates, and the fierce competition between banks, to save hundreds - if not thousands – on their home loan repayments... simply by having us shop around for them.
It takes less then half an hour (on the phone or face to face) to check out your current home loan and identify potential savings options.
Our home loan service is FREE
It costs nothing to talk to us and have your home loan application prepared and submitted.
I'd love the opportunity to help your friends & family
So if you know of a friend, family member, or colleague looking for a new loan - or complaining about their existing one - feel free to forward this blog article and my details so we can have a chat and see how we can help.
And when their new home loan settles - or their current home loan has been refinanced - I'll send you a $100 EFTPOS card to say thank you.
Call me, Daniel Eigenmann, on (08) 6355 6834 or 0412 022 110, or email at daniel.eigenmann@mortgagechoice.com.au.
And if you're in Subiaco, why don't you pop into our office for a coffee and review your car finance options at the same time.
Sign up to our free monthly newsletter to receive the latest news, tips and offers about home loans.
Be sure to share our blog on Facebook and Google+ and let others join the conversation.
If you want to find out if you could benefit from switching home loans (i.e. refinance) - take advantage of our Free 15-minute Home Loan Health Check service...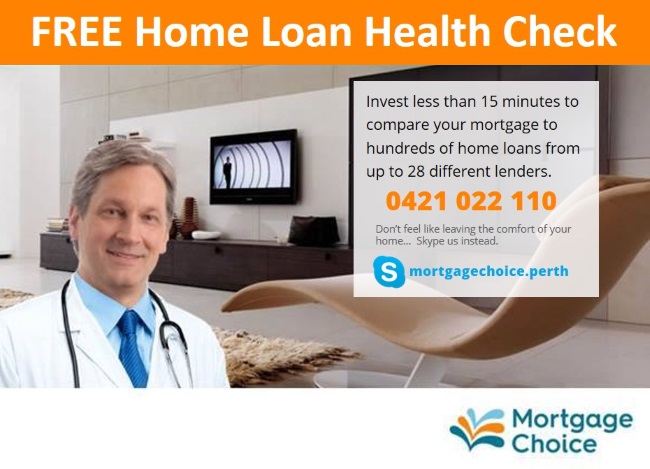 Mortgage Choice Subiaco, Perth - 2/33 Rokeby Road, Subiaco WA 6008 - Tel: (08) 6355 6834 - Mobile: 0412 022 110 - Email: daniel.eigenmann@mortgagechoice.com.au