When it comes to assessing your home loan application, all lenders rely on the 4 C's of credit.
Understand how they work and you can just about get anything approved.
CHARACTER - the first "C" of credit approval
Character is about developing a comprehensive profile of who is borrowing the money.
Lenders need to know who the borrower is (i.e. individual, married couple, company, trust), your borrowing history, your assets and liabilities, your employment and living situation.
They prefer applicants with a good credit history and stable employment and living arrangements.
In many cases, minor character weaknesses can be mitigated by emphasising your strengths and explaining your weaknesses.
CAPACITY - the second "C" of credit approval
This is about your capacity to service a loan.
Lenders want to know you can comfortably afford the loan repayments. They look at where your income is coming from and what your expenses are. To be approved for a new loan your monthly expenses can't be higher than your monthly income.
If you're like most borrowers you derive the majority of your income from your job.
How your income is treated depends on your employment situation. Fulltime, part-time, casual, contract, and commission-based income are not treated equally. Fulltime income is the easiest and most attractive form of income, whereas casual income is the hardest to get accepted.
If you're self-employed, your income is more complex to verify, because business profit can be easily manipulated by the owner or accountant.
It doesn't matter if you're a sole trader or the director of a proprietary limited company, the lender considers you to be self-employed, and requires 2 years of both business financials and personal tax returns.
COLLATERAL - the third "C" of credit approval
Collateral is what you offer the lender as security when you apply for a loan. For most home loans, the security is the property you want to buy with the loan.
The lender needs to not only approve the security you want to buy but also determine up to what percentage of the value of the property you can borrow (i.e. Loan to Value Ratio or LVR).
A word of warning: not all lenders like all forms of security and many have certain preferences. Some may have restrictions as to where the property is located or the minimum floor area.
The bottom line is: the more attractive, sellable and marketable your property is, the more likely the lender is to say yes to a higher loan to value ratio and your overall application.
CAPITAL – the fourth "C" of credit approval
Capital is all about how much money you're contributing to the transaction - i.e. your deposit.
The bank looks at the size of your deposit as a measure of your commitment to the loan.
Without the required deposit your home loan application is pretty much guarantee to be rejected. Ideally your deposit should be 20% or more - even though some lenders will consider as little as 5% - provided a number of conditions are met.
That doesn't mean, however, that you can't get a loan approved if you have no deposit. To find how to buy your property with no money down, read the Buy your first home with no money down article.
The biggest mistake you can make
Because every lender is different in their interpretation of the 4 "C's", the biggest mistake you can make is to submit your application before you've dotted all the "I's" and crossed all the "T's".
That includes checking out your own bank first too. Simply because you're using them for your every day banking needs, doesn't mean they'll automatically approve your home loan application.
And please, don't be fooled by the 'pre-approvals' branch staffs are so quick to whip-out.
In reality, these so called 'pre-approvals' are only marketing gimmicks used to prevent you from going somewhere else. They're not worth the paper they're written on. You still need to complete a proper application, provide all the required evidence, and more importantly, your application still needs to be assessed by the bank's own credit department (not the branch staffs).
Boost your chances of getting your home loan approved
If you want to find out which lender is most likely to approve your home loan application, feel free to call Daniel Eigenmann from Mortgage Choice in East Perth on (08) 6355 6834 or 0412 022 110.
Alternatively, if you have questions you can email Daniel to daniel.eigenmann@mortgagechoice.com.au.
And if you're in Subiaco, why don't you pop into our office for a coffee.
Sign up to our free monthly newsletter to receive the latest news, tips and offers about home loans.
Be sure to share our blog on Facebook and Google+ and let others join the conversation.
If you want to find out if you could benefit from switching home loans (i.e. refinance) - take advantage of our Free 15-minute Home Loan Health Check service...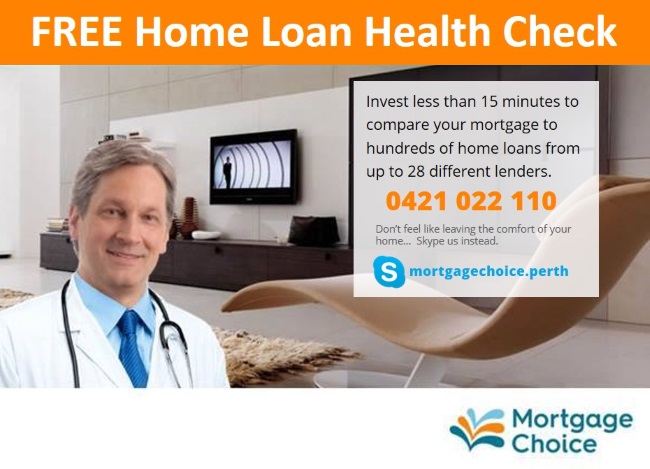 Mortgage Choice Subiaco, Perth - 2/33 Rokeby Road, Subiaco WA 6008 - Tel: (08) 6355 6834 - Mobile: 0412 022 110 - Email: daniel.eigenmann@mortgagechoice.com.au