RBA leaves rates on hold throughout 2014. Sluggish sentiment forces Reserve Bank of Australia's hand
The Reserve Bank of Australia has once again left rates on hold, meaning the official cash rate has not changed once throughout the course of this year.
At its Board meeting earlier today, the RBA said poor consumer sentiment teamed with sluggish business confidence was enough to warrant leaving the cash rate on hold at 2.5 per cent.
This is the 16th consecutive month that the cash rate has been left on hold.
While the Reserve Bank indicated that it is in a position to cut interest rates again, the Board has obviously decided to err on the side of caution and leave the cash rate untouched yet again.
It would appear that the Reserve Bank believes a further rate cut is not necessary at this time.
Over the last month, we have seen a slight improvement in consumer confidence and business conditions.
According to National Australia Bank's latest Monthly Business Survey, business conditions jumped in October, marking the largest monthly increase in the history of the survey.
But while business conditions were good, business confidence suffered a further fall in October suggesting firms remain uncertain over the near-term demand in their industry.
At the same time, the Melbourne Index of Consumer Sentiment rose by just 1.9% in November to 96.6, meaning pessimists continues to outweigh the number of optimists – a fact the Reserve Bank is acutely aware of.
So while some areas of the economy are improving, others are struggling and the Reserve Bank feels as though the best course of action is to leave rates on hold.
Moving forward, at Mortgage Choice in Subiaco we believe that with rates still on hold and set to stay this way for the short term, now may be a great time for potential property buyers to jump onto the property ladder.
Alternatively, now may also be a good time for those with a mortgage to review their current home loan situation and see whether or not there is a better deal out there for their needs.
Australia's lenders are competing aggressively for business at the moment, so if you haven't refinanced or reviewed your mortgage in recent years, now may be a great time to do so.
If you want to learn more about your home loan options, or want to put your existing home loan under the microscope to make sure it is still best solution for you, call Mortgage Choice in Subiaco on (08) 6355 6834 (or 0412 022 110) or pop into our brand new office on Rokeby Road, Subiaco (corner of Heytesbury Road).
If you want to find out if you could benefit from switching home loans (i.e. refinance) - take advantage of our Free 15-minute Home Loan Health Check service...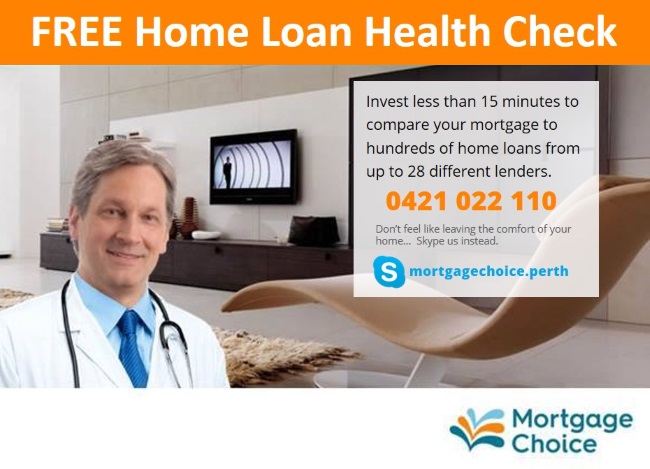 Mortgage Choice Subiaco, Perth - 2/33 Rokeby Road, Subiaco WA 6008 - Tel: (08) 6355 6834 - Mobile: 0412 022 110 - Email: daniel.eigenmann@mortgagechoice.com.au