RBA leaves cash rate untouched
Today's decision to leave rates unchanged - after dropping rates in January - is proving once more that trying to predict rate moves is a futile excersise.
Many 'experts' predicted that the Reserve Bank would make it twice in a row and drop the headline rate to a new historical low.
Not to be!
The RBA decided that at this stage a stable cash rate is the best course of action.
The main reasons for decisions were...
Dwelling value grew steadily

Consumer confidence rebound strongly following the January rate cut.
As last month's rate cuts are only now starting to come into effect - the RBA is waiting to see how the latest rate cut plays out and what impact it has on the property market as well as the broader economy.
Daniel Eigenmann, of Mortgage Choice in Subiaco, doesn't believe that this month's decision means that we've now entered into another prolonged period of interest rate stability.
The Reserve Bank has made it abundantly clear that they won't hesitate to slash rates further if need be.
Many leading Australian economists believe the Reserve Bank will look to cut rates again before the end of the financial year (June 2015).
Don't wait for the Reserve Bank - make your own rate cut today!
Did you know that refinancing your current loan to a lower rate is the same as a rate cut - and often even better?!
By swapping your loan over to a new one you can take advantage of variable rates as low as 4.40%. Imagine how mouch money you could save and how much sooner you can pay your loan off.
And the best thing... even if the experts are correct and rates fall even further, your variable rate will drop too!
But don't wait until the RBA cuts rate - make your own rate cut today - call me to find out if it makes sense for you to refinance.
We'll tell you if it doesn't and show you if it does.
Free Home Loan Health Check
If you already have a home loan, at Mortgage Choice Subiaco we offer free home loan checks to help you review your current home loan to make sure it is still the best solution for you. This can be done face-to-face or over the phone and doesn't take more than 15 minutes.
To book a free 15-minute Home Loan Health Check with Mortgage Choice Subiaco, call (08) 6355 6834 or 0412 022 110.
See what others say about Mortgage Choice in Subiaco.
Sign up to our free monthly newsletter to receive the latest news, tips and offers about home loans.
Be sure to share our blog on Facebook and Google+ and let others join the conversation.
If you want to find out if you could benefit from switching home loans (i.e. refinance) - take advantage of our Free 15-minute Home Loan Health Check service...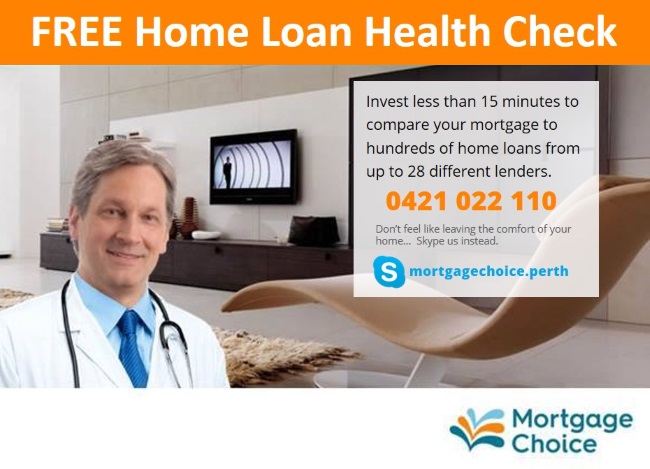 Mortgage Choice Subiaco, Perth - 2/33 Rokeby Road, Subiaco WA 6008 - Tel: (08) 6355 6834 - Mobile: 0412 022 110 - Email: daniel.eigenmann@mortgagechoice.com.au