June 21, 2015
Daniel Eigenmann
Even if you've had your home loan for only a couple of years, it is possible a more suitable loan or interest rate could be out there for you.
When refinancing you pay out your current home loan by taking out a new loan - either with your existing lender or through a different lender. It is sometimes referred to as 'loan switching', so if you've got the itch to switch, your local Mortgage Choice broker in Subiaco (Perth) can help you to investigate your options.
7 questions to determine if refinancing will benefit you
Are you dissatisfied with the service provided by your current lender?
Have your circumstances changed since you took out your loan? (See table below)
Is your goal to pay off your home loan sooner or reduce your payments?
Are you considering buying an investment property?
Do you think that consolidating your debts into your home loan could benefit you?
Are you planning any major home renovations this year?
Are there other reasons that you might wish to top up your home loan (e.g. purchase a car, take a major holiday)?
If you answered 'yes' to any of these questions - now may be a good time to review your current home loan.
Your loan should keep up with your life
It's amazing how quickly our lives can change, whether it's a growing family, a new job, or maybe just a change of pace. No matter how your life has changed, it's essential that your home loan continues to meet your needs.
Complete the table below to see if your circumstances have changed.

FREE Home Loan Health Check
Contact Daniel Eigenmann at Mortgage Choice broker in Subiaco (Perth) or call (08) 6355 6834 to take advantage of our FREE Home Loan Health Check. We will help you determine if refinancing your current mortgage makes sense.
As your local home loan expert, I can help you consider your options so you can decide if refinancing is right for you. As refinancing may incur additional costs, it is an important decision that requires careful consideration.
We'll evaluate and compare your loan with hundreds of others by taking into account rates, fees and features to make sure you have the loan that's right for you.
It's never been easier to switch home loans
If you'd like to know more about refinancing, or you feel you are ready to switch to a new home loan, please contact Contact Daniel Eigenmann at Mortgage Choice broker in Subiaco (Perth) or call (08) 6355 6834 and discover how streamlined the process of refinancing can be.
Get local expert advice at no cost to you
We find you the right home loan
With the official interest rate at historic lows, the lenders are battling it out for your business. But with so many hot home loan deals available, we can cut the confusion and help you find the one that's right for you.
We take the stress out of the process by doing all the legwork for you, at no cost to you because the lenders pay us after the mortgage is settled. This doesn't affect the deal you get from the lender.
We get paid the same regardless of what lender/product you choose
At Mortgage Choice, the only thing that matters to us is the home loan that's right for you. So we pay your mortgage broker the same rate no matter which home loan you choose from our wide choice of lenders.
Choose from up to 28 lenders
Our mortgage brokers across Australia give you access to hundreds of great home loan deals from up to 28 lenders, including the big 4 banks.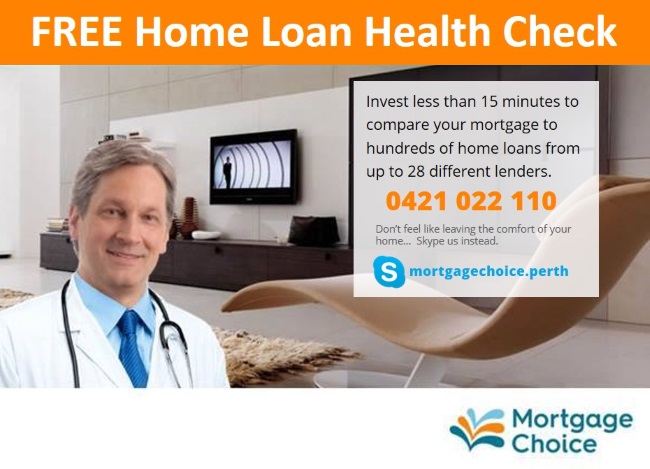 Note: Mortgage Choice is opposed to the practice of churning and would recommend a change of loan product only if it was in the best interest of the customer. Churning is systematic refinancing by brokers of loans from one lender to another, motivated primarily by the prospect of earning commission, rather than obtaining the best result for the customer.
Mortgage Choice Subiaco (Perth) 2/337 Rokeby Road, Subiaco WA 6008 Tel: (08) 6355 6834 Mob: 0412 022 110 (Daniel Eigenmann)