At Mortgage Choice Perth CBD and Western Suburbs we are proud to be part of a group that takes their responsibility to customers very seriously.
Our customer charter is continuously updated to answer our clients' most pressing questions and I wanted to take this opportunity to highlight relevant sections. If you are interested in receiving a copy of our Customer Charter, contact our office and we'll email a pdf copy right away.
Here are the most relevant sections of our Customer Charter:
The role of a mortgage broker
Mortgage brokers save Australians time, confusion, hassle and possibly money by helping them find a suitable finance solution for their individual circumstances.
This is why approximately 43% of all new home loans in Australia are sourced by mortgage brokers. (source: JP Morgan/Fujitsu Australian Mortgage Industry report - Volume 16, October 2012)
As a customer of a Mortgage Choice mortgage broker (loan consultant), you receive a professional, convenient service. With access to an extensive panel of lending institutions such as banks, non-banks, credit unions and building societies, our loan consultants offer an advantage to consumers that one lender simply cannot - a wide choice of lenders and loan products.
Your choice from a wide range of loans and lenders
Mortgage Choice can source various loan types including residential, commercial and personal.
We also offer asset and motor finance solutions. These lenders are noted in this document. Our consultants can also source general and risk insurance for you.
What to expect from your consultant
Your consultant is a trained loan specialist, committed to best industry practice, who will:
Discuss your requirements for a loan and obtain the information needed for your application to proceed (e.g. your financial requirements and objectives).
Analyse and match your information and requirements to features of loans offered by our lender panel.
Explain the types of loans available to you from the lender panel then provide you with a selection to choose from.
Outline features, fees, costs and other details associated with your chosen finance solution.
Provide timely and professional assistance with your loan application, dealing with this process in a fair and ethical manner.
Submit your loan application to the lender you choose.
Communicate with your chosen lender throughout the loan submission to settlement process, providing relevant information to you along the way.
Assist you with any borrowing queries and further financing needs you may have, such as changing your loan. Our service continues for as long as you need it.
Our commitment to high quality service
Your Mortgage Choice consultant aims to reduce the confusion in what is often a daunting process.
They do this by assisting you to find a suitable loan from our extensive lender panel that is tailored to your personal financial situation and needs, based on the information you supply.
We feel strongly about regulation
Mortgage Choice holds an Australian Credit Licence, no. 382869, issued by ASIC. All our consultants have been appointed as credit representatives, under Mortgage Choice's licence. Each is a member of the Mortgage and Finance Association of Australia (MFAA), abiding by its Code of Practice.
How Mortgage Choice works
Mortgage Choice is a national franchise system. Your consultant will be either a franchise owner (franchisee) or an employee of a franchisee. Each consultant holds a Certificate IV in Financial Services (Finance & Mortgage Broking).
How Mortgage Choice is paid
On residential mortgages
Importantly, we do not charge customers for our residential loan service.
Our lender panel pays Mortgage Choice Group Office by applying a commission rate, which can vary widely between lenders, to a loan amount (the entire value of the loan if you are a new customer of the lender, or any increased amount if you are an existing customer).
Mortgage Choice then pays franchisees the following:
1. An introduction commission at the same rate regardless of the rate paid to Mortgage Choice Group Office by the lender you select.
Where you are a new customer, on the full loan amount.
Where you are an existing customer of Mortgage Choice, on the amount of the loan increase.
2. An ongoing commission (trailing commission) for looking after you whenever you need help with your loan, a trail commission is calculated on the loan balance and paid monthly.
On other products
Your consultant will receive a commission via Mortgage Choice Group Office that may vary according to the lender or insurer selected. In certain circumstances, they may ask you to remunerate them for their service. You will be advised of this before you decide to proceed with the application.
Your consultant will be happy to provide details of the commission rates paid to Mortgage Choice. If you are a residential or personal loan customer, commission details in relation to your loan will also be set out in our Credit Quote & Proposal document.
The best compliment you can give us
Our goal is to provide such valuable service that you will want to tell others about us. Please feel free to give your consultant's contact details to family, friends and colleagues.
We are passionate about consumer advocacy
To further demonstrate our commitment to transparency, all franchise network members and company staff are required to adhere to the following disclosure policy we have adopted:
Any form of alternative remuneration over $500 in value (per transaction/item) must be disclosed to Mortgage Choice Group Office. This provision applies to value passing from a third party to the franchise owner, their spouse, family members or staff, and company staff.
These items are recorded in a central register on the Mortgage Choice website. Our lender panel and other third parties are requested to advise Group Office of such payments.
We believe in regular training and development
Members of the lender panel may pay amounts to Mortgage Choice Group Office (not franchisees), voluntarily and at their own discretion, for professional development of our franchise network. These amounts allow us to give our consultants access to a structured and broad based national program of professional development activities.
We respect privacy
Mortgage Choice will require information from you to compile your loan application or provide other services. Information collected by your consultant is collected on behalf of Mortgage Choice Limited (ACN 009 161 979) to provide a choice of loans from our lender panel that we consider suit your needs or to provide you with other services. We are not required to collect this information by law, however our service to you will be restricted if the information collected is incomplete.
To assist you in obtaining finance, information will be passed on to Mortgage Choice Group Office and to the lender/s you choose. Information may also be disclosed to contractors (including, for example, stationery printing houses, mail houses, lawyers and accountants), other service providers or any person acquiring or taking an interest in Mortgage Choice's business.
We respect your privacy and welcome enquiries. You can make requests relating to your personal information being held by us, or complaints regarding treatment of your privacy, via:
Mortgage Choice - The Privacy Officer
Level 10, 100 Pacific Highway, North Sydney NSW 2060
Freecall: 1800 646 789
Phone: 02 8907 0444
Fax: 02 9954 4194
Email: privacy@mortgagechoice.com.au
A full copy of our Privacy Policy is available on our website.
If you have any concerns
For concerns regarding your application, your dealings with us, or if you believe an error has occurred, please liaise with your Mortgage Choice consultant.
If you are not happy with the proposed resolution or the way the matter is handled, contact our Compliance and Customer Service Manager, who will work with you to resolve your situation.
Contact us
Mortgage Choice - Compliance and Customer Service Manager
Level 10, 100 Pacific Highway, North Sydney NSW 2060
Freecall: 1800 646 789
Phone: 02 8907 0444
Fax: 02 9954 4194
Email: customerservice@mortgagechoice.com.au
If you are still not satisfied, you have the option of contacting the Credit Ombudsman Service via:
Phone: 1300 780 808
Fax: 02 9273 8461
Web: www.cosl.com.au
Mortgage Choice lender panel
Representatives of Mortgage Choice are authorised to offer loan products from some or all of the lenders listed below to eligible borrowers (as at May 2013).
Residential loans
Adelaide Bank AMP Banking
ANZ Bank
Bank of Melbourne
BankSA
Bankwest
Better Choice Home Loans
bluegum home loans
CBA
Citibank
CUA
Gateway
Credit Union
Heritage Bank
Homeloans Ltd
Homeside Lending
ING Direct
Keystart Loans
La Trobe Financial Services
Liberty Financial
Macquarie Bank
Newcastle Permanent
Building Society
Pepper Homeloans
St George Bank
Suncorp
The Rock Building Society
TIO
Westpac
Commercial loans
Adelaide Bank
ANZ Bank
Bankwest
CBA
IMB
ING Direct
La Trobe Financial Services
Liberty Financial
St George
Suncorp
Westpac
Personal loans
Asset and motor finance
ANZ Asset Finance
LeaseChoice
Liberty Financial
Macquarie Leasing
Mildura Finance
Mortgage Choice Motor Loans
Contact our office if you would like a copy of our Customer Charter.
If you want to find out if you could benefit from switching home loans (i.e. refinance) - take advantage of our Free 15-minute Home Loan Health Check service...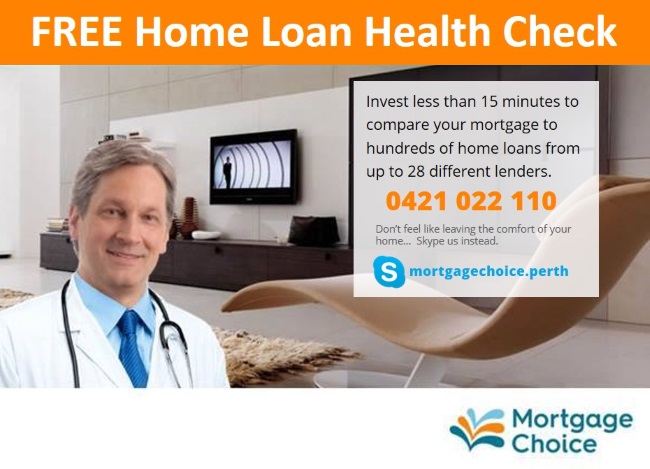 Mortgage Choice Subiaco, Perth - 2/33 Rokeby Road, Subiaco WA 6008 - Tel: (08) 6355 6834 - Mobile: 0412 022 110 - Email: daniel.eigenmann@mortgagechoice.com.au