July 02, 2014
Daniel Eigenmann
There's no one answer to this question. It depends on your personal preferences and circumstances. In fact, you don't actually have to choose. In somes cases, you can have the best of both worlds. With the right advice you can save money, time and headaches.
RBA's decision points to ongoing low rates
With yesterday's decision to leave the official cash rate on hold at a record low of 2.5%, the Reserve Bank of Australia's (RBA) has made it clear that they're happy with the current setting of monetary policy and that they could leave rates on hold for some time yet.
View our latest RBA Video Update for our comments on the July rate decision and our expectations for the coming months.
Variable rates prove popular with borrowers
More Australian borrowers are opting for a variable rate home loan, rather than lock themselves into a fixed rate. Variable rate products accounted for 75.34% of all of Mortgage Choice's home loan approvals for June, up 1.21% on May. Of the various types of variable rate products, ongoing discounts were the most popular, representing nearly 37% of all loans written.
Fierce competition drives home loan rates down and offers up
The popularity of variable products is not surprising, given fierce interest rate competition among lenders. Australia's lenders are hungry for business at the moment and, as such, have been (and still are) offering some sensational variable rate discounts in a bid to attract borrowers and grow their market share.
You don't have to choose between fixed and variable
The motivations for choosing one or the other are both a question of personal preferences and practicality. Flexibility, certainty, protection, expectations, taxation... are all reasons borrowers will need to consider when selecting not only the right home loan product but also the most appropriate home loan structure.
And the fact that three in four borrowers opted for a variable home loan product in June, is not a good enough reason to do the same. Fixed rates have their advantages, and making sure you make the right decision now will save you money, time and headaches down the track.
Remember you don't always have to choose one or the other. Sometimes the best solutions is to choose both.
Access our lenders' latest most competitive products and rates offering
Our proprietary software allows us to compare and contrast hundreds of home loan products, and the latest offers from up to 27 lenders (including the big four) in a matter of minutes. Find out how we can help you with your home loan. We will help you make your own decisions as to what is best for you. Our home loan service is free (because the lenders pay us) and there are no obligations in talking to us.
Call Daniel Eigenmann on (08) 6355 6834 or email him at daniel.eigenmann@mortgagechoice.com.au. And if you're in Subiaco, why don't you pop into our office for a coffee.
Sign up to our free monthly newsletter to receive the latest news, tips and offers about home loans.
Be sure to share our blog on Facebook and Google+ and let others join the conversation.
If you want to find out if you could benefit from switching home loans (i.e. refinance) - take advantage of our Free 15-minute Home Loan Health Check service...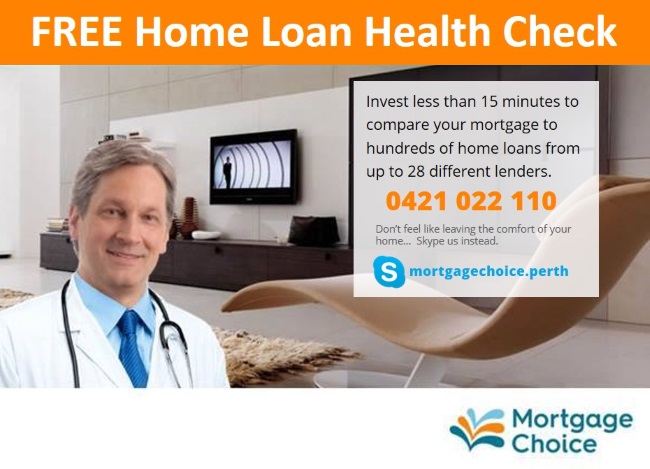 Mortgage Choice Subiaco, Perth - 2/33 Rokeby Road, Subiaco WA 6008 - Tel: (08) 6355 6834 - Mobile: 0412 022 110 - Email: daniel.eigenmann@mortgagechoice.com.au