Sluggish consumer confidence and subdued property price growth has encouraged the Reserve Bank of Australia to leave the official cash rate on hold.
Consumer sentiment fell by 4.6 per cent in September.
Despite being virtually flat in September - dwelling values are now 9.3 per cent higher over the 12 months to the end of September, with every capital city recording an increase in dwelling values over this time.
Auction clearance rates are continuing to beat the 70 per cent mark week after week.
Moving forward, we expect this positive housing data combined with the sluggish consumer sentiment will encourage the Reserve Bank to continue to leave rates on hold.
New data suggests the Australian economy is performing strongly – the property market continues to perform well and the Australian dollar has fallen significantly since the start of September, which will help to support Australia's rebalancing act
As your local mortgage broker, we can offer you a free Home Loan Health Check which may help you find a home loan that is not only better suited to your needs, but much more competitively priced than your current home loan. You may find you are able to save hundreds, if not thousands of dollars a year simply by giving your home loan a health check.
For a Free Home Loan Health Check, or to discover how you can take advantage of the low rate environment, please give us a call.
If you would like learn more about your home loan or financial advice options, call me, Daniel Eigenmann at Mortgage Choice Subiaco, on (08) 6355 6834 or 0412 022 110, or email at daniel.eigenmann@mortgagechoice.com.au.
And if you're in Subiaco, why don't you pop into our brand new office for a coffee and review your home loan options at the same time. You'll find us on the corner of Rokeby road and Heytesbury road.
Sign up to our free monthly newsletter to receive the latest news, tips and offers about home loans.
Be sure to share our blog on Facebook and Google+ and let others join the conversation.
If you want to find out if you could benefit from switching home loans (i.e. refinance) - take advantage of our Free 15-minute Home Loan Health Check service...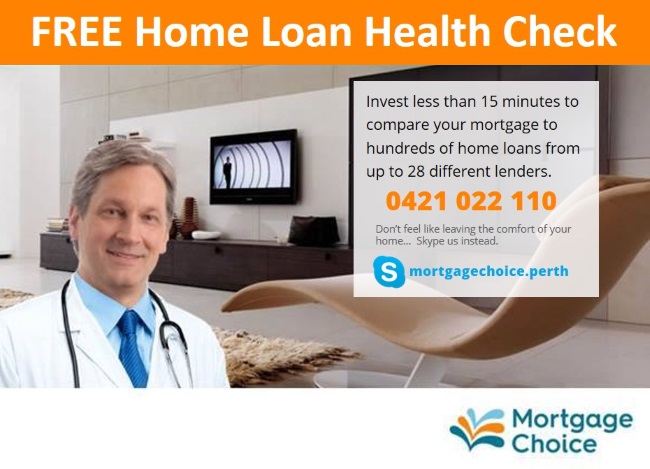 Mortgage Choice Subiaco, Perth - 2/33 Rokeby Road, Subiaco WA 6008 - Tel: (08) 6355 6834 - Mobile: 0412 022 110 - Email: daniel.eigenmann@mortgagechoice.com.au