Successful property investors are successful because they do two simple things very well.
When searching for the next investment property, successful investors look for...
1) a property they know they can afford, and
2) a property that will appeal to the types of tenants they want to attract (not them).
In other words, they know what they want to achieve and then invest the time to research and find the property that will meet their needs. They're looking for the right property - not just 'a' property!
That means that long before they start attending home opens and making offers, successful property investors have worked out the following:
Question #1: What is your current financial position?
How well placed are you to afford an investment property particularly during the inevitable periods of vacancy? (lenders will only use a percentage of your rental revenue as income to reflect this)
Can you afford a quality property that will attract decent tenants and deliver healthy long term price appreciation? (your property should provide you with rental income to help you with cashflow, as well as capital growth for wealth creation)
Question #2: Where are you heading?
What are your long term plans? (structure your investment loans to support your long term plan - not restrict them)
Are you prepared, and can afford, to hold onto your investment for the long term? (successful investors consider property as a long term investment)
Will you need access to your capital (money invested) at some point in the near future? (make sure your loan structure and features allow you the flexibility you need)
Question #3: How much money will you need?
As with your home, the purchase of an investment property can involve significant upfront costs and ongoing maintenance expenses. Tallk to your accountant to work out how and when these expenses can be claimed.
Typical costs include:
Upfront costs:
Pre-purchase inspections (pest and building)
Strata search
Stamp duty
Settlement agent fees
Borrowing costs (loan application fees, lender valuation fees, LMI, mortgage registration fees, etc.)
Ongoing costs:
Accounting fees
Body corporate fees
Council and water rates
Insurances (building insurance, landlord insurance)
Land tax
Loan interest
Property management fees
Repairs and maintenance
Question #4: How much can you afford to borrow?
Getting an indicative idea of your borrowing capacity is a useful starting point in knowing the type of property and location you can afford to buy. Don't waste your time looking at properties that are clearly out of your price range.
There are a number of calculators online that will give you a basic idea of how much you can borrow. But keep in mind that these are only basic, generic calculators and won't take into account your personal circumstances.
A mortgage broker with the right system can not only calculate your borrowing power more acurately but also identify not always obvious ways to increase your borrowing capacity without raising the risk.
At Mortgage Choice Subiaco in Perth, we have the proprietary system to allow us to work out your borrowing power in matter of minutes and over the phone if you prefer. Call us on (08) 6355 6834 today to find out how much you can realistically afford. Remember... there are no commitments in asking our help to answer these questions - and our home loan service is free.
Question #5: Do you need a cash deposit?
How much you have available for the deposit will determine the highest price you can pay for your property. Call us on (08) 6355 6834 if you need help with working out what you need for a deposit or what your deposit is going to buy you.
You don't always need a cash deposit. There are instances where using the equity available in a property you already own may be the difference between buying your next investment and missing out all together.
Property Investing is serious business
Property investment is very popular in Australia. And people who take the time and research their answers to these simple questions and take adequate action are reaping the rewards and are well on their way to securing a comfortable and enjoyable retirement for themselves and their families.
If you need help with answering any of the questions raised in this article... call me, Daniel Eigenmann, on (08) 6355 6834 or 0412 022 110, or email at daniel.eigenmann@mortgagechoice.com.au.
And if you're in Subiaci, why don't you pop into our office for a coffee.
Sign up to our free monthly newsletter to receive the latest news, tips and offers about home loans.
Be sure to share our blog on Facebook and Google+ and let others join the conversation.
If you want to find out if you could benefit from switching home loans (i.e. refinance) - take advantage of our Free 15-minute Home Loan Health Check service...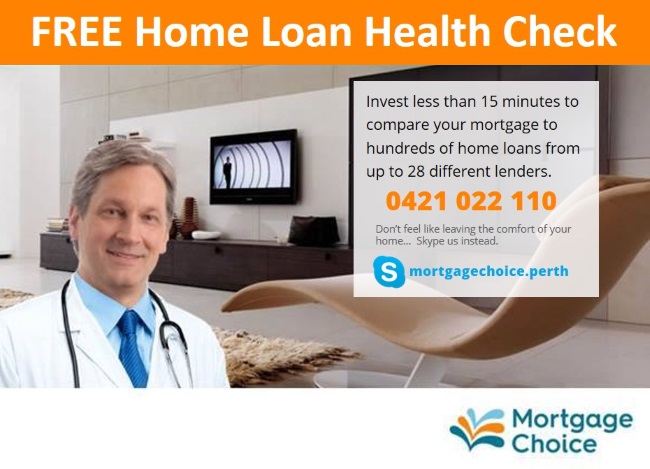 Mortgage Choice Subiaco, Perth - 2/33 Rokeby Road, Subiaco WA 6008 - Tel: (08) 6355 6834 - Mobile: 0412 022 110 - Email: daniel.eigenmann@mortgagechoice.com.au