Most of us are paying dearly for refusing to shop around when getting a home loan or car loan, or when renewing an insurance policy or an internet subscription or gym membership.
Most businesses count on us to be too lazy to shop around
They slug us with a lazy tax by first making it hard to compare products by introducing so many variables that we give up even before we started. They make it very hard to compare 'apples with apples'.
And that's when you first buy the product or service. What happens when it comes to renew it or review it?
Because it was such a hassle to buy the product or service in the first place, we're reluctant to go through the same ordeal again and simply renew the policy, subscription or membership without blinking and eye. And we believe that if we stay with the same company that we'll be rewarded for our loyalty with the best price they offer.
Wrong!
It is precisely our belief that because we've been with the same company for a while that we'll be looked after that is costing Australian households thousands of dollars in lazy taxes.
Companies know that. Simply look at their ads and the fine print and you'll see whether implicitly or explicitly almost all of them will reward people for switching companies whilst at the same time making sure to exclude existing customer.
The only way to dodge the lazy tax is to take the bull by the horn and shop around not only when you first buy but also at renewal time. Even if it doesn't need to be regularly renewed - like home and car loans - it is a good idea to review them at least every 2 to 3 years.
That is the only way to make sure you're getting the absolute best deal for you. And remember, because we're all different, what may be best for me may not be right for you.
Here are some examples of how much our reluctance to shop around is actually costing us?
Last October, I saved $16 per month (or $192 per year) on my car insurance simply by making a couple of phone calls instead of automatically renewing my car insurance, as I'd been doing for years.

At about the same time, my wife managed to save $232 per year on our home and content insurance, simply by making a few calls.

Brad, a colleague of mine, saved over $800 on the insurance on his investment properties simply by having his policies looked at.

And finally, Brenton saved a whopping $23,912 simply by refinancing his car with a better deal.
I could go on and on. The amount of money our reluctance to shop around is costing us is simply mind blowing.
A simple phone call could save you hundreds - if not thousands
The best part is that you don't need to make these calls yourself. To avoid the lazy tax, one phone call to us is enough. Get us to do the shopping around for you.
We have the expertise and resources to compare and contrasts hundreds of products from up to 28 home loan lenders and over 12 car finance lenders to make sure you're getting the best deal.
It doesn't matter whether you're buying a new home or a new car - or if you already have a home loan or car loan – with our free 15 minute loan health check - we'll be able to immediately tell you if your current loan is still the absolute best. And if it isn't, we'll present you with a number of options for you to choose from.
Many of our clients are taking advantage of the fierce competition between lenders to refinance their home loans and car loans and save thousands in repayments and years on their loan.
If you want us to do the shopping around for you... call me, Daniel Eigenmann, on (08) 6355 6834 or 0412 022 110, or email at daniel.eigenmann@mortgagechoice.com.au.
And if you're in Subiaco, why don't you pop into our office for a coffee.
Sign up to our free monthly newsletter to receive the latest news, tips and offers about home loans.
Be sure to share our blog on Facebook and Google+ and let others join the conversation.
If you want to find out if you could benefit from switching home loans (i.e. refinance) - take advantage of our Free 15-minute Home Loan Health Check service...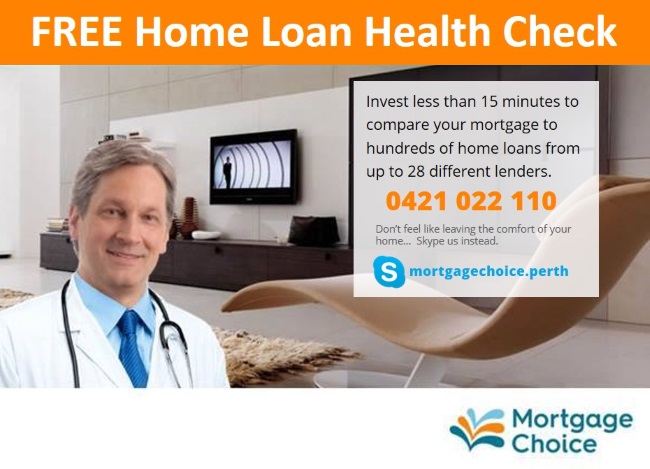 Mortgage Choice Subiaco, Perth - 2/33 Rokeby Road, Subiaco WA 6008 - Tel: (08) 6355 6834 - Mobile: 0412 022 110 - Email: daniel.eigenmann@mortgagechoice.com.au