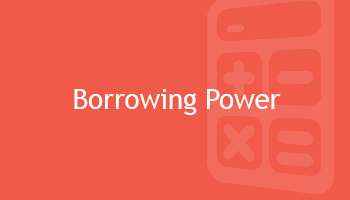 When queried on borrowing power and the borrowing power tools are not available, I use the following mental calculation:
Up to 6 times of salary can be lent for owner occupied purchase*
Up to 8 times of salary can be lent for investment purchase
Every $10,000 credit card limit reduces borrowing power by 3 times i.e. $30,000.
Each offspring reduces borrowing power by $40,000
Every $1,000/month in financial commitments including car loan / Hecs

/ personal loan reduces borrowing power by 120 times the repayment amount i.e. $120,000
The above is a good estimate on borrowing power for first home buyers or individuals with one property. It is unsuitable for the self-employed or professional investors.
RT *
A person on $100,000 salary excluding superannuation and before tax can borrow up to $600,000.