February 01, 2016
Rikki Stanley
With 2015 done and dusted, savvy interstate property investors and keen home buyers alike are looking to Brisbane for value for money in property in 2016.
Daniel Meade, your local home loan expert from Mortgage Choice in Brisbane North helps you research the key points on what happened to property values in 2015, what is expected from the property market in 2016, and how to find the best locations to buy in Brisbane in 2016.
What happened to property values in 2015 and what to expect in 2016:
Brisbane's property market showed the most growth in the final quarter of 2015, and is expected to show only a slight improvement in early 2016 before slowing for the remainder of 2016, according to economic experts from sources such as Domain.com.au, Realestate.com.au, HIA and CoreLogic RP Data Home Value Index figures,.
While most capital cities had a much slower last quarter, (Sydney values fell by 2.3% and Melbourne's by 1.9%, despite strong overall growth for the year) Brisbane tipped the value scale behind Perth, with growth of 1.3% for the Quarter.
It is expected that low-priced outer suburbs in Brisbane, particularly in the north, will be the pick of the suburbs for growth in 2016, while economists are forecasting that the high activity of 2015 cannot last.
The Brisbane housing market underperformed in 2015, with only a 3-4% growth, and failed to deliver what was expected at the beginning of 2015 to be a solid year for property growth of up to 5%. Units on the other hand did well in Brisbane, with a 5.3% growth against the national average of 4.3% for units.
According to economists, Sydney remains the least affordable city in Australia with a median house or unit price of $800,000, with Hobart yielding the most affordable city to buy in, with a median house or unit price of $350,000. Brisbane gets a look in as the third most affordable city with a median house price of $475,000.
For more detailed information on property values, read the full article here.
What about Brisbane:
As mentioned, 2015 did deliver a tiny wave of growth in the final quarter for Brisbane property values and it is hoped that this momentum may boost the start of 2016, if only slightly.
Thanks to more investors and buyers continuing to take advantage of low interest rates, housing prospect reports from Domain suggest that this will assist in keeping the wave moving towards a very slight rise of 3-4% growth for the 2016 year.
In 2015 the market was aggressive. You had to be quick when a property became available.
In 2016 the market is tipped to take a breather which should help buyer's confidence in the property process, and in making better property decisions.
For more on the 2016 outlook for buyers, new construction, sellers and investors, read the full article here.
Brisbane is tipped for a strong year in 2016.
Experts suggest:
Interstate investors could be on the increase in 2016 as Brisbane properties are now being marketed in Sydney in particular, highlighting Brisbane's value for money in property.

A solid 4% growth is an improvement on 2015's 3-4%, and will come from Brisbane's outer suburbs that have lower median house prices and good value for buyers.

Brisbane city is forecast to grow 3%, while the region is tipped to hit 4% in 2016.

Regionally, The Redlands area is forecast for 5% growth, Ipswich at 4%, Logan at 3% and Moreton Bay at 4% in 2016.

In Redcliffe in particular, Real estate agents are advising that this area has seen a lot of growth and an increase in buyer activity from interstate investors who often buy a property without even viewing it first. (Source, Domain.com.au)

On the south, suburbs such as Logan, Loganholme, Eagleby and Shailer Park have also felt the pull of interstate investors from Sydney and Melbourne, with real estate agents again reporting good sales results for 2015.

In the city and surrounds, the prestige inner suburbs such as Ascot, Hamilton and Wooloowin are still tipped to grow, thanks to new developments and sustained low interest rates.
Top Brisbane suburbs forecasted for property value growth in 2016:
According to Domain.com.au, the following suburbs are tipped to grow the most in 2016:
Deception Bay

Eagleby

Everton Park

Loganholme

Mount Gravatt

Redcliffe

Taigum

Thornlands

Wooloowin

Wynnum
How do you know where to buy?
To see how surburbs are performing based on realestate.com.au insights, check out their insights tool here. It shows you in a colour code which suburbs are performing based on median house prices and other insights and can make researching a particular suburb very simple.
For example, if you are looking at investing in Deception Bay, you can see at a glance, followed by more detailed explanations, the suburb's annual growth, median price, median rent, rental yield, rental demand and even estimated cash flow. Change the suburb and the type of property and you can research all you like.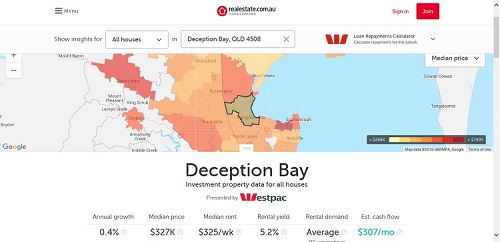 Source: http://www.realestate.com.au/invest/house-in-deception+bay,+qld+4508
So you've done the research, now onto buying property in 2016.
That's where Daniel Meade from Mortgage Choice comes in.
Now that you have the latest data on what to expect from 2016 in the Brisbane property market and some tools and tips on how to research your property investment options, I can now help you take the next steps to owning your home.
Please note, I am not a property expert or economist, so I can't advise you on exactly where to buy, only provide you with handy research tools and tips such as this blog in preparation for the financial aspect of your purchase.
Once you are ready to take the plunge and look at your financial options, I can help make the home loan process happen for you, so when you want to put an offer on a property, you have your finaces ready to go.
If you need a little more information on how I can help you, call me today, send me an email, or read my blogs on:
Are you ready to talk home loans?
Book your free consultation with Daniel Meade to get your financial foundations ready now.
Or, for further information on this or any other topic, please contact your Mortgage Choice broker,
Daniel Meade

:
Phone 07 3833 9666,
Email daniel.meade@mortgagechoice.com.au
If this information has been helpful to you or might be relevant to someone you know, please share it via email or on social media.
Daniel is looking forward to helping you with your home loan options today. Thanks for reading our blog.
Important information
This article is for general information purposes only and does not constitute specialist advice. It should not be relied upon for the purposes of entering into any legal or financial commitments. It has been prepared without considering your objectives, financial situation or needs. You should, before acting on the advice, consider its appropriateness to your circumstances, and specific investment advice should be obtained from a suitably qualified professional before adopting any investment strategy.