At your home or in our Midland office - our experienced Mortgage Brokers can help you with your home loan finance!
Trying to research and compare home loans?

Darren and the team from Mortgage Choice in Midland can help! We search through hundreds of loans to find you the right one all at no cost to you.
Call Us
Office - 08 9279 2668
Fax - 08 9250 1924
Open Hours
Monday to Friday 9:00am to 5:00pm (appointment preferred)
Monday to Thursday 5:30pm to 7:30pm (by appointment)
Address
Suite 10 / 24 Victoria Street, Midland Business Centre
MIDLAND,

WA

6056



Working to achieve the best possible result for you
The experienced team at Mortgage Choice in Midland have one goal in mind. That is, achieving the best possible results for you whether you are looking to buy your first home, invest in property, start a new business or build a financial plan.
Our team of mortgage brokers have over 10 years experience finding the right loan for our clients. We take the time to understand what you are looking for in a home loan and how this relates to your future goals and aspirations.
Don't really fit in with the banks?
That's okay by us! We have a number of specialist lenders on our panel each with a range of home loans suited to people who need something a little different. Our team loves to think outside the box when it comes to finding you the loan to fit you.
Our home loan service is free of charge
Best of all, we don't charge you for our home loan service as the lenders pay us after your home loan settles.
Each lender pays different commission, but as Mortgage Choice brokers, we get paid the same commission regardless of which home loan you choose from our wide panel of lenders. This ensures we're focused on the right outcome for you.
Our clients keep coming back
We've been helping the local Midland & Forrestfield community for over 10 years and are confident we can show you why our clients keep coming back. We have some amazing clients - check out what they have to say about us here.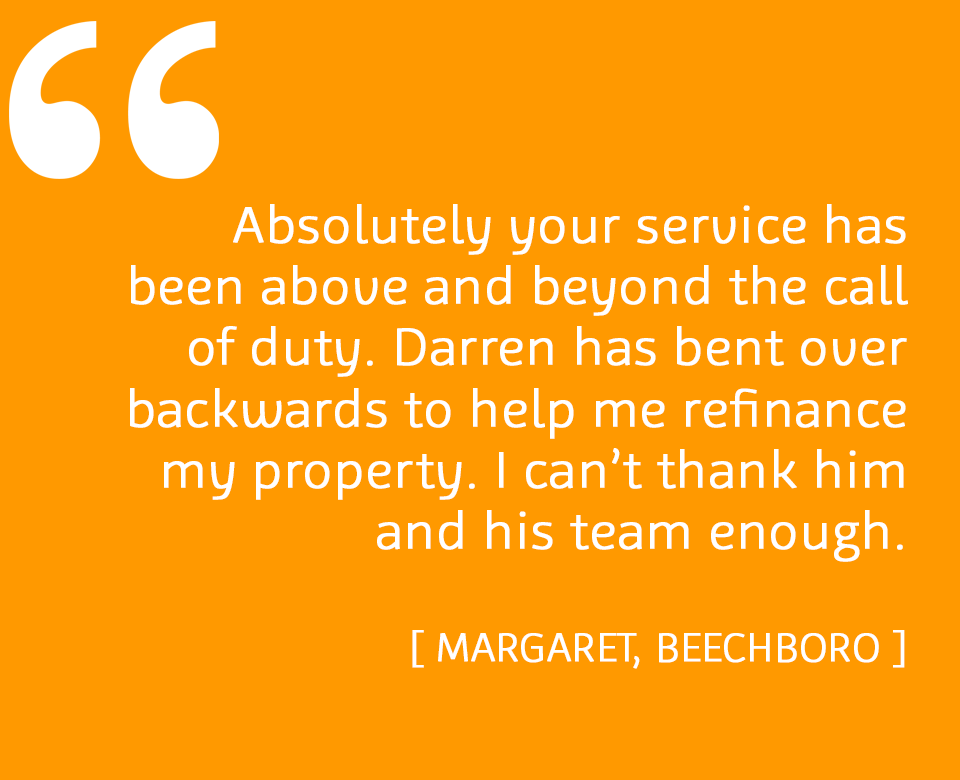 We have hundreds of home loan choices
We have hundreds of home loans from our panel of over 20 lenders, including all the big banks and some specialist lenders. Our mortgage brokers compare and contrast the hundreds of loans on our panel to find you the right one.
Not only do we give you peace of mind that you have the right home loan at the right rate, we save you the time you would have spent searching online.
Quite simply, we make your next loan easy
We'll even help with your loan paperwork, and do all the follow up with your chosen lender, so that you don't have to! We make sure to stay in touch with you throughout the whole process from application to settlement so you know where you're at.
We then work with you to get your first investment property, next home, your dream car, build your financial plan or whatever else the future might hold for you! We also continue to check your home loan is still the right one for you with our 2 year home loan health check, to see if we can get you a better deal.
We help with more than home loans
While we love helping people find the right home loan, we can help you with a range of other mortgage and finance services like:
Home loans for first home buyers

Government incentives

Property investment loans

Refinancing your current loan

Non Resident and Visa home loans

Loans for renovation or upgrade

Financial planning

Personal loans

Car loans & sourcing

Business finance

Equipment finance & leasing

Insurance

Retirement planning

Budgeting and saving
Get started today
Call the team at Mortgage Choice in Midland on 08 92792668. Visit us at 24 Victoria Street, Midland or click on the Contact Us button at the top of this page.
What makes Mortgage Choice different?
Our services at Mortgage Choice
A guide to refinancing
The right home loan for your needs
Our mission is to find the right home loan for your individual needs and to always have your best interests at heart. Plain and simple. Which is why we have such a wide range of lenders to choose from. We can search through hundreds of products to find something tailored to your situation. ~
Hi Darren and Mark,

Just a quick email to extend our sincere thanks to you both for all your hard work. We have used your services on several occasions now and every time your customer services has been exceptional. You always keep us informed on what is going on and truly go above and beyond to keep your customers happy.

We have always recommended your services to everyone we know and will most definitely continue to do so.
I'd like you to know that my husband and I would highly recommend Nicky to any and all of our friends and family. She helped make our family dream come true of owning our own home! We cannot thank her enough for all of her efforts, her professionalism and her understanding. We were prepared for a bit of nightmare – and we ended up with a dream experience! It all happened so quickly and seamlessly. Thank you Nicky and thank you Mortgage Choice – THANK YOU SO MUCH!!
Absolutely your service has been above and beyond the call of duty. Darren has bent over backwards to help me refinance my property. Cant thank him and his team enough. I would not hesitate to use your company again. Even though I was your problem child.
Hi Sharon and Leanne,
Just wanted to say a big thank you to you both for helping us with our loan. You and Leanne were always very helpful and dealt with all matters that arose in a most timely and efficient manner. Matt was also very helpful in your absence.
We would not hesitate in recommending you all and will certainly use Mortgage Choice again should the need arise. If only the building process ran as smoothly as the loan!
Thank you for your great service. It was very smooth with no hiccups, especially since I was a first home buyer.
Its the second time I've used your service , I would be happy to recommend your services and I would not hesitate to return.
No surprises, no smoke and mirrors, your service to us has been easy to understand and delivered with a great personal touch. Many Thanks
Sorted out our loan in no time at all, great relief for us. Can thank you enough.
I was happy, didn't have to get off my butt to do anything, it was all done for me. Thank you.
You made everything so much easier. So good to be able to ask you anything however small or big.
Darren was very informative and helpful. He kept us up to date on the process of the application. Leanne who is the client manager was also very helpful and she to was prompt in answering all our questions. Overall, the service was great and I would definitely recommend you to friends.
Friendly, so helpful, quick.
Very happy!
Daniel was Fantastic!
Help me
calculate