April 18, 2017
David Thurmond
First comes love... then comes marriage... then come bills and a baby carriage!
Young Berwick couple and parents to-be Megan and Scott (names changed) came to see us recently.
They both wanted Megan to have 12 months off work after the birth of their first baby and they knew that in order to do this they needed to lower their monthly expenses.
They also wanted to have $10k in savings as a buffer should they need it whilst Megan was on maternity leave.
Here's what they had: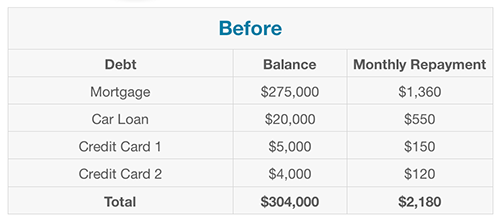 For starters, we lowered their interest rate from 4.30% to 3.79% by refinancing them to a new lender willing to offer a great rate to win their business.
We then consolidated their two credit cards and car loan into the mortgage, giving them just one monthly repayment to focus on.
We also gave them an extra $10,000 to be kept in redraw for emergencies while Megan is off work.
Here is how they ended up.

They ended up lowering their monthly commitment by $719 per month and they now have just one repayment.
Once Megan returns to work we can look at putting more money into the mortgage to help get the debt consolidation paid off faster.