March 28, 2017
Derek McLeod
Looking for investment success via buying property?
Then it is wise to look for long term returns, and one of the best ways to achieve this is through the location of your property.
Cash flow will also play a part, so getting the best home loan to save you money on interest and fees while your property value grows, will ensure long term investment success.
This month, we take a closer look at: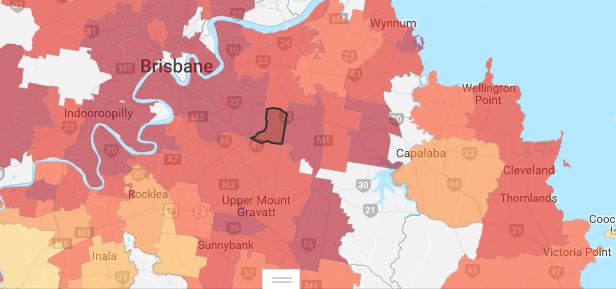 Carina Heights is a tiny South Brisbane suburb of only 3.4 square kilometres, with 7 parks covering nearly 34% of the total area. Carina Heights houses a big portion of the Whites Hill Reserve, the remainder being housed by the suburb of Holland Park. The Reserve alone covers an area of 160 hectares, and was named by the indigenous people of the area as 'Boolimba', which means place of magpie larks.

Whites Hill itself is named after Robert (Bob) White, who built their first family home half way up the hill facing Coorparoo in 1886. A second house with huge sweeping verandas and views to the city was built on the top of the hill later on, which White eventually opened to the public. It was from this house at the top of 'White's' Hill that White became known, (and later prosecuted for) for serving 'sly grog', along with tea and meals. While his home was popular with the local socialites, the location itself had become popular with other large groups, including churches, scientific groups and sporting groups.
This sporting location tradition has resulted in the current day Reserve becoming home to two full size soccer pitches, two cricket pitches and six touch football fields, with three major sporting clubs housing themselves within the location: Holland Park Hawks (Football/Soccer), the Brisbane Metropolitan Touch Football Association, and the Eastern Districts Junior Cricket Association.
The reserve is also a great family setting with a number of barbeque areas and plenty of cleared bushland for picnics and multiple walking tracks in a rare inner city bushland location. A printable version of the Whites Hill Reserve Track map can be downloaded here.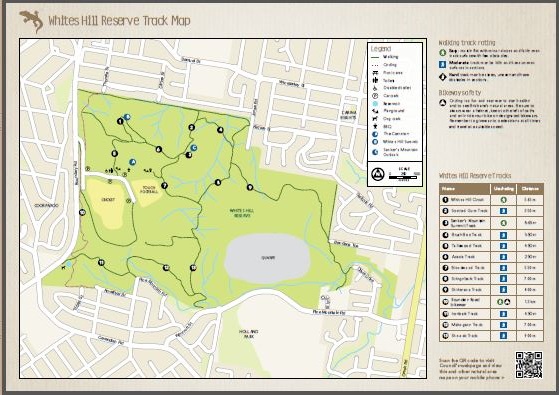 Carina Heights in general:
Around 55% of Carina Heights and Whites Hill residents live in owner occupied properties, and the majority work in a Professional occupation.
Carina Height's Centro Samuel Village shopping centre is within the 'Whites Hill' area of the suburb. The main school within Carina Heights and Whites Hill is Whites Hill State College.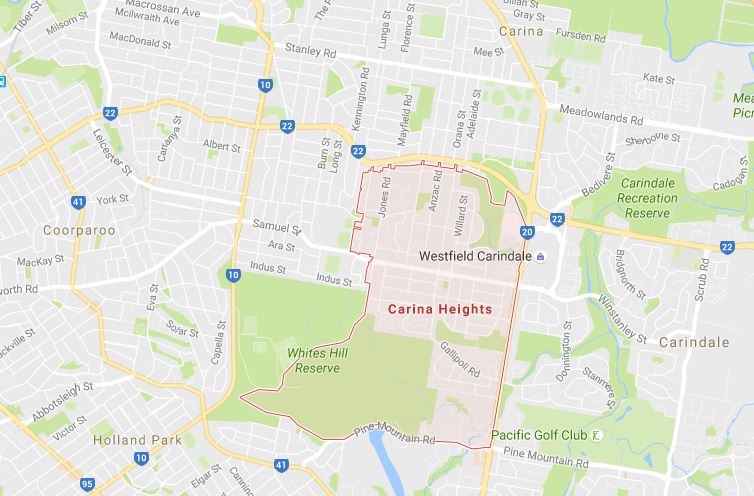 LOCATION: Whites Hill is a 120m elevation hill and a 160 hectare (400 acre) public reserve within Carina Heights which is located 6 km South East of the Brisbane CBD.

BORDERS: Bordering Carina Heights and Whites Hill are the Brisbane suburbs: Camp Hill, Coorparoo, Carina, and Holland Park.

SIZE & POPULATION: Carina Heights is approximately 3.4 square km in size, and has grown in population to around 6,100, with the primary demographic being Families with young children and a predominant age group of 25-34 years (in 2011).
SUBURB STATISTICS: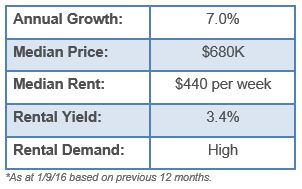 Handy links:
* Suburb Statistics - From Realestate.com.au which explains the heat map in the image above.
* Suburb Location Map - including a list of Popular businesses and services in that area.
* Investor Guide - Mortgage Choice's FREE Downloadable guide to help you with all things investing.
* First Home Guide - Mortgage Choice's FREE Downloadable guide to help you with your first home purchase.
* Next Home Guide - Mortgage Choice's FREE Downloadable guide to help you with your next home purchase
Why choose Mortgage Choice in Carindale?
There is no charge to you for my home loan service because the lender pays me after your loan settles.
Mortgage Choice brokers are paid the same rate of commission regardless of which home loan you choose, as long as it's a residential home loan with one of the lenders on our panel
Access to up to 28 of Australia's leading lenders, including the major banks.
I make it easier for you by preparing the paperwork, lodging the application and doing all of the follow up on your behalf.
Book your free consultation with Derek McLeod
Derek McLeod
0405 150 859
Derek.mcleod@mortgagechoice.com.au
Your Carindale Mortgage Broker, Brisbane.
Important information & Disclaimer
This article is for general information purposes only and does not constitute specialist advice. It should not be relied upon for the purposes of entering into any legal or financial commitments. It has been prepared without considering your objectives, financial situation or needs. You should, before acting on the advice, consider its appropriateness to your circumstances, and specific investment advice should be obtained from a suitably qualified professional before adopting any investment strategy. Information is based on historical data and past performance and is not necessarily indicative of future results. We make no warranty as to the accuracy, completeness or reliability of any of the information or investment tools in this article.