September 05, 2017
Nicole Spiteri
Rates on hold again, but for how long?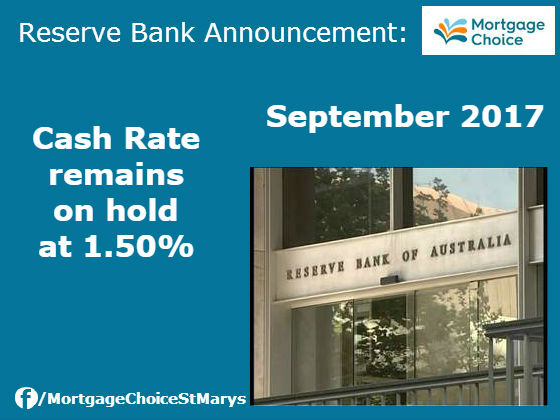 For the 13th consecutive month, the Reserve Bank of Australia has decided to leave the official cash rate on hold at 1.5%.
"Today's decision was largely unsurprising given the Board's recent rhetoric around rates," Mortgage Choice mortgage franchisee Des Nation said.
"In the minutes of the August Board meeting, the Board acknowledged that a prolonged period of rate stability was consistent with sustainable growth in the economy and achieving the inflation target over time."
Mr Nation said in deciding the cash rate setting, the Reserve Bank undertook a delicate balancing act.
"The Reserve Bank is forced to consider domestic and global economic factors when making their cash rate decision," he said.
"While there have been positive developments in both the global and domestic economies, there is still plenty of room for improvement."
Data from the Westpac Melbourne Institute of Consumer Sentiment found confidence slid a further 1.2% in August, marking the ninth consecutive month where pessimists outnumbered optimists
"Increased pressure on family finances and interest rates has left Australian consumers feeling less than optimistic about their future," Mr Nation said.
"The Reserve Bank is acutely aware of this and understand that now is not the right time to adjust the monetary policy setting."
In terms of property, the outlook is relatively robust, with data from the Australian Bureau of Statistics showing home loan demand remains strong. Over the last 12 months, in excess of 53,000 home loans were written each month for a total value of more than $33 billion.
"Increased home loan demand is putting greater pressure on the property market, which is resulting in higher property values across most of the capital cities," Mr Nation said.
"Sydney and Melbourne have led the charge over the last 12 months, with both capital cities enjoying dwelling value growth in excess of 10%.
"While we may see price growth ease slightly over the coming period, I expect property demand to remain strong as low rates continue to keep heat in the market."
For those thinking of buying, investing or refinancing, Mr Nation said now is a good time to do so.
"With the cash rate stable for yet another month, home loan rates will continue to hover around record lows, which will keep the cost of borrowing at very affordable levels," he said.
"As such, now is the ideal time for Australians to look at their finances and think about their property ambitions – be it upgrading, renovating, investing or buying for the very first time.
"It is also important to take the time to speak to a professional. In a complicated market, it is always a good idea to talk to your bank or broker about your situation."
If you want to learn more about your home loan options, call (02) 9833 8177 or visit www.mortgagechoice.com.au/Des.Nation
For further information, photos of the new logo, or to arrange an interview, please contact:
Des Nation
Mortgage Choice
0412 709 700
Des.Nation@Mortgagechoice.com.au
Important information
This article is for general information purposes only. It has been prepared without considering your objectives, financial situation or needs. You should, before acting on the advice, consider its appropriateness to your circumstances.
About Mortgage Choice
Mortgage Choice is an ASX listed company that seeks to help Australians with all of their financial needs.
Established in 1992, Mortgage Choice was originally established to help Australians improve their financial situation by offering a choice of home loan providers, coupled with the expert advice of a mortgage professional.
Since that time, the company has grown and developed into a fully fledged financial services provider.
Today, Mortgage Choice helps customers source car loans, personal loans, credit cards, commercial loans, asset finance, deposit bonds, and risk and general insurance.
Further, the company offers Australians access to real, relevant and affordable financial advice through our qualified financial advisers.
Mortgage Choice has no balance sheet or funding risk, and consistently delivers strong profits and attractive yields. It listed on the ASX in 2004 (MOC) and is a member of the Mortgage & Finance Association of Australia (MFAA).
Mortgage Choice holds an Australian Credit Licence: no. 382869 and Mortgage Choice Financial Planning Pty Limited holds an Australian Financial Services Licence: no. 422854. Both licences are issued by ASIC.
Recent recognition: 2014 Australian Broking Awards Best Diversified Program; 2013, 2012, 2011 Australian Broking Awards Major Brokerage of the Year – Franchise; 2013, 2012 Australian Broking Awards Best Ethical/Social Responsibility Program; 2012 Australian Broking Awards Best Training and Education; No.1 on The Adviser magazine's 2012, 2011, 2010 and 2009 Top 25 Brokerages list; 2012, 2010, 2009, 2008, 2006 and 2005 MFAA Awards Retail Aggregator/Originator of the Year; 2011, 2010, 2009 and 2008 10 Thousand FEET Top 10 Franchise list; 2010 Forbes Asia-Pacific Best Under A Billion list.
Visit www.mortgagechoice.com.au or call customer service on 13 77 62.