Call Us
Office - 03 9432 5484
Fax - 03 9432 5845
Open Hours
Monday - Friday: 8.30am - 5.00pm
After hours by appointment
Address
Level 1, Suite 3, 333 Wantirna Road
WANTIRNA,

VIC

3152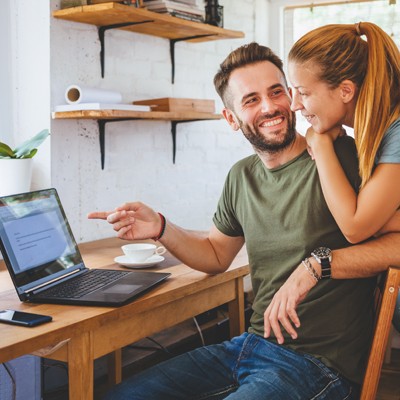 Latest home loan interest rates
The right home loan for your needs
Our mission is to find the right home loan for your individual needs and to always have your best interests at heart. Plain and simple. Which is why we have such a wide range of lenders to choose from. We can search through hundreds of products to find something tailored to your situation. ~
A big thank you to Dwayne and the team at Mortgage Choice Wantirna for helping us through our first house purchase. The information provided to us really helped in understanding our finances, our capacity for undertaking a mortgage and the steps we needed to take to secure the loan (and the house!). The process of applying and securing the funds required a quick turnaround time and Dwayne and Sharon ensured this was completed to the time frame. We would not have been able to get through this process without you by our side every step of the way. Thanks for everything!
Dwayne and the team we're fantastic at guiding us through our first home purchase. Would highly recommend them to anyone looking at purchasing. Thanks again guys!
A huge thank you to Dwayne Brittain and his team for all the hard work in achieving our home loan. My partner and I just purchased our first home and Dwayne really guided us through the whole process and spent a lot of time with us. Initially we saw him 12 months before looking to buy a house to get an idea as to what was involved and how to get us into a position to be able to buy. He helped us plan and achieve goals all along the way to finally be able to purchase our first home. My partner and I cannot recommend Dwayne and his team enough for all the hard work they put in for our finance. They really do treat you like family. Thanks heaps mortgage choice Wantirna ! From Maddy & Chris
We have had exceptional service in obtaining loans for two investment properties through Dwayne from Mortgage Choice in Wantirna & Rowville. This is despite complex part time work situations and use of multiple share accounts for deposits. I would recommend their team to anyone looking for a mortgage broker. Fantastic work!
As always the team at Mortgage Choice in Wantirna & Rowville has dealt with our remortgaging without any issues. They make the whole process effortless and provide constant updates without any need to chase them. Thanks guys!
Cannot thank Dwayne and the team at Mortgage Choice in Wantirna & Balwyn enough for all their help with assisting me to purchase both of my houses. They have gone above and beyond to make it smooth and stress free, I couldn't have done it without them. For anyone looking to purchase give Dwayne a call!
David Taylor has been very professional from the beginning, being upfront, answering all the questions I had, flexible with meetings, a knowledgeable and experienced financial planner, and friendly too.
I have known Dwayne for 12 months as part of a Business networking group and the reputation of Dwayne's business within this group is outstanding. I have referred clients to Dwayne for his services and the feedback from all these clients has been of the highest standard, I intend to use his services myself this year to purchase a car.
I highly recommend Dwayne and the team at Mortgage Choice Wantirna.
A very professional service. Dwayne and his team are very knowledgeable and give well considered advice that was right just for my own individual situation. The team are also very friendly and nothing is ever a chore. I appreciated all that was done to help me change loan providers for my home. A huge thank-you.
Really helpful, dealt with our query extremely quickly and got us a great mortgage.
The comprehensive financial planning advice the we received from David covered all our immediate needs whilst giving us the confidence to be able to plan for the future we want. Together, we have carved out a financial plan with the flexibility to experience a full life. Thank you for being our financial life partner David!
Dwayne is such an awesome communicator, who's knowledgeable and has great advice. Thanks Dwayne and the team in Wantirna!
Dwayne and his team in Wantirna were fantastic throughout the whole process of purchasing our new home. Dwayne was honest, professional and he answered all of our questions as they arose. We will happily recommend Dwayne to our family, friends and colleagues. Thanks Dwayne for making our dream a reality!
Thank you to Dwayne and the team from Mortgage Choice in Wantirna, they made the process of purchasing my property seamless. I feel like they joined me on the journey and were supportive throughout. I was kept informed and updated throughout the whole process. Highly recommended!
Download your Guide to refinancing | Mortgage Broker Wantirna
Refinancing is a fantastic way to save money on your home loan repayments, and pay off your loan faster - it's something we are passionate about! Our guide from the Mortgage Broker Wantirna & Rowville team explains the reasons, costs and steps involved in refinancing your home loan. Read: Dwayne explains: Our new goal - $1,000,000 in client loan savings