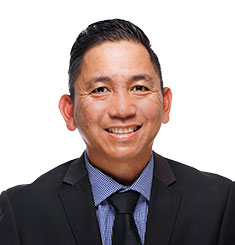 Emmanuel 'Jon' De Guzman
Mortgage Broker
Emmanuel (Jon) De Guzman prides himself on the fact that he doesn't 'just' secure a home loan for his clients – instead he helps them to achieve financial freedom as their trusted mortgage adviser.
"I tell my clients I want to help them to develop a plan for an easy retirement, using home loans to purchase properties that will help them to achieve that freedom," he says.
"While that's my goal for all my clients, I still recognise that everyone is very different and that not every loan is perfect for everyone. Each client is a unique individual and I ensure I listen to each person's needs and respond accordingly."
Emmanuel's extensive knowledge – accrued over 15 years' experience in the finance industry, including 11 years as a mortgage broker – is complemented by a commitment to outstanding customer service.
"Excellent customer service is a 'not negotiable' for me, it's something I pride myself on. Clients should never have to wait for answers to their questions and I always respond to emails and phone calls as a priority."
Emmanuel assists all types of borrowers – particularly those looking to refinance an existing property or purchase a new property, and those wanting to start or grow their investment property portfolio. Many of his clients are self-employed.
His client base stretches throughout metropolitan Brisbane and Queensland, every capital city in Australia plus the UK, Philippines and Malaysia.