May 02, 2016
Cate Cook
Last weekend I felt really frightened, writes Mortgage Choice Office Manager Cate Cook. I was invited to join a caving expedition in the Flinders Ranges. Perhaps foolishly I agreed to go along, having no comprehension of what lay ahead for me. As we got ready to explore our first cave I stood in line to get allocated a helmet, a head lamp, a set of overalls plus elbow and knee pads.
"Hang on a minute," I thought to myself. "What have I got myself into here?
I wasn't really sure if I would feel claustrophobic. In the past I've felt uncomfortable in crowded lifts and in places where there's lots of people in a small area. So how did I find myself volunteering to go deep underground into a dark confined space, to be crammed in with people I'd only just met? I had one of those moments where I seriously questioned my own sanity!
I soon found myself sitting on a rock slab deep underground looking down into a round hole not much bigger than a manhole cover. It had quite smooth sides formed by thousands of years of water pouring down this natural 'drain hole.' The problem was - I was expected to drop myself down into this black slippery hole, slide down it, then crawl head first through a slit in the rock - admire the amazing stalactites that lay below in a large cavern - and then climb back up (if I ever wanted to see daylight again, that was!)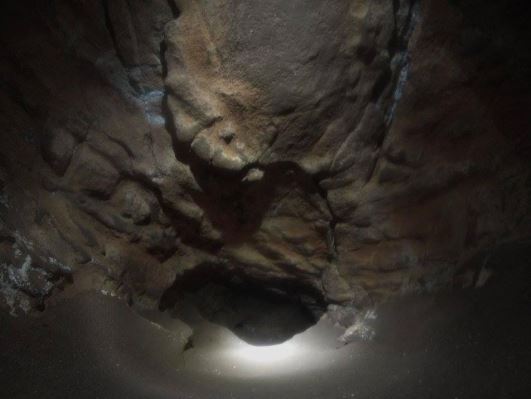 I have to admit I was really, really frightened. I sat by that hole for about 10 minutes saying to myself: "Can I - or can't I?" I thought of everything that could go wrong, and played the consequences through in my mind. Then my caving buddy and guide said to me: "Cate - don't overthink things. Three other women your size have managed it in the past hour - so what's stopping you? Is it just fear?"
"Cate - don't overthink things," I was told.
He was correct. It was fear that was holding me back. Once I understood it was 'just' fear standing in my way, I shuffled over to the edge of that hole and plunged in, feet first. It was a fabulous experience! My reward was seeing a massive 'room' full of stalactites that few people in the world have ever seen. On that day I overcame my fear - and as a result I was richly rewarded. At the end of the weekend I felt ten foot tall and really proud of myself.
What is holding you back from achieving what you want in life?
So what is holding you back from achieving what you want in life? Do you have dreams of buying your first home? Or your first investment property? Maybe moving into a bigger house? Buying a new car? Or building that extension you've always dreamed of? What's stopping you from doing it…? Is it 'just' fear of the unknown? Or fear or failure? What are you afraid of?
Here at Mortgage Choice Noarlunga, we see our role as similar to that of my experienced caving buddy. We can guide you through the maze because we know what to expect and what lays ahead. We will hold your hand if things get tough, and can give you expert advice to help get you through to the end of the tunnel to reach your goal. You don't need to have detailed caving knowledge or experience because we will provide that for you.
At Mortgage Choice Noarlunga we've helped hundreds of people in the southern suburbs achieve their dreams. Some were taking the housing plunge for the first time, others were buying their first or second investment property. We're experienced at dealing with lenders, and because we've got a panel of 25 to choose from, we'll work hard on your behalf to find the best loan available for your personal circumstances.
So what's holding you back? With record low interest rates now is a great time to take the plunge and progress your financial future. I urge you - feel the fear - but do it anyway! It's worth it, because we're here to help and you'll feel great at the end of it!