Your trusted home loan experts and mortgage brokers based in the heart of Sydney CBD
Gerry Grant and Sally Tian are your local Sydney CBD mortgage brokers that can help you find the best home, car or personal loan for you needs. We can meet you anywhere, and give you expert advice that could save you time and money. Book an obligation free appointment today.
Call Us
Mobile - 0416 078 089
Office - 02 9988 4478
Open Hours

Evening and weekend appointments are available.
Mobile Broker
Servicing Sydney CBD and surrounding suburbs. We can come to you at a time and place that suits you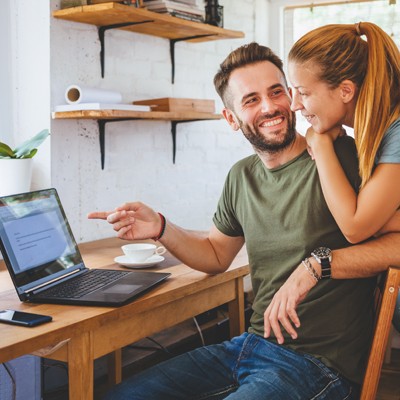 Latest home loan interest rates
As your local Sydney CBD mortgage broker, we have helped hundreds of clients get the right home loan that supports their needs.
We are dedicated to providing our clients advice they can trust, at a convenient time and place that suits them. We help our clients find the right loan to suit their needs and support their future financial goals.
Why choose Mortgage Choice in the Sydney CBD?
We are known for our extensive lending and financial knowledge, our commitment to our clients, and our ability to find our clients the best loan for their needs.
What makes our service different is that we focus on you, our client. We meet you at a time and place that is convenient to you, we do all we can to help make applying for your home loan easy.
Our team of home loan experts take the time to listen to your situation and needs, getting to know you and your family, and learning about your future financial goals. We then offer you various solutions that suit your needs, that will support and help you reach your long-term financial plan.
Right loan for you.
We take the time to get to know you, your family and your future financial goals. This helps us find the best home loan that not only saves you money, but is also structured to meet all your future needs.

Wide choice.
We compare hundreds of highly competitive home loan options from a wide choice of lenders, including the big banks to find the right loan for your needs.



Less stress.
We make it easy for you. We will communicate with you through every step of the home loan application, so you stay informed.

No charge.
There is no charge to you for our home loan service because the lender pays Mortgage Choice after your loan settles.

Range of products.
We can also help you with property investment loans, construction loans, commercial loans, car loans, personal loans and asset finance.
Book an obligation free appointment today!
Whether you're a first home buyer, upgrading to your next home, getting into property investment, or wanting to refinance your existing loan, as your local Sydney CBD home loan expert, we can help you make the right move and will be here for you at every stage of the process.
Contact us today on 0416 078 089 to talk about your home loan needs. 


At Mortgage Choice Sydney CBD, we're proud to say that we can care for your total financial wellbeing and put you on track to achieve your goals. We offer professional advice for a wide range of requirements, such as:
Let's make sure that you have the right rate for your circumstances. Now is a great time to take advantage of record-low rates.
What makes our home loan service different?
At Mortgage Choice in the Sydney CBD, we build lifelong relationships with our valued customers who live work and play in Sydney. We service all the Sydney CBD and surrounding suburbs but are always happy to meet you anywhere that is most convenient. We also offer our lending services with either an english or mandarin speaking mortgage broker.
Hear what some of our customers have to say! 

No matter where you are, we can provide you with professional advice on your home loan at no cost to you. If you want peace of mind, have our Home Loan specialist help you!
Contact Mortgage Choice Sydney CBD on 0416 078 089.
The right home loan for your needs
Our mission is to find the right home loan for your individual needs and to always have your best interests at heart. Plain and simple. Which is why we have such a wide range of lenders to choose from. We can search through hundreds of products to find something tailored to your situation. ~
Thank you Gerry for taking a genuine interest in finding the right home loan to suit my individual needs. Your personalised approach made my experience a positive one and I will certainly use your services again. I really appreciate the professionalism and dedication you showed, and I won?t hesitate to recommend you to my family and friends
I was very happy with Gerry's service right from the start of this process 18 months ago.
He was able to find a good home loan product that suited my circumstances and needs.
During the subsequent process of securing the loan, going through the construction of
the house and liaising with Bankwest throughout this process, Gerry was more than
helpful and put me at ease. I can't thank him enough for his support.

Step-by-step guide to home ownership
There are many steps involved in purchasing a property which can vary between residential and investment properties. This guide explains each step in order as well as what is involved at every stage of the purchasing process.