May 16, 2017
Glyn Camilleri
Where in suburban Melbourne can you find a beach, lake, parks, restaurants, markets, major shopping centres that are a 20 minute drive away, as well as a place where a number of scenes a variety of TV, movies and advertisements have been filmed?
The answer: the suburbs of Altona and Seaholme.
1. LOCATION:
Located approximately 18 kilometres from Melbourne's CBD, Altona and Seaholme are in Melbourne's inner west. The combined population of the area is 11,779*, with the surrounding suburbs being: Williamstown, Williamstown North, Altona North, Altona Meadows and Laverton.
Both places share the same postcode of 3018, but the main area is defined as Altona, with Seaholme seen as an enclave in the east side of Altona.
2. STYLE OF HOUSING:
Altona was settled by Europeans in the mid 1800's and Seaholme in the early 1900's. Originally, the area was marketed as a beach side suburb, offering large blocks of land and being an industrial zone, which was appealing post World War 2 with many European migrants settling in Altona and Seaholme, who were wanting both places to live and work.
In more recent times, Melbourne's inner western suburbs have become popular with home buyers, as the area has become less industrial and still reasonably close to the CBD, making Altona and Seaholme very appealing.
The breakdown of housing in Altona is **:
Separate House = 71.4%.
Semi Detached = 11.4%.
Flat/Unit = 16.9%.
Other = 0.3%.
The breakdown of housing in Seaholme is **:
Separate House = 85.9%.
Semi Detached = 7.2%.
Flat/Unit = 6.9%.
Furthermore, as Melbourne's population continues its growth, Altona has become very appealing to developers, who are purchasing older houses on large allotments, demolishing the existing property and building new units or townhouses, then selling to people interested in moving to the area.
3. SHOPPING AND RESTAURANTS:
The main shopping precinct is Pier Street, located in the heart of Altona. The area has two supermarkets (Coles and IGA), along with a number of restaurants and services (including banks, post office, chemists, newsagent and hairdressers). Every Tuesday from 9am-3pm, the Altona Beach Market is held in Pier Street, with a number of stalls, selling food as well as arts and crafts.
There is also a smaller shopping precinct situated close to Westona railway station called Harrington Square, which has a supermarket, cafes and services (including newsagent, hairdressers, accoutant and a mortgage broker).
Altona and Seaholme are also a 20 minute drive from Highpoint Shopping Centre and Pacific Werribee Plaza.
4. BEACH AND PARKS:
One of the main features of the area, is Altona Beach, located in the south of Altona, running parallel with The Esplanade. The beach attracts many in the summertime, but throughout the year people still walk, run or ride along the path nearby. There is also a number of parks, which are across the road from the beach.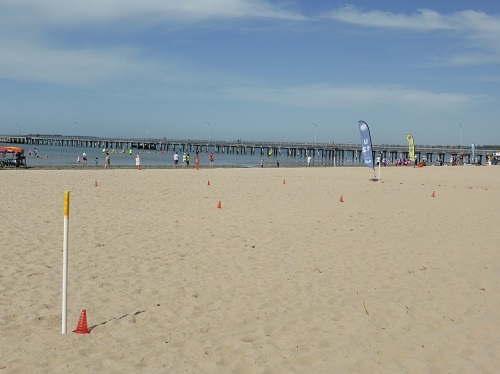 Altona Beach
Cherry Lake is another popular place, where many locals like to walk, run or cycle around the lake, have a BBQ with family, windsurf, fish, race remote-controlled model boats or just spot some of the birds that are found there. On the first Sunday of every month (except January), The Lions Club of Altona, host a craft market here.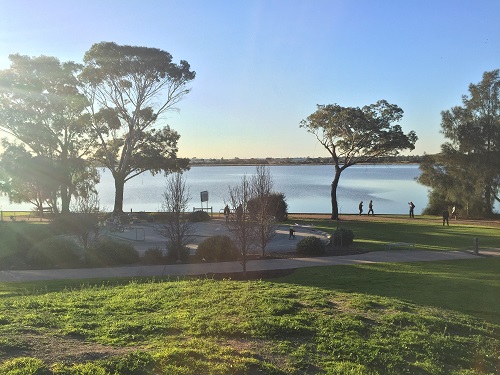 Cherry Lake
Other well-known parks in the area are: Apex Park, Logan Reserve and the Altona Coastal Park.
5. TRANSPORT:
Residents in Altona and Seaholme, use their own vehicles to travel around, as well as public transport.
The area has three railway stations: Altona, Westona and Seaholme, which are known as the Altona Loop, forming part of the Werribee line. During peak travel times and on weekends, Werribee line trains run through the loop, but at off-peak times (during the daytime), passengers wanting to travel to the city need to change trains at Newport or if they want to travel towards Werribee, transfer at Laverton. The Altona Loop is a single line and locals have pushed more a number of years, to have the line duplicated. In 2018, one of the major level crossings will be removed and locals have successfully lobbied the State Government to use this period, to partially duplicate the Altona Loop, with the long term aim for the entire loop to be duplicated, allowing for more trains to stop in the area.
The zone is also serviced with bus routes 411, 412 and 415 passing through Altona and Seaholme, linking passengers to Footscray, Williamstown, Altona North, Altona Meadows and Laverton.
There is also the 903 bus, which is part of the Smartbus network and operates in/out of Altona, travelling through Melbourne's western, northern and south eastern suburbs.
6. TV AND FILM:
A number of scenes from TV series, mini-series, films and advertisemens have been shot in Altona and Seaholme, among them include:
TV: Blue Heelers, Henderson Kids 2, Winners & Losers, Miss Fisher's Murder Mysteries and Seachange.
Mini-Series: INXS - Never Tear Us Apart and Mrs Biggs.
Films: The Bank, Animal Kingdom and Metal Skin.
Advertisements: Bendigo Bank, Mitre 10, TAC and Mazda.
7. DEMOGRAPHICS **:
Most Popular Age Group, living in the area are aged 15-65 years, in Altona they make up 65.0% of the population and in Seaholme it is 66.6%.
Median Age in both areas is 42.
Median Household Size is in Altona is 2.3 and in Seaholme it is 2.5.
8. MEDIAN PRICES ***:
Altona Median House Price is $832,500.
Altona Median Unit Price is $602,500.
Seaholme Median House Price is $925,000.
Seaholme Median House Price is $695,000.
Interested in buying a property in the Altona/Seaholme area and needing a home loan? Or do you live in Altona/Seaholme and are looking at refinancing? Contact Mortgage Choice on (03) 9398 1390 or go to www.mortgagechoice.com.au/glyn.camilleri .

* ABS data.
** Based on propertydata.com.au: Altona and Seaholme suburb profile.
*** Based on realestate.com.au figures (1st May 2017).