April 05, 2016
Glyn Camilleri
Point Cook, has experienced significant growth in the last few years and is becoming very popular with couples and families, making this suburb their home.
1. LOCATION: According to the 2011 census, Point Cook's population was 32,413*, but it is continually growing and in 2016 is close to 41,000.
Point Cook is approximately 22 kilometres from Melbourne's CBD. It is located in Melbourne's south-west and its surrounding suburbs are: Altona Meadows, Hoppers Crossing, Laverton, Seabrook, Werribee, Werribee South and Williams Landing.
2. HOUSING & RESIDENTIAL DEVELOPMENTS: In the mid to late 90's the first residential estates began development with the likes of Sanctuary Lakes and Newminster.
During the 2000's more estates such as The Boardwalk, Alamanda, Featherbrook and Innisfail were established.
In 2016 there are over 20 residential estates in Point Cook, both existing and in development. The Saltwalter Coast, Saratoga and Upper Point Cook estates are amongst those, which are the most recent and currently being developed.
The breakdown of housing in Point Cook is **:
Separate House = 83.4%
Semi Detached = 5.5%
Flat/Unit = 1.8%
Other = 9.3%
Separare housing dominates Point Cook, making it very appealing for both couples and families.
3. SHOPPING: Point Cook has two main shopping centres: The Point Cook Town Centre and the Sanctuary Lakes Shopping Centres.
The Point Cook Town Cente is located on Main Street & Murnong Street and has over 120 stores, with a mixture of shops and restaurants, a Target shore, as well as being one of the only shopping centres to have three supermarkets with Coles, Woolworths and Aldi all located in the one precinct.
The Sanctuary Lakes Shopping Centre, is located on Point Cook Road & Jamieson Way, close to the Sanctuary Lakes estate, it has recently been reburbished to include additional stores including both Kmart and Aldi.
Other residential estates in Point Cook, like Innisfail and Featherbrook also have their own smaller shopping centres.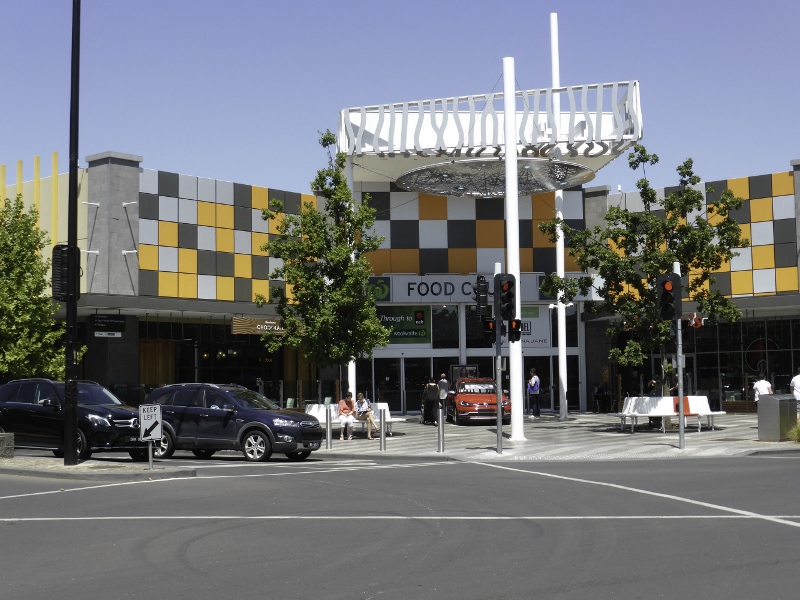 The Point Cook Town Centre

4. TRANSPORT: Many people who live in Point Cook drive their own vehicle and there are currently three entry/exit points into the area at: Point Cook Road, Palmers Road and Forsyth Road. Due to the increase in population a fourth entry/exit point is currently being constructed at Sneydes Road and is due for completion by the end of 2016.
In terms of public transport, Point Cook is serviced by buses with bus routes 493, 494, 495, 496 & 497 operating out of Point Cook with these routes also linking passengers to Williams Landing, Hoppers Crossing and Laverton.
Another recent public transport development in the area, has been the opening of the Williams Landing railway station in 2013. The station is located near the Princes Highway and Palmers Road entry/exit, with car parking and a pedestrian bridge over the highway, so commuters can walk across. The 493, 494, 495 & 497 bus routes all stop at the Williams Landing railway station, which is handy for local residents.
5. DEMOGRAPHICS**:
Most Popular Age Group, living in Point Cook are aged 15-65 years, which make up 68.9% of the population.
Median Age is 31
Median Household Size is 3.1 people.
MEDIAN PRICES***:
Median House Price is $500,000.
Median Unit Price is $359,500.
Interested in buying a property in Point Cook and needing a home loan? Or do you live in Point Cook and are looking at refinancing? Contact Mortgage Choice on (03) 9398 1390 or go to www.mortgagechoice.com.au/vincent.camilleri .
* ABS data
** Based on propertydata.com.au: Point Cook suburb profile.
*** Based on realestate.com.au figures (28th March 2016).