May 25, 2017
Stacey Andrew
Although there isn't any psychic to chat with who can predict what will happen to the economy and interest rates in the future, what we can give you, is a brief insight into the positives and the negatives of fixing your home loan.
To give you a general overview:
A fixed rate home loan will have set and predictable repayment amounts over a fixed term, while a variable rate home loan most likely will not.
However, variable rate home loans are often considered to be more flexible, with more features, such as: Giving you the option of a redraw facility.
Redraw is an amount of money which can accumulate when you pay over and above your minimum monthly home loan repayments. This amount of money/redraw can then be withdrawn by you at any given time should you require it it's use.
For example: If your minimum monthly home loan repayment was $300, but you had chosen to pay $400 monthly instead over the term of 12 months, your available redraw amount would be $1,200. ($100 extra a month, for 12 months.)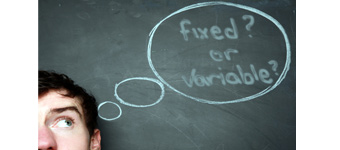 So what are the pros of a fixed home loan?
If you select and obtain a fixed home loan – your repayment amount will not fluctuate for the length of that fixed term period. This period can be set for a term of 1, up to 5 years.
What are the cons of a fixed home loan?
If home loan rates go down, your rate will remain the same on the rate you initially fixed your home loan on, and this can be frustrating.
Early repayment of the loan most likely will incur break costs, which can be extremely large! Also, many lenders limit the amount of additional payments you can make towards the loan.
What are the pros of a variable home loan?
If interest rates go down, so will your required payments, if you choose to decrease accordingly.
If you have surplus cash at the end of each month, or want to make a lump sum deposit, you can pay more into the home loan (accumulating redraw) or you can pay off your principal without copping any substantial lender penalties.
What are the cons of a variable home loan?
Your interest rate and repayments can change at any given time, so things can be a little unpredictable
But ...there is another option...
Another option is to make a bet both ways, and fix only a part of your total home loan, and leave the remainder on a variable rate, thus giving some stability.
Please give Graeme or myself (Stacey), a call at Mortgage Choice Ringwood today should you want to discuss further the pros and cons of having either a fixed or variable rate home loan.
Make the right choice!