August 05, 2016
Shae Aiello
In January and February 2016, the City of Joondalup passed some comprehensive changes to the zoning provisions in a number of key areas in the City of Joondalup, which appears to include a strip along the entire north side of Kingsley.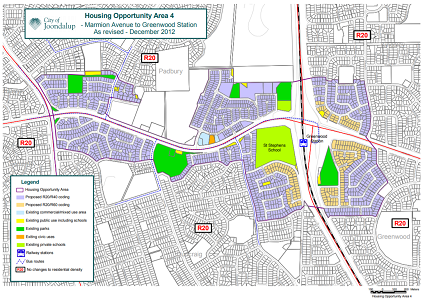 The Local Housing Strategy can be downloaded from the "Related information" section on the Local Housing Strategy page. According to the Executive Summary of this document, its principal purpose is "to provide the City with a firm rationale for determining future housing needs and to recommend appropriate policy measures for the provision of a range of housing types and densities."
It identifies that "research undertaken has shown that the combination of changes in household size to smaller households combined with an ageing population illustrates a need for a variety of housing options in the City of Joondalup."
According to this page on the City of Joondalup's website, all the proposed changes were implemented across January and February 2016, either as the implementation of the Local Housing Strategy proposal or in Scheme Amendment No.73 to District Planning Scheme No. 2.
The City's website also includes a page linking to maps of ten areas and their proposed changes. We have listed them below for your convenience:
From looking at the ten areas affected by the changes, it is clear that the City is aiming to provide higher density housing closer to train stations and important arterial roads. For this reason, as an example, Kingsley houses on the southern side of Whitfords Avenue are affected.
If you discover that your property has subdivision potential and would like to talk through your options, contact us on 9309 4780 or admin.kingsley1@mortgagechoice.com.au today. We understand what you need to know to make an informed decision about what to do with this opportunity.
Meanwhile, there are exciting times ahead as we see our local area set to develop for the future!
Some other blog posts that you may be interested in: